Find a quality bank to protect your finances, using Canstar Blue's customer satisfaction ratings. You can also visit the CANSTAR website to compare banking products.

The Co-operative Bank has the most satisfied customers in 2016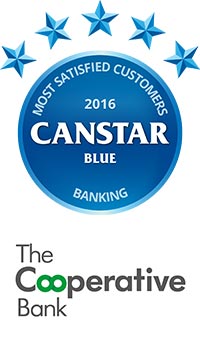 Regardless of whether you're financially minded, banking plays a large part in the lives of nearly every working adult. Fortunately, online banking and mobile apps have made managing finances easier than ever, giving customers an unprecedented level of control of their financial products. According to Canstar Blue research, 30% of New Zealanders say they do a lot of their banking on the go using a device. Gen Ys use banking apps the most by far (48%), compared to Gen Xs (27%) and Baby Boomers (12%).
With all this said, a quality bank is more than just a convenient app. Deciding who we bank with is a matter that shouldn't be taken lightly and here in New Zealand, we are spoiled for choice.  So which bank do Kiwis prefer? Well, what better way to find out than to ask. To help customers make better informed banking decisions, Canstar Blue annually commissions nationwide surveys, asking thousands of New Zealanders to rate their bank across several key criteria. While there were some impressive ratings across the board, one bank stood out from the rest in terms of overall satisfaction. For 2016, we can announce that The Co-operative Bank has taken the top spot with a 5-star score in overall satisfaction, receiving our award for Most Satisfied Customers – Banking.  This is the third time The Co-operative Bank has won this award, taking it back from another top contender – TSB bank.
New Zealander money habits
It's perfectly natural to be occasionally concerned about finances. According to Canstar Blue research, 40% of Kiwis are sticking to a budget, while 27% say they are living from pay day to pay day. Concernedly, 23% of respondents said thinking about their long term financial future makes them uncomfortable and only 45% of respondents claim to be saving for retirement.
About this research
Canstar Blue commissioned I-view to survey 2,500 New Zealand consumers across a range of categories to measure and track customer satisfaction. The outcomes reported are the results from customers within the survey group who have one or more accounts or products with a bank – in this case, 2,438 New Zealanders.
Brands must have received at least 30 responses to be included. Results are comparative and it should be noted that brands receiving three stars have still achieved a satisfaction measure of at least six out of 10. Not all brands available in the market have been compared in this survey. The ratings table is first sorted by star ratings and then alphabetically. A rated brand may receive a 'N/A' (Not Applicable) rating if it does not receive the minimum number of responses for that criteria.
Past Ratings