Compare Home & Contents Insurers
Are you happy with your home and contents insurer? Compare providers based on their claims process with our customer satisfaction ratings.

AA Insurance no.1 for home claims satisfaction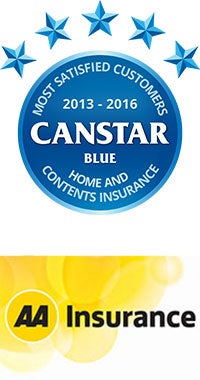 You only really know how valuable your insurance is when something goes wrong and you need to make a claim. All insurers will profess to be your best friend when it comes to signing you up to a policy, but which providers back up the promises when you really need them?
At Canstar Blue, we annually survey hundreds of policy-holders across New Zealand to find out which insurers make the claims process as stress-free as possible – that includes factors such as their speed of response, communications and how smoothly the whole process goes. After all, the fact that you need to make a claim on any insurance policy in the first place means you've met some level of inconvenience, so the last thing you'll want is an insurer which makes things more difficult than they need to be.
This is the fifth year of these ratings for home and contents insurers and the last four of them have produced a consistent result, with AA Insurance topping our ratings as the only provider to achieve five stars for overall customer satisfaction. And just like last two years, AA achieved top marks in every single research category – a strong indicator that it's meeting the expectations of its customers.
Switching insurers
As we mentioned, it's only when you need to make a claim that you get a true impression of your insurance company. The other time is when you need to renew your policy, or leave for another insurer. Our research shows a tendency for Kiwis to stick with what – and who – they know, with about two-thirds (63%) buying their home and contents insurance with a provider that they have another insurance policy with, such as car insurance. In addition, when it last came time to renew or leave insurers, eight out of ten Kiwis (79%) stuck with the same provider for their home and contents cover.
If you believe you're getting great coverage at a reasonable price, then staying with the same insurer is a wise move. However, it's still important that you regularly review your options to ensure you're not paying more than you need to – and that you're adequately covered for all eventualities that are relevant to you and where you live. Our survey found that just 72% of policy-holders have confidence that they are adequately covered.
Helping yourself
A comprehensive home and contents insurance policy will cover you for all manner of damage to your property, as well as the loss of items within your home, either because you accidently damaged them or because they were stolen. In regards to thefts, our survey found that many New Zealand households are not helping themselves. Sure, it's good to be covered in the event of loss or damage, but surely you would rather avoid such incidents in the first place? We found that:
30% of households often go to bed with windows open
14% often leave windows open when no one is home
40% have a burglar alarm
It's also important to understand that failure to adequately protect your own property could even lead to an insurance claim being rejected.
What to look for in an insurer
It goes without saying that you should thoroughly review the terms and conditions of any insurance policy before signing up, but when it comes to making a claim, what do consumers value most about their insurer? We found the following drivers of customer satisfaction for those who have recently lodged a claim:
Communication: 29%
Quality of service: 27%
Value for money: 26%
Ease of claim: 7%
Speed of response: 7%
Process: 4%
It's revealing to find that communication and quality service are deemed so important, but it makes perfect sense. If you think your insurer fell short of the mark in these areas when you last made a claim, it could be time to consider your options.
About this research
Canstar Blue commissioned I-view to survey 2,500 New Zealand consumers across a range of categories to measure and track customer satisfaction. The outcomes reported are the results from customers within the survey group who currently have a home and contents insurance policy and have made a claim in the last three years – in this case, 618 New Zealanders.
Brands must have received at least 30 responses to be included. Results are comparative and it should be noted that brands receiving three stars have still achieved a satisfaction measure of at least six out of 10. Not all brands available in the market have been compared in this survey. The ratings table is first sorted by star ratings and then alphabetically. A rated brand may receive a 'N/A' (Not Applicable) rating if it does not receive the minimum number of responses for that criteria.