Home & Contents Insurance
If you're after house and contents insurance to protect your assets, compare insurers with our customer satisfaction ratings.
Compare home and contents insurers using our customer satisfaction ratings.
New Zealanders find ways to save on house insurance
How much do you pay for house insurance? Many New Zealanders – three in five, in fact – believe they pay too much money for theirs, according to the results of our recent survey. This is especially true for Generation X respondents, 70% of whom think they're overpaying. Some residents, however, have found some clever ways to cut costs.
Two in five reduced the cost of their premium by opting for a more expensive excess – a one off, lump sum payment to be collected in the event of a claim. Additionally, more than a quarter assessed insurance providers online with a comparison website, presumably to compare the entire market and hunt down the best deals available.
Thirty nine percent of respondents believe home and contents cover is "a luxury". This is an increase from last year, when only a third thought this. It seems to be a luxury many residents are happy to pay for though, with a significant 86% believing they have enough insurance to properly cover their assets.
AA Insurance make a clean sweep in our 2014 house insurance awards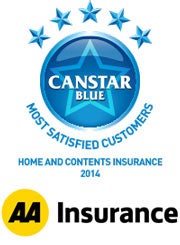 You don't necessarily have to overpay for home insurance, or settle for a provider who gives back less than you put in. To help you find a better provider, we surveyed New Zealanders in our latest survey to see what they thought of their insurer.
For the second year in a row, AA Insurance achieved our award for Home and Contents Insurance, securing this honor ahead of BNZ, State, Westpac, Vero, AMI Insurance, and Tower.
AA Insurance tallied five star ratings in all our ratings criteria – in areas such as value for money, speed of response, communication, and more. See the full results below.