Panasonic are flat-out winners in this year's TV customer satisfaction awards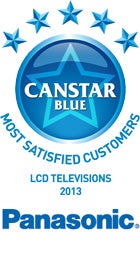 There are three or more televisions in the homes of a third of the respondents to our recent survey. With numbers like that, 'smart' TV buyers should consider picking an award-winning brand for one, or all, of these models.
This survey revealed Panasonic as the winner of our 2013 Most Satisfied Customer Award for LCD Televisions, following similar wins for the brand in last year's plasma and LCD television ratings. Notably, Panasonic achieved five stars for overall satisfaction, value for money, performance, ease of use and other functions.
Looking closer at our other rated brands:
LG received five stars for value for money, ease of use and warranty and service.

Sony was a five star recipient for picture and sound performance, and

Samsung received five stars for value for money.
New Zealanders can be real 'couch potatoes' at dinnertime
The tradition of eating meals at the dining room table may be in danger, as nearly one in two respondents to our recent survey of television owners admitted eating all their meals in front of the TV (44%). Viewers may be staying put after their meal, as nearly three quarters watch more than two hours of TV every day.
The manner in which New Zealanders watch their TV also seems to be changing. The likelihood of people watching more content online or on-demand than on television has increased from 17% to 25% in comparison to our results last year. Furthermore, half of our respondents record shows in advance so they can avoid watching ads.
This isn't to say New Zealanders are embracing all new technology in the living room; seventy percent of New Zealanders are of the opinion that 3D TV is a fad.
Finally, it appears New Zealanders are quite attached to Sky TV, with more than half of surveyed respondents having an open account. However, 21% told us they are less likely to continue their subscription now that Sky TV lost the rights to broadcast the English Premier League.