Compare some of the best ADSL broadband providers by using our ratings comparison of New Zealand customer satisfaction.
Compare broadband providers using our ratings comparison.
Slingshot broadband plans secure award for 2015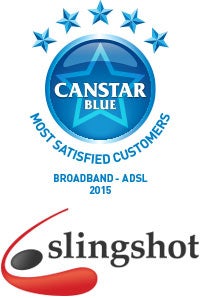 In a recent report by Akamai, it was reported that New Zealand ranks 42nd in the world in terms of average broadband speed.
And while 1 in 9 households who can connect to the ultra-fast broadband network has reportedly done so, that's still only 70,000 homes enjoying fibre-optic speeds.
So, what can you do to make things better for yourself? We encourage everyone to review their phone and internet plans annually, to ensure you're getting the best deal possible. We've compiled our annual research into broadband customer satisfaction to help you with this task.
Slingshot has catapulted into the top spot in our results for the second year in a row. With a strong display of five star ratings this telecommunications brand outpaced Orcon, Vodafone NZ, and Spark (includes Telecom) to secure our Most Satisfied Customers Award – Broadband, 2015.
Looking at the entire table of results, Slingshot excelled in every single area: customer satisfaction with value for money, download quota, speed of service – the lot. We'd also like to highlight Orcon, who achieved a five star rating for reliability of service.
Congratulations to our five star rated brands for such a fantastic result. Check out the table above for the full details.
Do we spend too much time online?
Our survey results also reveal that the average web surfer spends a good 4 hours on the internet every day, and nearly a third of these respondents feel guilty about it. They also admit that despite this guilt, they're unwilling to change or abstain from their behaviour.
What are New Zealanders chiefly spending their time doing online?
40% reportedly 'waste' a lot of time surfing the internet,
26% spend more time socialising online than they do in person, and
18% regularly download music and videos they don't pay for.
But what about all the good things we can achieve through the World Wide Web? It's easy to forget, so here are just a few:
Teach yourself how to cook with YouTube. If you can think of literally any dish, chances are you can find out how to cook it here.
Stay connected to friends abroad. Yes, many of us are addicted to social media, with more than a third of us updating or checking out accounts more than four times a day! But it's easy to forget how amazing it is to stay connected to those who are halfway across the world. I mean, would you really rather send a letter in the post?
Buy anything. Vintage deer statues? Unusual pilsner bottles? 1,000s of rubber bands? Anything goes.
Unwind with cat videos. I mean, we don't have any science to back this up, but we assume that by watching cat videos, any healthy human person should fall into an instant state of catatonic (pun intended) bliss. See what we mean.
The internet doesn't prevent people from engaging with the outside world – that's a choice they make themselves. The internet is a tool, and can be leveraged however you'd like.
So if you spend hours and hours online each day, don't sweat it. Just don't forget to go outside and see the sun every once in a while.
–
How we rated internet service providers
Canstar Blue commissions Colmar Brunton using the SSI panel to regularly survey 2,500 New Zealand consumers across a range of categories to measure and track customer satisfaction. The outcomes reported are the results from customers within the survey group who currently have a broadband account in their name and pay the bills – in this case, 1,200 New Zealanders. Please Note: This does not include the data allowance they may have included in their mobile phone plan.
Brands must have received at least 30 responses to be included. Results are comparative and it should be noted that brands receiving three stars have still achieved a satisfaction measure of at least six out of 10. Not all brands available in the market were compared in this survey.
Past Ratings
ADSL Broadband (2014)
ADSL Broadband (2013)
ADSL Broadband (2011)