Efficient home heating is key to staying warm and healthy in winter. While there are ways you can limit heating electricity costs, not every household is able to install a heatpump or wood pallet fire, writes Denise Piper.
Portable electric heaters are affordable to buy and easy to use by simply plugging them into the wall. All electric heaters are equally efficient by converting the electricity they consume into useful heat, according to the Energy Efficiency and Conservation Authority (ECCA). However, choosing the right heater for your room size is essential to get the full benefit of all the heat you're paying for. With so much choice available, here is a guide on what is best for your situation:
Fan Heaters
There are a range of different sizes and types of fan heaters but all have a fan which distributes the heated air. The bigger the fan, the better the heat distribution. Small fan heaters, often featuring ceramic elements, can be a good option for personal heat – such as if you are the only one in a small room. Oscillating tower fan heaters usually have a radiant heat source and a fan, and are designed to heat an entire room evenly.
Pros: Fan heaters provide fast heating and the larger, oscillating models distribute heated air evenly, so the hot air is not trapped by the ceiling. Fan heaters can boost convection heaters or oil heaters, helping to warm a room quicker. They are lightweight and portable, and small fan heaters can be cheap to buy.
Cons: The fans can be noisy which makes them less suitable for use overnight. Some fan heaters can also be drying and can create a stuffy room if used for a long time. They can easily be knocked over, although most models have a safety switch to guard against this.
Here are some examples of electric fan heaters available to buy in New Zealand.
Stadler Form ANNA Ceramic Heater $195.49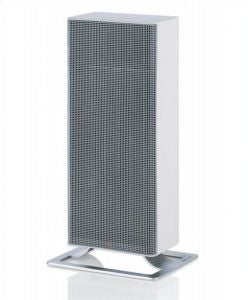 Stylish heater with slim housing. Features self-regulating ceramic element, tilt protection automatic shut-off and two heat settings (1200W/2000W). Pictured.
Heller 2000W Upright Fan Heater (HUF6) $25
Compact, portable and affordable. Features two heat settings (1000W/2000W), adjustable thermostat, over-heat protection and safety tip-over switch.
DeLonghi Tower Ceramic Heater (TCH7092ER) $229.99
Functional tower heater with oscillating base. Features economy mode, 24-hour digital timer, silence system, electronic safety tip-over-switch, thermostat, anti-frost function (activated if the temperature falls below 5°C), double insulation, two heat settings (1000W/2200W) plus cool air function.
Oil Column Heaters
Oil column heaters warm the air through metal fins which have hot oil circulating through them. The hot air rises and then slowly circulates around the room, providing background warmth.
Pros: Most oil column heaters have a thermostat control, which allows a room to stay an even temperature. They are quiet and relatively safe to leave on, so they are good for heating bedrooms overnight. With a range of sizes available, they are suitable for a range of room sizes.
Cons: Oil column heaters take a little while to start working, as the oil inside the heater needs to heat up, and they can take a long time to heat up a cold room. They also struggle to heat rooms with high ceilings because the heated air rises and collects beneath the ceiling. A fan or fan heater can be used to move the heated air around while the room warms up. Large models can be heavy to move around the house, particularly up and down stairs.
Here are some examples of oil column heaters available to buy in New Zealand.
DeLonghi Rapido Oil Filled Heater 2400W (G011230RTW) $389.99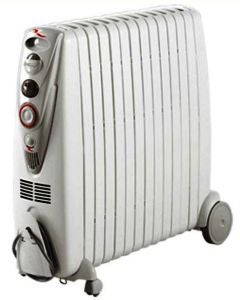 Two heating elements make this a very quick oil heater. Features "instant heat" switch, three heat settings (1000W-2400W), 24-hour timer, thermostat, anti-frost function, compact structure with no sharp corners, plus handle and large rear wheels for easy moving. Pictured.
Oil column heater example 1: Heller 1500W 7 Fin Oil Heater (HOIL7) $69
Powerful, even, efficient heating. Features three heat settings (600W/900W/1500W), thermostat control, overheat protection, castor wheels, durable enamel finish and safety tip-over switch.
Oil-free Column Heaters
Oil-free column heaters look like traditional oil column heaters but instead of oil they have an element inside each fin and vents at the top to disperse the hot air. This helps to eliminate some of the cons of an oil heater – they are quicker to warm up and lighter to move around.
Here is an example of an oil-free column heater available to buy in NZ.
Dimplex Eco 1.5kW 7 Fin Arctic White Column Heater (OFRC15TIW) $139
Heats up to eight times faster than standard oil column heaters. Features 1.5kW heat output, thermostat control, drytech technology, lightweight, castors.
Micathermic Heaters
Micathermic heaters combine convection and reflective heating to quickly heat both the air and nearby surfaces. They are similar to an oil-column heater but use sheets of thermal mineral mica instead of hot oil. They also provide radiant heating, rather than just the background warmth of an oil column heater.
Pros: Fast heating – a micathermic heater will usually reach its maximum heat output within 60 seconds. They are generally silent, and are lighter and more portable than an oil column heater. The combination of convection and radiant heat makes them cosy to sit around and they are best used for warming small living areas.
Cons: The biggest drawback of micathermic heaters is that the exterior surfaces get very hot, so they can be hazardous around young children. Most models heat from all sides, so they can't be placed near walls or furniture. They do not heat a room as evenly as heaters with a fan, and sometimes the mica creaks as it warms up.
Here are some examples of micathermic heaters available to buy in New Zealand.
Dimplex 2kW Micathermic Heater with timer (CDE2TI) $213-$279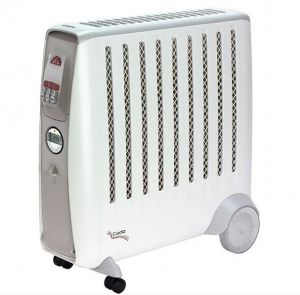 Dimplex touts itself as the only micathermic model that has heat direction selection, so you can direct the heat and place the heater closer to a wall. Also features 2000W heat output, seven-day timer, thermostat and silent operation. Pictured.
Goldair 1500W Micathermic Heater (GMH210) $119-$199.99
A standard micathermic heater. Features double-sided heating, adjustable thermostat, two heat settings (up to 1500W), wheels, safety tip-over switch.
Convection Heaters
Like an oil column heater, convection heaters heat cold air which then rises and slowly circulates around the room. Convection heaters pull air over a heated element. Most units including a fan to speed up the natural convection flow.
Pros: Suitable for heating medium to large rooms and, with a quiet operation and thermostat, are suitable to leave on in a bedroom overnight. Convection heaters are lightweight and portable, and provide an even, ambient temperature.
Cons: Can take a while to heat up a large room, especially one with high ceilings, and while most models have a fan, these are often small and not as effective as some fan heaters. Convection heaters can also be easily tipped over.
Here are some examples of convection heaters sold in NZ.
Heller 2400W Electric Convection Panel Heater (PCH2400) $129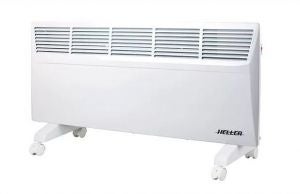 Designed to heat up larger rooms with fast, efficient heating. Features adjustable thermostat, up to 2400W of power, overheat and safety tip-over switch protection, quiet function, and can be used freestanding or mounted to the wall. Pictured.
DeLonghi Portable 2000w Electric Convection Heater (HCM2030) $79.99
A compact convection heater. Features three power settings (750W/1250W/2000W), thermostat, anti-frost function, safety thermostat, double insulation, handles and wall mountable.
Radiant Heaters
Radiant heaters are bar heaters with glowing elements and a reflector. They heat objects and people rather than the air in a room, and can come as free-standing or wall-mounted, so they can be mounted high out of reach of small children.
Pros: Good for rooms with high ceilings, draughty areas or large rooms where you only need to heat one area of the room. They are great for instant heat, as you do not have to wait for the air to warm up, and are best used for short periods – such as providing heat while you have a quick breakfast. They also tend to be cheaper to buy than oil column or micathermic heaters.
Cons: Radiant heaters only provide heat if you are nearby, so you need to huddle around, although some models come with a fan. They are not suitable for bedrooms as most emit some visible light, and they can also be a fire and burn risk. Most radiant heaters don't have a thermostat or timer. There is also not a large range of brands available in New Zealand.
Here are some examples of radiant heaters you can buy in NZ.
Goldair 2400W 3 Bar Radiant Heater with Fan (GIR400) $199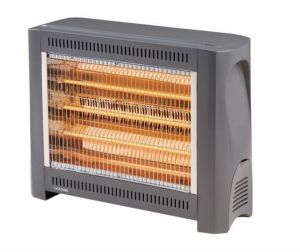 Includes turbo fan boost to warm a room quickly. Also features three heat settings (up to 2400W), safety cut-out, carry handles, long-life radiant elements and tip-over switch. Pictured.
Goldair 800W 2 Bar Radiant Heater (GSIR220) $29.99-$69.99
A minimalist radiant heater. Features two radiant bars, two heat settings (up to 800W) and safety tip-over switch.
Panel Heaters
A flat-panel heater draws in cold air over a large surface, the heated air then rises and is replaced by more cold air. While often promoted as 'eco' or cheap to run, panel heaters produce very little heat – usually not enough to heat up a room to comfortable and healthy temperatures, according to ECCA.
Pros: Panel heaters have a low surface temperature which makes them safe for use around children or pets. They are a good option for providing additional heating alongside a heatpump, or continuously heating small rooms like an office. They can be wall-mounted so they are unobtrusive, and are quiet.
Cons: Panel heaters have a very low heat output so they will take a very long time to heat up a cold room. They often don't have a thermostat or timer, so could be left running when the heat is not needed. Some of the flat-panel models can be expensive to buy.
Here are examples of panel heaters you can buy in NZ.
Kogan 2000W Black Glass Portable Electric Panel Heater $129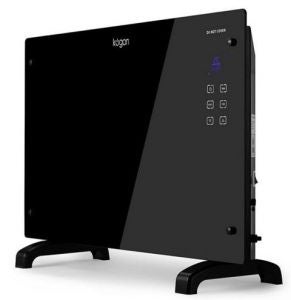 A slim, stylish heater with black, tempered glass casing. Features two heat settings (1000W/2000W), thermostat control, fast heating element, water resistant, overheat protection, frost-free function, touchpad and LCD display; can be wall-mounted or stand on the floor. Pictured.
Goldair 1000W PT Inverter Panel with Wi-Fi (GPPH610) $199-$299.99
Wi-Fi enabled so you can control the heat from your cellphone. Also features five heat settings (up to 1000W), electronic thermostat, protective air outlet net, wall mountable or castors.
Once you buy the right heater for your situation, remember to follow the manufacturer's instructions, keep all heaters at least 1m clear of the likes of curtains or wet clothes, and only use one heater per power outlet.