A recent survey on Kiwi's dishwasher habits by consumer research company Canstar Blue, has revealed that 20% of Aucklanders rate disagreements over household chores as the biggest issue in their relationship, higher than the rest of the nation at 16%.
Men are more likely to cite this as their biggest dispute with their partners (19%) compared to women (14%).
And a quarter of Kiwis aged under 30 years believed this to be their number one problem in their relationship, whereas only 10% of those aged 50 to 69 thought the same.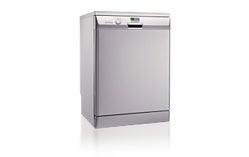 Dishwasher customer satisfaction survey results
Thanks, but I can do it better
Perhaps the reason Kiwis are fighting over the chores is because 68% of New Zealanders believe themselves to be the most efficient in their household at loading the dishwasher!
Across the regions, those in Otago are the most likely (78%) to claim they are the best at stacking the dishes. Women are also more likely than men to think they are the experts at this chore (74%; 62%)."
A good portion of Kiwis appear to be shirking their chores as close to half (45%) say that no one in their household ever seems to want to empty the dishwasher.
Why bother unloading the dishwasher?
Close to a quarter (24%) of under 30's aren't actually unloading their dishwashers, instead just taking clean dishes out as and when they need them until the dishwasher is empty again.
This is most common in Auckland (18%) but those in the nation's capital are more inclined to fully unload the dishwasher when it finishes (5%).
A quarter of Kiwis did not know that they need to clean their dishwasher, which means they are also unaware of the benefits this can bring; if your dishwasher isn't working as well as you might expect, it doesn't necessarily need to be repaired. Keeping your dishes clean starts with keeping the interior surfaces of your dishwasher clean, which will improve the overall efficiency of your machine.
Cleaning out the filter on a regular basis will also ensure that you get the best result from your dishwasher.
You mean there's more than one button?
Dishwashers appear to be a misunderstood appliance as 22% of New Zealanders don't understand their dishwasher's cycle options and 69% use the same cycle every time.
Despite not always being used to their full potential, dishwashers are a must have in any house for 72% of Kiwis.
Especially for women; 78% would want a dishwasher in their home compared to just 65% of men.