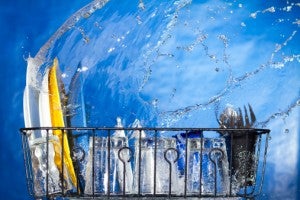 Dishwashers are fantastic – at least according to this author. Here's a question for you though: how well do you maintain your dishwasher? According to our recent survey results, an impressive 63% of respondents rate themselves in the area of dishwasher maintenance, claiming that they clean their dishwasher regularly. So let's put that to the test.
Below we have listed the main dishwasher maintenance components recommended by Canstar Blue's 2014 winning brand Bosch. Have a read and add up how many you comply with.
Regularly clean the door seal with a damp cloth and a small amount of washing liquid to remove any food or liquid build-up that could cause stains, smells or bacteria.
When loading the dishwasher, be aware of any food or liquid that drips onto the sides of the dishwasher door. Wipe these off before closing the door.
After each washing cycle, quickly check the filter combination in your dishwasher to ensure there is no food or other residue. If there is, remove the filter and rinse it under running water.
Particles of food can also get trapped in the spray arms of the dishwasher, so you should remove and clean the spray arms regularly. This could be a common problem for the 18% of survey respondents who admitted that their dinner plates are too big for the dishwasher arm to rotate properly.
Check the waste water pump regularly to ensure there is no food trapped. And remember to disconnect the dishwasher first!
Ideally rinse all dishes before you stack them into the dishwasher. Happily, 76% of our survey respondents said they do this; it can help to prevent filter and spray arm clogging, as well as reduce the risk of smells.
What's your verdict? If you managed to achieve a score greater than one out of six, you are doing better than this Canstar Blue team member (ahem). If you'd prefer not to be up for the cost of replacing your dishwasher in the near future though, a perfect score might be better to aim for.
More than a quarter of our survey respondents said stacking the dishwasher was their least favourite household chore, while 50% said no-one seems to want to empty the dishwasher in their household.
If a notoriously messy member of your family could use some help learning how to properly stack your dishwasher, show them this funny YouTube video.