Consumers have a wide variety of options when it comes time to decking their kitchen out with a new coffee machine, with a range of machines on offer at retailers large and small, catering to different budgets and requirements, from budget through to premium models.
Be it new-release coffee machines, sporting all the latest features and delivering an espresso or flat white at the touch of a button, or machines with a more singular functionality, appliance makers' offerings cover a range of categories.
For consumers in the market for a new coffee machine, when assessing the various types of machines on offer, it is worthwhile determining what sort of features are required, along with other features that are desirable, and then matching requirements to a budget.
It is also worthwhile researching the different brands operating in the market, and comparing the various prices being offered by retailers, both in-store and online, as there may be a significant difference from one retailer to the next.
With this in mind, what types of machines are available and what sort of functionality do they provide?
What types of coffee machines are available?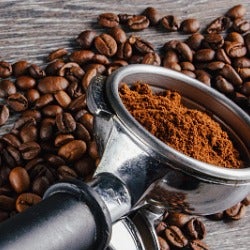 Coffee machines can vary significantly in price, from hundreds of dollars to thousands of dollars, and in securing a purchase that delivers value for money it is matter of finding a balance between budget and requirements.
It should also be noted that, when deciding which machine to purchase, it is worthwhile considering product lifespans – it may well be that a greater initial outlay is justified for a machine designed to go the distance over a number of years.
Broadly categorised, there are three types of coffee machines available:
Manual: manual coffee machines are the type typically found in cafes, and may also be referred to as traditional coffee machines. These machines build water pressure, with hot water forced through ground coffee tamped into the machine's group handle. Consumers interested in this sort of machine will need to either buy ground coffee beans or pair it with a bean grinder.
Automatic: automatic machines broadly cover a range of categories, from semi to fully automatic machines, providing a variety of functions, from grinding of the beans, to brewing of the coffee, to frothing of the milk. A fully automatic machine will operate at the touch of a button, with users simply needing to select their desired coffee, with the machine taking care of the rest.
Capsule: as the name suggests, the coffee comes in capsules (also referred to as pods), which are fed into the machine, with hot, pressured water then forced through the capsule, producing coffee.
Across the manual, automatic and capsule categories, the following are some of the models on offer from manufacturers.
Sunbeam – Piccolo Espresso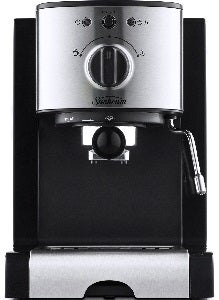 Sunbeam's Piccolo Espresso manual coffee machine combines a Thermoblock heating system and a crema system, providing for users to "enjoy the aroma and taste of authentic coffee at home".
Sunbeam states that the Piccolo Espresso's Thermoblock system delivers fast heat-up, ensuring that the water is heated to the required temperature for preparing espresso and texturing the milk.
An Italian-designed 15-bar pump provides "the required pressure for complete extraction of oils, resulting in a delicious espresso topped with a rich, golden crema".
The Piccolo Espresso, which is available in silver with a plastic finish, also features:
A cup warming tray
A 1.3 L removable water reservoir
A steam wand
A plastic group handle
Single and double dual-floor group handle filters
A 500 ml stainless milk jug and coffee spoon with tamp
A removable drip tray and grill
Non-slip rubber feet
The Sunbeam website lists the Piccolo Espresso as being priced at $299.99 RRP.
De'Longhi – PrimaDonna Elite
De'Longhi's PrimaDonna Elite fully automatic coffee machine range comes with Bluetooth connectivity, with De'Longhi's Coffee Link app allowing users "to create new beverages, discover infinite personalisation and receive unlimited advice and suggestions".
Under the hood, the PrimaDonna Elite range utilises conical metal grinders, which "are calibrated with 100 per cent accuracy and are tested to guarantee the perfect powder thinness is produced".
The grinding level can be manually adjusted according to personal taste and coffee bean blend,  with only the necessary amount of coffee needed for each beverage ground, preserving the aroma of the beans, while an advanced electronic system delivers optimal brewing temperature precision.
De'Longhi states that the PrimaDonna Elite's brewing unit doses and tampers the powder, guaranteeing "optimal infusion pressure between 9-12-bar in every brewing cycle", extracting "the perfect creamy, dense, aromatic coffee".
Meanwhile, the PrimaDonna Elite's "LatteCrema System always ensures a dense and creamy froth and a silky smooth texture for your cappuccino and all your coffee-based milk drinks".
The PrimaDonna range, which sports a "bright and brushed stainless steel finishing and ergonomic outlines", additionally features:
PrimaDonna Elite ECAM 650.75.MS – a 4.3" colour touch display; PrimaDonna Elite ECAM 650.55.MS – a 3.5" TFT colour display with eight additional touch buttons
A wide variety of coffee and milk recipes, with six user profiles for individually tailored drinks
A thermal carafe with double wall to keep milk at an ideal temperature for longer
PrimaDonna Elite ECAM 650.75.MS – hot chocolate function with dedicated carafe
Automatic clean for easy cleaning of the milk jug
A drip-tray with dishwasher-safe removable grid
A removable brewing unit
De'Longhi's website lists the PrimaDonna Elite ECAM 650.55.MS as being priced at $3,299.99 and the PrimaDonna Elite ECAM 650.75.MS as being priced at $3,699.99.
Nespresso – Breville Creatista
Nespresso's partnership with appliance manufacturer Breville has seen the development of the Creatista range, delivering users "café-style quality coffee whatever your personal coffee preference".
A fully automatic, hands-free steam wand is a key feature of the range, which comprises the Creatista and Creatista Plus models, allowing users to froth milk to their desired texture and temperature.
"Creatista's innovative, automatic hands-free steam wand is capable of frothing milk perfectly at your command – it even gives you the power to control the milk texture to create micro-foam to your preference," Nespresso states.
Nespresso states that the digital display will guide users through the coffee options, allowing users to select and personalise their favourite coffee.
Sporting a "sleek design and high-gloss finish", the Creatista range also features:
Eight coffee settings – black coffee options: ristretto, espresso and lungo; steamed milk options: cappuccino, café latte, latte macchiato and flat white
Creatista Plus – three-second heat-up time; Creatista – 10-second heat-up time
An assisted cleaning system
Creatista Plus – eight milk texture settings; Creatista – four milk texture settings
Creatista Plus – 11 milk temperature settings; Creatista – five milk temperature settings
19-bar pressure
The Nespresso website lists the Creatista as being priced at $799 and the Creatista Plus as being priced at $899.