Is your wallet sucked dry every winter? Do you feel faint when the power bill arrives, and go green when you have to pay the gas bill?
I sympathise. I grew up in Russia, so know all about the cost of keeping warm. These are some things we all can do to ease the pain on our wallets this winter.
Shop around
Find yourself a better price by shopping around. Power companies often have better rates to attract new customers. If you move every year or two you'll pay less than if you're loyal. Take a look at Canstar Blue's electricity providers and gas providers reports to find out how your power supplier stacks up.
Haggle
Phone your provider and tell them you're thinking of leaving. Most providers will offer you a better deal rather than see you go. Ask to speak to someone more senior if you don't get what you want at first. Power companies always have better rates. They just don't want to tell you about them.
Get solar power

It could cost you around $7,000 to $10,000 to install, but solar panels pay for themselves over a decade or so. Don't forget to factor in interest payments when you do the maths.
Get a ventilation system
 Home ventilation systems remove moisture from the air in your home. That makes it feel warmer in winter, reducing the amount of electricity and gas you consume.
Insulate your home
If you want a warm home that costs less to heat then insulation is your number one priority. It's also a good idea to draught-proof doors and windows. Start with ceiling insulation, then move onto the underfloor and walls. Find out more at Energywise.
Install a wetback
A wetback fits to the back of a wood or pellet fire and heats your water for free – assuming you would have the fire on anyway. Even if you can't install a wetback, consider insulating your cylinder and the pipes leading from it. You can save even more money by turning down the heat on your cylinder, and buying a low flow showerhead.
Double glaze your home
Yes, double and secondary glazing are expensive to install and take a long time to pay off, but they make your home a lot warmer in winter. It also stops the windows crying. With Low E glass, it can also feel cooler in summer.
Buy some timers
Do you leave your printer on for hours, your beside lights blazing, the heated towel rails on 24-hours-a-day? Use timers to cut down power usage. Likewise, set timers on your heat pump so that it's only on when you're home. One of the new-fangled Wi-Fi operated heat pumps makes sense because you can switch it on from your smartphone when you know you're coming home!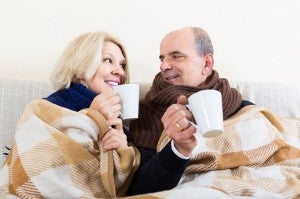 Think like your grandparents
What did your grandparents do when they felt cold? They put a jumper on and used a rug in front of the TV. There are all sorts of back to the future strategies you can do to use less electricity. Only heat the rooms you're using, close the curtains, wash your clothes in cold water, don't put more water in the kettle than you need, turn lights off when you leave the room, and keep your showers short.
Finally, have a wonderful warm winter from all of us at Canstar Blue!