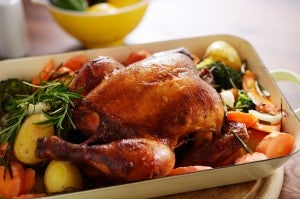 Whether it's a weekly tradition in your household or only for special occasions, everyone needs to know how to cook the perfect roast dinner.
There's a lot of debate about what goes into the typical roast dinner as well, every family has their own versions, rules and reasons. But there's some middle ground of elements required to qualify your oven spectacular as a true roast dinner.
Meat your match
Picking the main meat is usually the first source of contention when it comes to the ideal Sunday supper. The most popular tend to be chicken and lamb, although there are minority advocates for both pork and beef.
Chicken is widely considered to be an all-rounder. You won't find too many meat-eaters who have an aversion to chicken. One of the easiest and most popular ways to get the most out of your bird is to simply rub the chicken with a halved lemon and olive oil, and then fill the cavity with the same lemon and some rosemary. If you're looking for crispy skin, pat the outside of the chicken dry and use a fan forced oven to help the heat flow over the chicken, helping to dry it out quickly without sacrificing a juicy inside.
Lamb tends to be a more divisive meat option, due to its more distinct flavour, but it can be equally delicious when prepared correctly. When it comes to cooking lamb, you can go two ways. Firstly, you could just pair it with a couple of herbs and focus on singing the praise of the gamey flavour. Alternatively, cook it with a bunch of spices Moroccan style to bring something a little different to the dinner table. Either way, it's a meat that requires careful thinking with its counterparts.
Pork requires a little more effort if you're going the whole hog with crackling. Make sure you prepare your crackling separately on a higher heat for a shorter amount of time, compared to the long slow roast the pork requires. At the end, just put them together, and people will think you're a pork wizard. Pork is also unique in that it can play nicely with some sweeter counterparts, so some home-made applesauce would not go astray here.
A-peeling potatoes
Potatoes are a staple of a roast – you won't find many that would consider their inclusion up for debate. There are probably two methods that well help you get the best out of potatoes. The first is to include them with your roast meat, which allows them to soak up all the juices and flavour being released. It's also the simplest, as it'll usually all be ready at about the same time.
The second method is more involved, but arguably more impressive. After preparing the potatoes, partially cook them by boiling, before draining. Then, in the colander or drained saucepan, shake the potatoes vigorously to rough them up, which will help give them a crunchier outside when roasted. Then place in a roasting pan and coat them with olive oil, or if you want to be more luxurious, goose or duck fat. The end result is crispy potatoes with fluffy insides – the best of both worlds.
Choose your side (dishes)
While they may not be the focus of the dinner, don't forget that variety is the spice of life, and sides can make a roast dinner into an occasion. Choice of sides is usually preference, but a good rule of thumb is one starch or carb, two veggie dishes. Considering you've already got some stellar potatoes, it's your choice on the other two, but the easiest way to get variety is to go for colour.
Steamed broccoli, green beans or asparagus are all green lean vitamin machines, and all pair nicely with a light dressing of olive oil, slivered almonds and dried cranberries. Orange would mean sweet potatoes, but as they are also a potato, you may not want to double up, unless you're happy to substitute. Otherwise old-fashioned honeyed carrots do not go astray and are like a healthy hug from nature.
So whether it's special occasions only or a weekly fix, take some of these tips and go forth to create the best roast dinner ever.
Want to check if your oven is ready for your next roast dinner? Check our consumer-ratings guide.