Canstar's Most Satisfied Customers Award 2022 reveals the best ovens in New Zealand, according to Kiwi consumers.
Nothing says Sunday like a traditional Kiwi roast with all the trimmings. And as our cooking habits rely heavily on our kitchen appliances, it's important that our ovens are up to scratch. Whether that means cooking a simple roast chicken perfectly, or featuring all the bells and whistles required of a budding master chef.
So to see which ovens are the best in the country, we asked Kiwi consumers to evaluate their ovens, to see how they feel about their trusty appliances.

Parmco: New Zealand's favourite ovens
To find out which ovens are the nation's favourite, we surveyed 957 Kiwis who have used their ovens in the past 12 months. We asked them to evaluate their experiences across the following categories:
Overall Satisfaction
Cooking Performance and Reliability
Value for Money
Ease of Cleaning
Ease of Use
Functionality and Features
Design
And, according to Kiwis, Parmco is the way to go, and the winner of our first Most Satisfied Customers | Ovens Award.

Parmco is a proud Kiwi owned and operated company that has been providing New Zealanders with innovative, high-quality kitchen and laundry appliances since 1989. In this year's award survey, Parmco takes out four brilliant 5-Star results for Cooking Performance and Reliability, Value for Money, Ease of Use, and the all-important Overall Satisfaction score.
For Ease of Cleaning, Functionality and Features, and Design, Parmco has impressive 4-Star ratings.
New Zealand's favourite oven brands
Here are New Zealand's favourite oven brands, based on our survey results:
Parmco
Smeg
Samsung
Bosch
Fisher and Paykel
Westinghouse
Haier
Parmco may be our award winner, but our survey shows most keen Kiwi cooks are happy with their ovens. Nearly all other brands receive 4 Stars for Overall Satisfaction. Haier is the only brand not to, earning a 3-Star Overall Satisfaction rating.
Below you can see an overview of all the brands measured in this year's survey:

Parmco
Founded here in 1987, Parmco produces European designed and energy-efficient appliances that come with industry-leading warranties of up to seven years on most products.
And if something does go wrong, Parmco delivers extra peace of mind through its nationwide after sales, technical and stock support network.

Smeg
Italian brand Smeg is well known for the cool design of its appliances. And its ovens are a popular choice among consumers who value style as well as performance. Smeg scores excellently in this year's survey, earning incredible 5-Star marks for Cooking Performance and Reliability, Ease of Cleaning, Functionality and Features and, of course, Design.
Smeg also scores excellent 4-Star results for Overall Satisfaction, Ease of Use and Value for Money. So Kiwis feel Smeg ovens represent good value, despite the brand's higher price points.

Samsung
Samsung is known for smart appliances and industry leading technology, and its ovens are no different. Sporting unique features like flexible doors, the ability to convert a single oven into a double oven and wi-fi connectivity, Samsung ovens are perfect for those looking to make their homes a little smarter.
In this year's survey, Samsung earns 4-Star results across the board.

Bosch
European manufacturer Bosch is synonymous with quality and design. The company has been an innovator for years, shaping how we interact with our homes. Its latest Series 8 ovens come with plenty of modern features, to ensure perfect cooking.
The PerfectBake sensor measures the humidity inside your oven and adjusts the heating mode, bake time and temperature automatically. While PerfectRoast uses three highly sensitive measuring points to help the sensor determine the core temperature within the food.
However, these features don't always come cheap, and may be too complex for less adventurous cooks. As result, Bosch scores 3 Stars for Value for Money and Ease of Use. However, in all other categories measured, Bosch earns 4 Stars.
Fisher and Paykel
Fisher & Paykel has been designing products since 1934 and has grown into a global company with products sold in more than 50 countries around the world. It designs products according to its Social Kitchen philosophy, which is an understanding that the modern kitchen isn't just a place to cook, but a place where we meet to talk about our day, where homework is done, and where we engage and interact as families and friends.
Fisher and Paykel ovens feature classic, stylish designs. And its high-end models are packed full of features, such as steam and pizza-oven functions. In our award ratings, the brand earns 5 Stars for Ease of Use, and 3 Stars for Value for Money. It earns 4 Stars in all other categories.

Westinghouse
Westinghouse is an Australian brand that has been producing quality cooking appliances for over 60 years. Its oven range includes features such as: fast heat up, so you don't need to panic every time you forget to pre-heat, multi-layer windows that are cooler to the touch and safer for children, AirFry and steam assist.
In this year's survey, Westinghouse earns 4 Stars across all categories, except for Ease of Cleaning, for which it earns 3 Stars.
Haier
Haier was founded in China in 1984. Since then, Haier has built an international reputation for listening to customers' needs and using these insights to design smart home appliances. Haier products provide an affordable option, while still being packed with great features and clever design.
In this year's survey, Haier earns a great 4-Star result for Ease of Use, and 3 Stars in all other categories.
The best ovens in New Zealand
Below we have listed some of the best ovens offered by the brands in our survey, as chosen by the Canstar team. This list is by no means exhaustive, and each of the brands above has expansive options across a variety of budgets and needs. For a full range of ovens, be sure to visit individual retailer websites.
*All prices have been sourced from New Zealand retailers and are accurate at the time of writing. They should be used as a guide only and not an actual quote.
Best ovens for those on a budget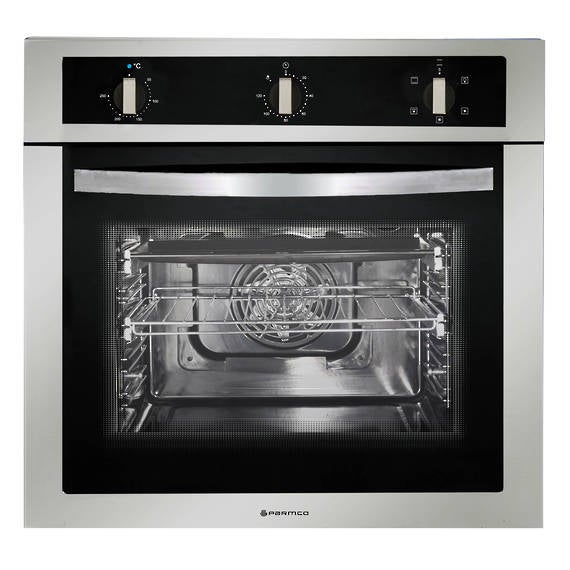 Parmco OX16S5 ($649*)
58L useable capacity
5 cooking functions
120 minute mechanical timer
Haier HWO60S7MX2 ($699*)
62L useable capacity
7 cooking functions including Pizza Plus and Pastry Plus
Cool safety glass and non tip shelves
LCD display with delay start cooking and cooking duration features
Samsung NV70K1340BS ($899*)
70L useable capacity
5 cooking functions
Dual fan
Catalytic cleaning
Best ovens for everyday homes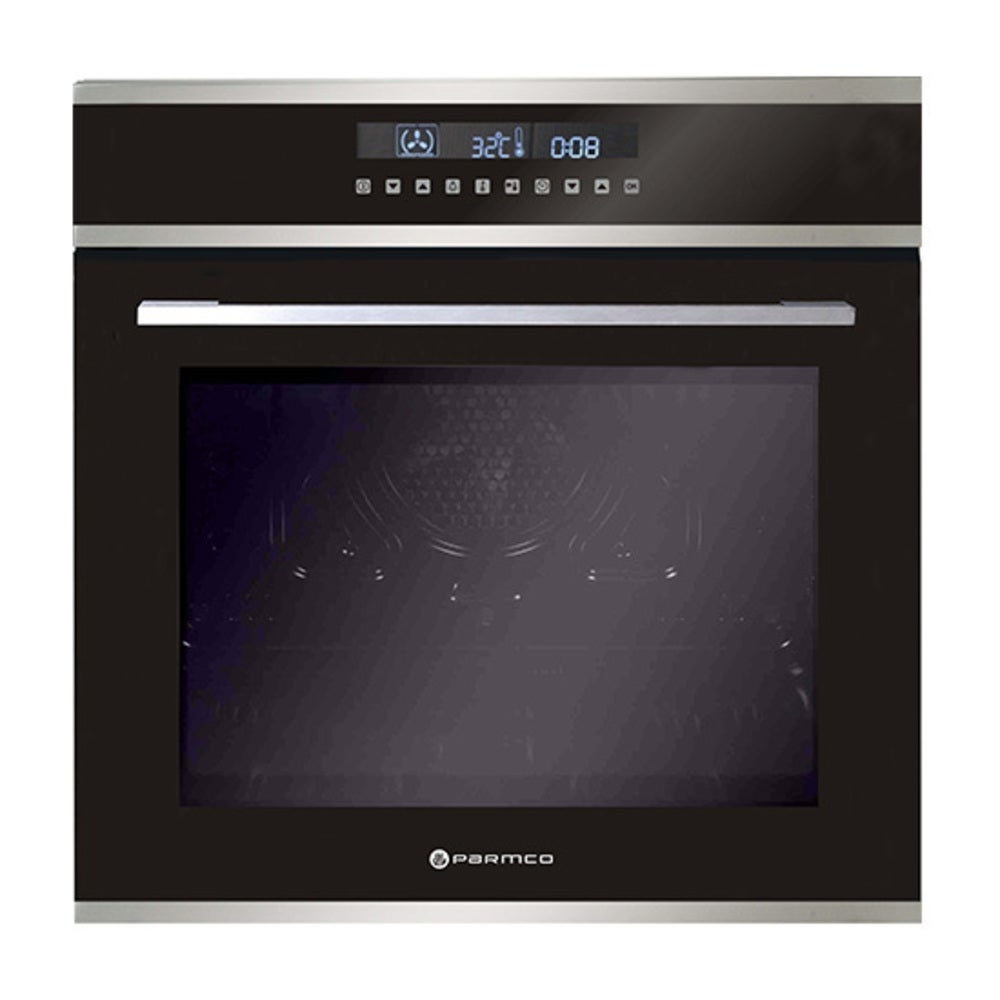 Parmco PPOV6SPYRO2 ($1599*)
76L useable capacity
12 cooking functions
Pyrolytic self-cleaning
Smeg SFPA6104TVS ($2949*)
Ideal for families or budding cooks that want plenty of smart cook features and design.
79L Capacity
Pyrolytic cleaning
Multifunctional oven with 10 functions
Compact LCD Display
Thermoseal
SmartSense Plus automates and/or simplifies multiple aspects such as temperature and cooking time
Best ovens for those who want the latest tech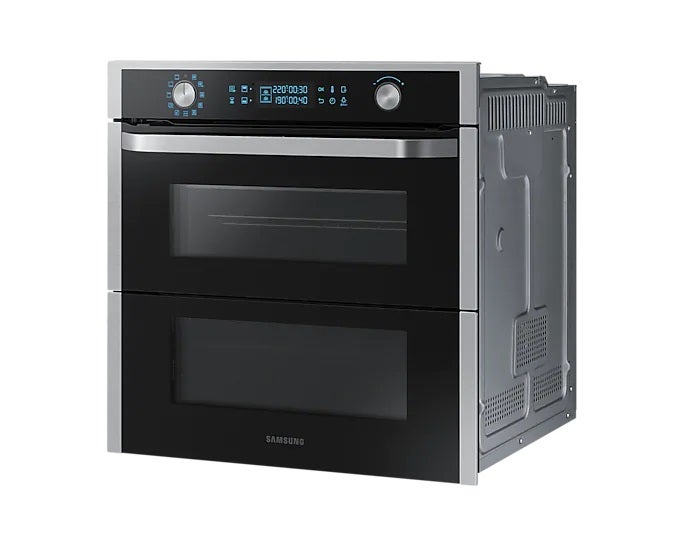 Bosch HSG656XB6A ($5499*)
71L  useable capacity
Wi-fi connectivity
Cleaning assistance
4D HotAir for perfect heat distribution
Steam function with sous-vide
ProRoast and ProBake features automate cooking for perfect results
Samsung NV75N7647RS ($1999)
75L useable capacity
Dual cooking option to split into two ovens with separate cooking functions.
Wi-fi connectivity
Flex door for convenient top drawer opening
Temperature control and ProRoasting features
Best ovens: large capacity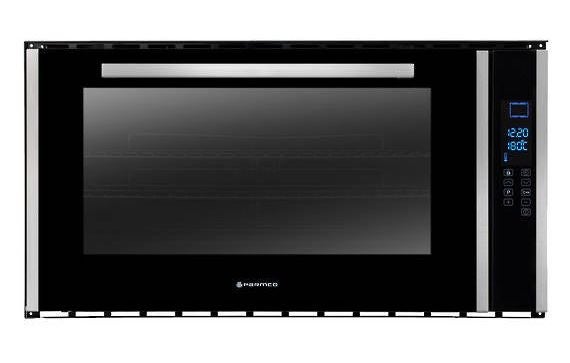 Parmco PPOV-9S-48 ($1629*)
105L useable capacity
10 cooking functions
LCD display
Smeg SFP9395X1 ($7399*)
126L useable capacity
17 cooking functions
LCD display
50 SmartSense plus auto menus
Thermoseal technology maintains heat
Best ovens: small capacity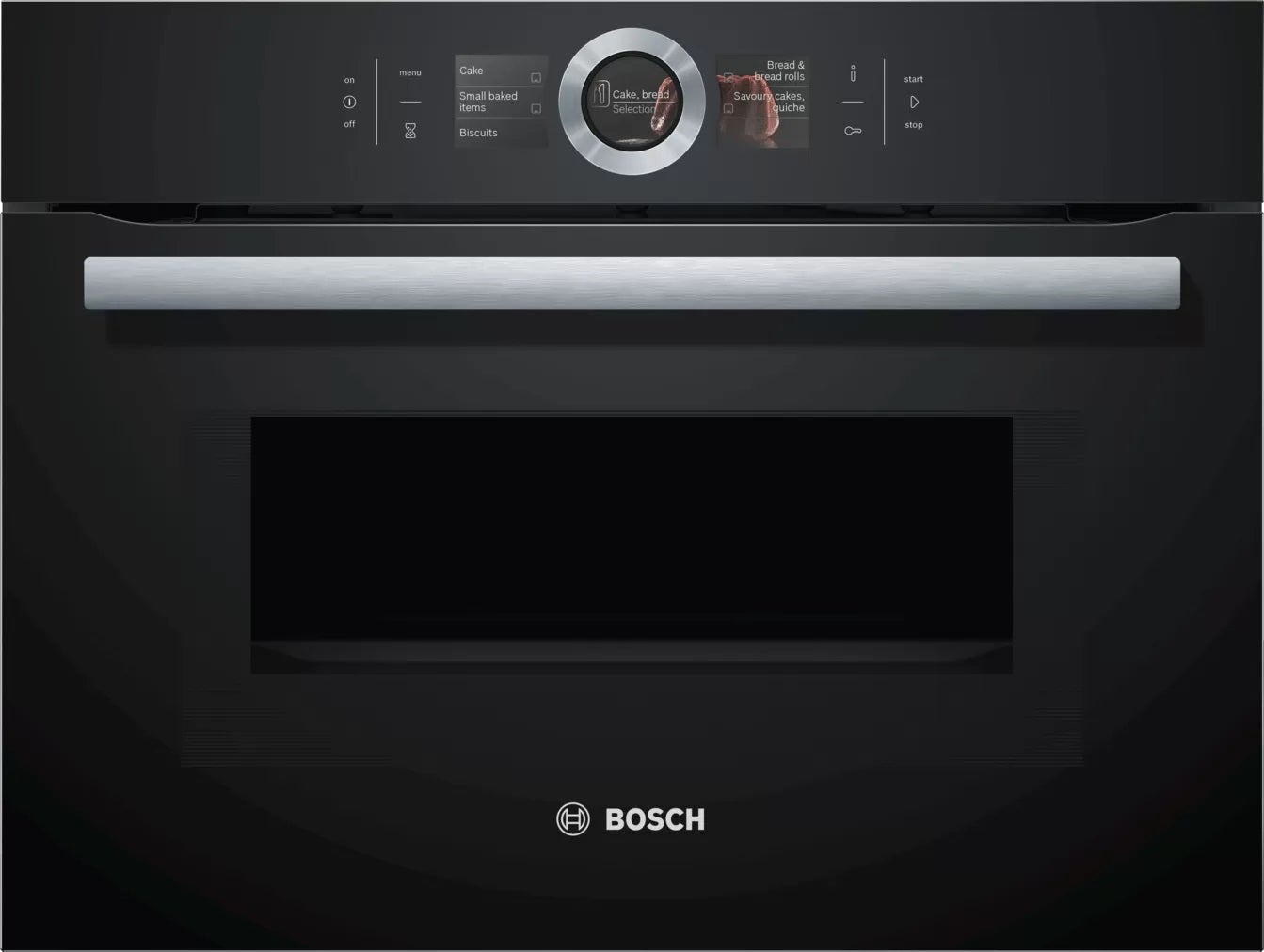 Bosch CMG676BB1 ($3799)
45L useable capacity
Microwave function
Pyrolytic self-cleaning
4D HotAir for perfect heat distribution
Bosch Assist for optimal cooking
Fisher and Paykel OM60NDB1 ($3649*)
33L useable capacity
Microwave function
9 cooking modes
Touch display
Best freestanding oven and cooktop combos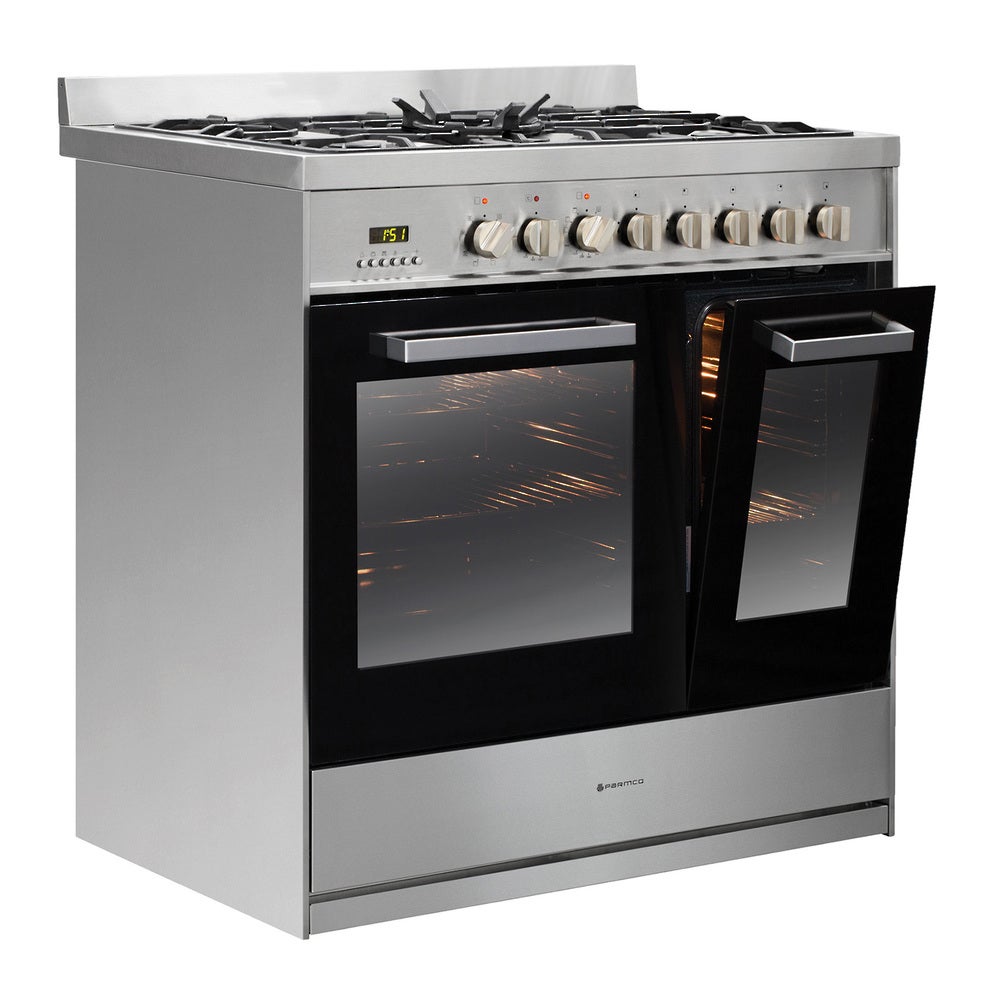 Parmco FS9S-5-3 ($2065*)
70L main oven and 36L 1/2 oven
Gas cooktop
8 functions on the main oven and 5 on the 1/2 oven
Robust and stylish stainless steel design
Fisher and Paykel OR90SDI6X1 ($7549*)
121L useable capacity
9 oven functions plus rotisserie
4 zone induction cooktop with SmartZone bridging technology
Pyrolytic self-cleaning
AeroTech technology
Automatic rapid pre-heat
Smeg TRA4110P ($10,449*)
70L Dual Ovens with 6 Functions each
7 Burner hob
ThermoSeal Technology and Triple Glazed Oven Door
Easy cleaning with Smeg Vapour Clean
Ever clean enamel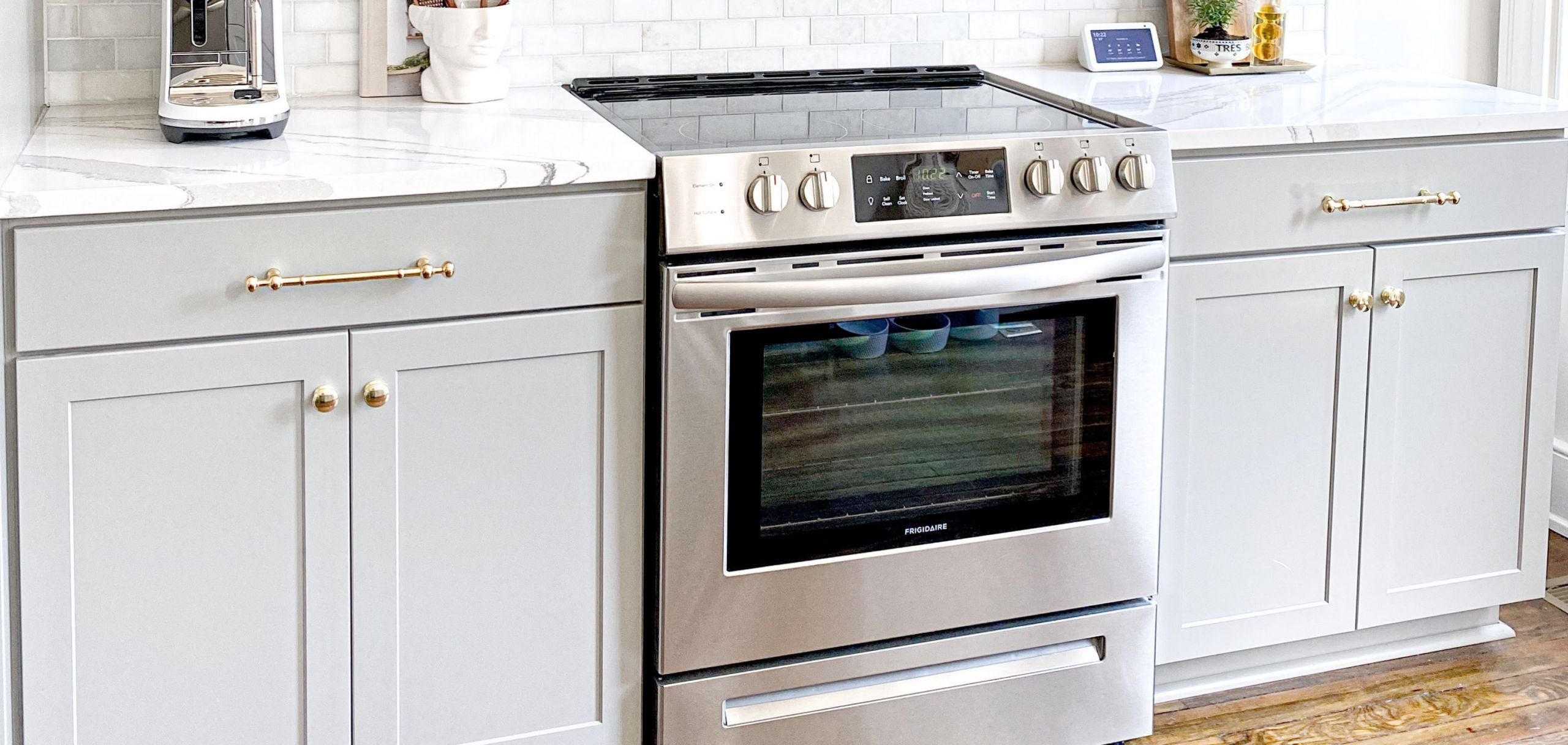 Need a new oven? What should you consider?
Finding the right oven for you isn't easy. There's a lot to consider, such as:
Do you need a cooktop?
Do you want an oven and stove all in one, and if so, what do you want on the top? Freestanding ovens can include gas, electric, or induction cooktops so if you want a 2-in-1 unit you'll need to consider which cooktop is best for you as well.
Size
Is a standard oven enough, or would you prefer a double oven or an extra-wide single oven? Bear in mind that larger ovens have bigger, heavier trays that can be harder to take out and clean.
At the other end of the spectrum, a small oven won't accommodate larger trays and, if you're cooking a roast for the whole family, you could end up having to cut back on the sides and trimmings!
Your space
A standard single oven can easily go under a cooktop or in a wall unit. Double ovens or extra-wide single ovens are more restrictive as to where they can go. Do you have the space in your kitchen to accommodate them?
Functions and features
Are you happy to just chuck your oven on fan bake and be done with it? Or are you a budding home cook that wants precise control and all the bells and whistles? This could include accurate cooking functions for perfect cooks, or smart features such as pyrolytic self-cleaning or wi-fi connectivity.
Price
It's important to stick within a reasonable budget. But that budget shouldn't just be set by your available funds.
If you use your cooktop more than your oven, or you're just not into cooking at all, there's no point going overboard and getting a top-of-the-line model just because you can afford to. Also, there's no point saving a few dollars if you plan to use your oven religiously.
Ovens are a big investment and aren't something you can change easily (or at least cheaply). So you should choose wisely.
Design
It's not all about performance. Your oven also needs to look good and fit into the wider scheme or look of your kitchen. An oven's interior design should also be considered, as it impacts its ease of cleaning.
Everything else
When choosing an oven, there are plenty of little things to consider that can be easily overlooked:
Are the controls easy to understand and use?
Is the window clear and easy to view through?
Is the door sturdy, and does it stay open in any position without moving?
Can the light be replaced easily?
Are the elements set into the oven and/or have a shield to prevent them from getting damaged or dirty?
Do the trays and racks slide in and out easily and smoothly?
Does the oven door/window stay cool, and is there a child lock?
Learn more about our ovens award here
---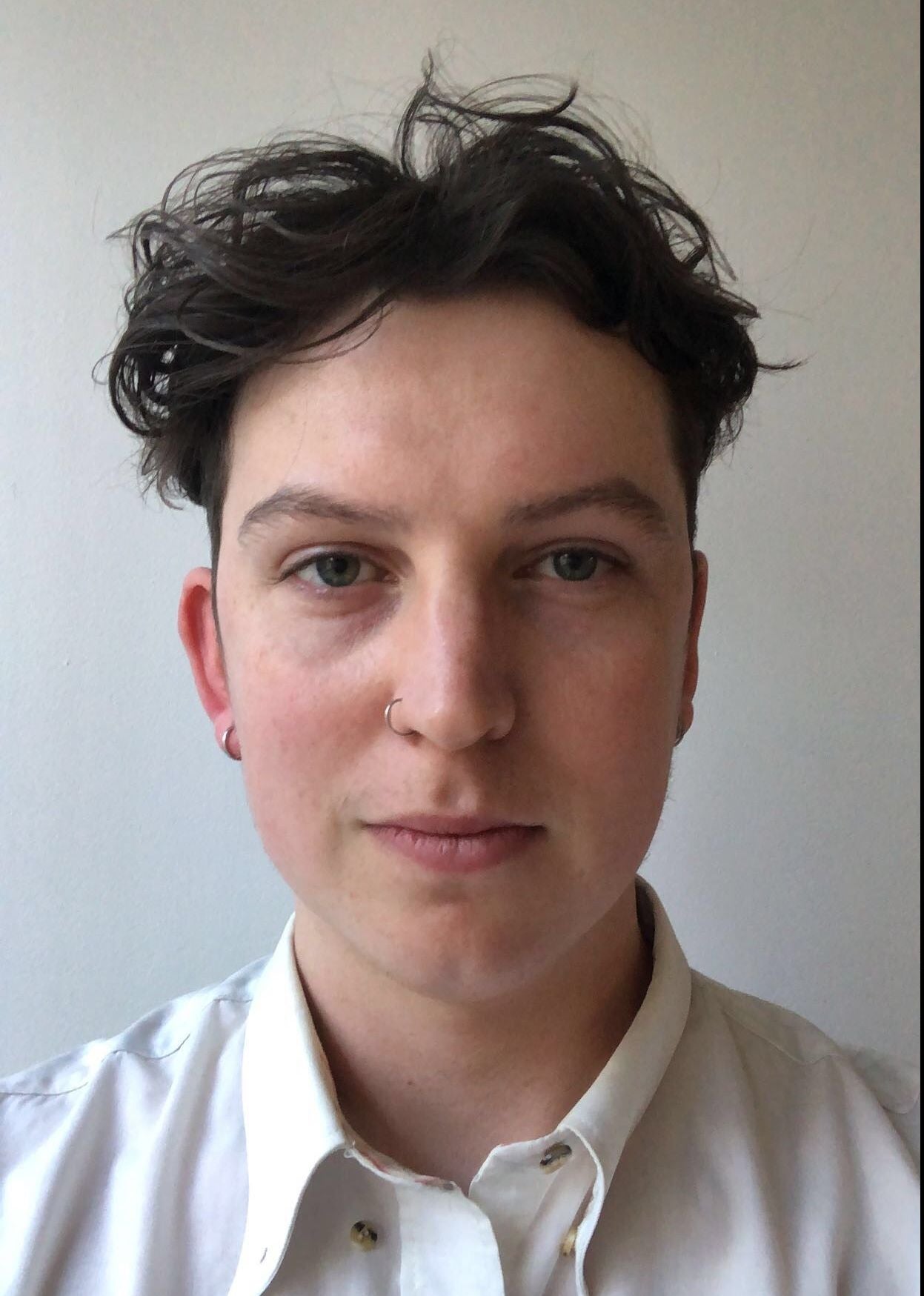 About the author of this page
This report was written by Canstar Content Producer, Andrew Broadley. Andrew is an experienced writer with a wide range of industry experience. Starting out, he cut his teeth working as a writer for print and online magazines, and he has worked in both journalism and editorial roles. His content has covered lifestyle and culture, marketing and, more recently, finance for Canstar.
---
Enjoy reading this article?
You can like us on Facebook and get social, or sign up to receive more news like this straight to your inbox.
By subscribing you agree to the Canstar Privacy Policy