Washing Machines – 2013 Ratings
Show Important Notes^*
Hide Important Notes^*
* Overall satisfaction is an individual rating and not a combined total of all ratings
Kiwis invest in washing machines that won't 'hamper' the environment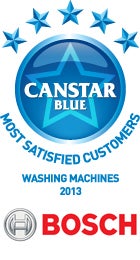 Most New Zealanders depend on their washing machine to keep their garments pristine – but many respondents to our recent survey wouldn't let this reliance come at the expense of the environment. Two in five respondents declared they chose their current washing machine because it used less water and detergent, and was more environmentally friendly.
Nearly two thirds of respondents were also doing the environment a favour by only using the cold wash cycle when doing laundry – preventing excess production of harmful carbon pollution.
We weren't lying before about Kiwis relying on their washing machines: 56% did five or more loads of washing per week. For those who are in the market for a new washing machine to get through these weekly washes, our washing machine customer satisfaction ratings can help narrow down the right machine for you.
In this case, Bosch was the brand for New Zealanders, earning our Most Satisfied Customers Award – Washing Machines for 2013. This is the second year in a row Bosch has earned this accolade. Also rated in this survey were Simpson, Fisher & Paykel, Samsung and LG.
We've also compared several laundry detergent brands to help you find the best detergent.
Canstar Blue commissions Your Source to regularly survey 2,500 New Zealand consumers across a range of categories to measure and track customer satisfaction. The outcomes reported are the results from those within the survey group who have purchased and used a washing machine in the last 3 years – in this case, 838 people. Brands must have received at least 30 responses to be included.
Results are comparative and it should be noted that brands that received three stars have still achieved a satisfaction measure of at least six out of 10.
Overall customer satisfaction
Bosch surged ahead in this category, earning five stars for overall customer satisfaction. Simpson, Fisher & Paykel and Samsung all achieved four stars for overall satisfaction, followed by three star recipient LG.
Value for money
Customers of two different brands were most satisfied with the value for money of their washing machines; both Simpson and Samsung each earned five star ratings. Bosch was next with four stars, and LG and Fisher & Paykel both finished with three.
Range of washing cycles (e.g. for different types of garments, different durations)
Through cycles of socks to the toughest soccer jersey stains: good washing machines can tackle any wash and produce the same result. Bosch was number one in this regard, earning five stars for its range of washing cycles. All other brands rated – Simpson, Fisher & Paykel, Samsung and LG – received four stars.
Water efficiency (compared to other brands / models)
Which washing machine was a standout for the amount of water used per wash? Bosch customers were most satisfied with their machine in this regard, earning the brand five stars against Simpson, Fisher & Paykel, Samsung and LG's four stars.
Energy efficiency (compared to other brands / models)
Bosch received five stars for customers satisfaction with the energy efficiency of its washing machines. All other brands (Simpson, LG, Samsung and Fisher & Paykel) received four star ratings for their energy efficiency.
Effectiveness (i.e. cleanliness of clothes)
A washing machine that can tackle the messiest and smelliest of garments and churn out clean clothes is an invaluable household tool. Topping the charts, Bosch received a five star rating for the effectiveness of its washing machines. Simpson, Fisher & Paykel and Samsung all earned four star ratings for cleaning effectiveness, and LG finished with three.
Ease of use
Great features and superior cleaning aren't worth much if your washing machine is difficult to operate. Tying for the five star ease of use rating were Bosch and Fisher & Paykel; followed by four star recipients Simpson and Samsung. LG closed these results with a three star rating in this area.