Coffee Machines – 2014 Ratings
Show Important Notes^*
Hide Important Notes^*
* Overall satisfaction is an individual rating and not a combined total of all ratings
"Buying a coffee machine can save you money," says three in four Kiwis
Are you a regular customer at a café or coffee shop, eager and willing to pay whatever cost for your morning caffeine hit? Despite how great it tastes, these morning cups of coffee an equate to a significant financial outlay over the course of a year.
But three in four New Zealanders who responded to our recent survey found a way to save money. They report that owning a coffee machine has saved them money on café coffee purchases. And it's not just consumers stating this. In an article written for our Australian website, we explained how you can save up to $800 a year by making coffee at home.
We also found in these results that 68% of New Zealanders get good use of their new coffee machine by using it daily. On the other hand, a third of respondents admit they rarely use theirs.
If consumers aren't taking full advantage of their machines, our results indicate that they may be missing out! Three in five prefer the coffee they brew at home to anything they could buy from a café. The same percentage apparently drinks more coffee now than they ever did before owning their machine.
With so many New Zealanders eager to sing the praises of owning a coffee machine, are you ready to think about investing in one?
Nespresso achieves customer satisfaction award for coffee machines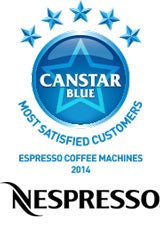 In our survey of hundreds of New Zealanders, we asked those who had purchased a coffee machine in the last few years how satisfied they were with their purchase.
Nespresso coffee machine owners were most satisfied with their purchase, which is why this brand has earned our award for 2014! Nespresso secured top ratings in areas like reliability, ease of use, and coffee taste and more. In fact, they excelled in seven of the eight ratings criteria.
Also rated in these results were Breville, De'Longhi, and Sunbeam. Find out how each brand performed in the results breakdown below.
Overall customer satisfaction
Nespresso led our survey with the coveted five star rating for overall coffee machine customer satisfaction. Next were four star recipients Breville and De'Longhi, then Sunbeam with three stars.
Value for money
Many New Zealanders who responded to this survey are adamant that owning a coffee machine saves them money on café purchases. Could you be doing the same with a new coffee machine in your kitchen?
Sunbeam excelled in this area. This brand received a five star rating for value for money, Breville secured four, and both Nespresso and De'Longhi achieved three.
Reliability
If you're after a dependable coffee machine to deliver your caffeine fix each morning, you're in luck. Three brands – Nespresso, Sunbeam, and Breville – received five star ratings for espresso machine reliability. De'Longhi weren't far behind with a four star rating of its own.
Performance
Nespresso coffee machine customers were most satisfied with the performance of their purchase, which led the brand to five star victory in this regard. Breville and De'Longhi each received four stars, and Sunbeam followed with three.
Ease of use
Making a smooth, rich coffee can be complicated, which is why it's great if your machine makes it easy for you to fool your friends into thinking you're a proper 'barista'. Nespresso achieved five stars for how easy its coffee machines are to use. Breville and De'Longhi both achieved four stars, and Sunbeam secured three.
Ease of cleaning and maintenance
If it's early in the morning and your coffee hasn't quite kicked in, the last thing you want to do is clean a messy machine. Luckily, most coffee machine manufacturers design their machines to be easily and thoroughly cleaned after use.
Nespresso received five stars for the ease of which owners could clean their coffee machine. This brand was followed by our four star achievers: De'Longhi, Sunbeam, and Breville.
Design
A well designed coffee machine fits in with the aesthetic of your kitchen, isn't cumbersome to store, and is intuitive to operate. Nespresso achieved five stars once again, this time for its coffee machines' design. Breville and De'Longhi each received four star ratings in this area, and Sunbeam finished with three.
Taste of the coffee
Does the coffee you make at home rival the brew you get in cafes and restaurants? Nespresso coffee machine owners were most satisfied with the overall taste of their brewed coffee, leaving the brand with a final five star rating in this category. Breville were close behind with four stars, and both Sunbeam and Breville closed these results with three apiece.
—
How we rated coffee machines
Canstar Blue commissions Colmar Brunton using the SSI panel to regularly survey 2,500 New Zealand consumers across a range of categories to measure and track customer satisfaction. The outcomes reported are the results from customers within the survey group who have purchased and used an espresso coffee machine in the last three years – in this case, 391 New Zealanders.
Brands must have received at least 30 responses to be included. Results are comparative and it should be noted that brands receiving three stars have still achieved a satisfaction measure of at least six out of 10.