Heat Pumps – 2014 Ratings
Show Important Notes^*
Hide Important Notes^*
* Overall satisfaction is an individual rating and not a combined total of all ratings. Brands with equal overall satisfaction ratings are listed in alphabetical order.
New Zealanders everywhere saving money with a heat pump
Staying warm in the colder months is imperative for most New Zealanders, but did you know you could do it on a budget? That's what many Kiwis are doing with their heat pumps, according to our most recent survey results.
First and foremost, one in two respondents told us that owning a heat pump has reduced their power bill. This percentage really took off in Auckland, where 67% of heat pump owners allegedly saved money by investing in one of these appliances.
Close to a third of respondents are smarter still, having previously made use of a government subsidy to buy their heat pump and saving money in the process. Aucklanders are ahead of other regions once again, with a significant 46% utilising subsidies for their purchases1.
Another way New Zealanders are saving is by using proper insulation. Did you know that installing insulation in your home can save up to 40% on your energy bills? Happily, more than four in five survey respondents have insulation in their properties, or installed insulation prior to their heat pump being installed.
Finally, a staggering 89% of respondents made sure the heat pump they purchased is an energy efficient model – that's a lot of smart Kiwis.
Heat pump checklist
When you're thinking about how to inexpensively heat your home, here are some things you should consider:
Insulate your home properly before you purchase a heat pump. That way, your new appliance doesn't have to work harder to heat the premises. You may also qualify for a government subsidy that provides free insulation for low-income households, or those with a high risk of illness.
Research whether or not your heat pump…

is energy efficient
has automatic switch-off and -on modes (i.e. timers to make sure you're not using the appliance unnecessarily
has an automatic de-icing functionality.

Measure the length and width of the rooms you need to cool/heat and ensure your new device has adequate power output to moderate the temperature without stress. The EECA's Energywise website has a great calculator for you to do this.
Compare all the big brands with our customer satisfaction ratings!
1 Consumers no longer have access to the subsidy that offsets the cost of purchasing a heat pump. According to the EECA's website: "Some local councils and banks have payment options available to help with the cost of installing insulation and heating."
Mitsubishi Electric wins multiple awards in the same month!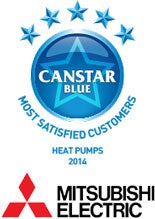 While it's fantastic that so many New Zealanders are cutting down their energy expenses, there are still many people out there who could be saving more. If you rely on your heat pump to maintain a comfortable climate in your house, you're going to need a great model to rely on throughout the seasons.
With that in mind, we asked New Zealanders which brand they were most satisfied with overall, as well as how they felt about their appliance's energy efficiency, ease-of-use, quietness and more. Functionality was one of the main drivers of customer satisfaction when it came to heat pump purchases, followed closely by value for money.
And the brand that stood out? Mitsubishi Electric, which received our Most Satisfied Customers Award – Heat Pumps, 2014. This brand edged out Daikin, Panasonic, Fujitsu General and Mitsubishi Heavy Industries. Daikin in particular came quite close to an award win, receiving five stars in five of the eight criteria.
However, Mitsubishi Electric reigned supreme for 2014, with five-star ratings for overall satisfaction, value for money, after-sale service, reliability, ease-of-use, quietness while operating, and energy efficiency. This award win is timely, given that Mitsubishi Electric earlier this month received one of our inaugural Innovation Excellence Awards for its WiFi Heat Pump Control Smartphone app.
Please refer to the above results table for our full results.
–
How we rated heat pump brands
Canstar Blue commissions Colmar Brunton using the SSI panel to regularly survey 5,000 New Zealand consumers across a range of categories to measure and track customer satisfaction. The outcomes reported are the results from customers within the survey group who have purchased and used a domestic heat pump in the last two years – in this case, 856 survey respondents.
Brands must have received at least 30 responses to be included. Results are comparative and it should be noted that brands receiving three stars have still achieved a satisfaction measure of at least six out of 10. Not all brands available in the market were compared in this survey.