Hot water that never runs out, instant heat for warmth, and precise heat for cooking are dreams for parents of just about every large family. Using gas appliances for hot water heating, cooking and heating is quick, efficient and cost-effective. In New Zealand, there are two main options for getting gas to your home: reticulated natural gas and 45kg LPG (Liquefied Petroleum Gas) cylinders.
Reticulated natural gas is generally a more cost-effective option for large family homes but it is only available in some parts of the North Island. If you are unable to get natural gas, LPG cylinders are still a cost-effective option.
How does LPG work in the home?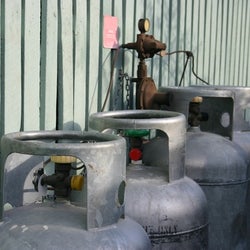 It is important to realise that 45kg LPG cylinders are not the same as the 9kg LPG bottle you use for an outdoor barbecue. A qualified gas fitter is required to install the outdoor connection, which includes a gas regulator, changeover valve and "pigtail" tubing. A gas fitter is also required to install each gas appliance and gas plumbing through your house, and a Gas Fitting Certificate needs to be supplied for this work. This is to ensure the safety of gas in the home.
Once you have engaged a qualified gas fitter, the use of LPG is quite straight-forward. Gas companies supply two 45kg cylinders, which are rented for a monthly or yearly charge. These cylinders will be installed outside your home and need to be placed in a spot that is accessible for the company's delivery drivers. Once you have used the first cylinder, the automatic changeover valve will switch to the second cylinder and will indicate that one cylinder is empty. Depending on your LPG plan, the empty cylinder will either be automatically topped up or you will need to order a refill, with most companies charging per refill.
This set-up means, in most instances, you will not run out of gas and you will have continuous hot water, heating and cooking year-round.
How many gas cylinders would my family use in a year?
As gas companies charge for each 45kg cylinder they refill, it helps to know how many cylinders your family will use so you can compare prices. However, the number varies greatly depending on what you are using the gas for and how many appliances you have, the seasonal climate, the numbers in your household and how energy-efficient your family is. This table gives a very broad guideline:
| | |
| --- | --- |
| Application | Bottles used per year |
| Cooking | 1-2 |
| Home heating | 6-9 |
| Hot water for 4 people | 6-9 |
| Hot water for 6 people | 9-12 |
General guide only
Which gas companies offer LPG plans for families?
As energy is a major cost per household, it pays to shop around to find the best plan to suit your family. Here is a breakdown of the best advertised plans offered by major LPG suppliers:
Elgas
Elgas NZ has a number of LPG cylinder options for large family homes, and even offers a free e-book for homes that are new to LPG. One Elgas service is EasyGas, an automatic tanker delivery top-up based on your gas use history. With this option, there is no need to check your gas bottles or ring for a top-up. Another option is gas bottle delivery, with text messages reminding you to check your gas bottles. Elgas offers a welcome package with a $100 credit, no contracts and Fly Buys. Customers also get discounts and interest-free payment terms on gas appliances.
Genesis
Genesis Energy has a range of LPG gas bottle plans. The ones most suited to a large family home are the Bottle Gas Control plans offering nine, 12 or 24 45kg bottle refills over a year for a fixed monthly price. The number of bottles you use will depend on your family's use. However, with these plans it is better to go for a smaller amount, as extra bottles are a reasonable cost of $105 and you will not get a refund if you don't use all the bottles in your plan. With this plan, Genesis also offers Bottled Gas Monitoring if you are in its coverage areas in Auckland and Christchurch. It also has a prompt payment discount and Fly Buys points which increase if you also get electricity from Genesis.
Contact Energy
Contact Energy has a range of plans for LPG gas bottles, and it offers special discounts to DualEnergy households – which also get electricity from Contact. The best plan for large families is Contact's "Month Off" plan, where families get a month off their power bill at a time nominated by them and one free 45kg LPG cylinder. The plan also includes a month off broadband if you have broadband through Contact. The plan is for a fixed term up to 31 March 2020 but rates are fixed until then as well, and customers can get discounts of up to 20% when paying on time. Gas bottles can be re-ordered online or through an 0800 number.
Energy Online
Energy Online says it is "brilliantly simple" for customers and that is true for its LPG bottled gas service. It offers a gas bottle rental of $10 per month and a cost of $99 for each 45kg refill. It also gives a $50 credit on your first order and no fixed terms. Customers can re-order gas bottles through a mobile app or online account.
Pulse Energy
To get LPG cylinders, Pulse Energy customers must also get power from the company. However, they will get an All Energy Discount of 40c per day. With this discount, rental is around $7 per month for the two LPG cylinders and refills are around $94 – $106. Prices vary depending on where you live but Pulse Energy has an easy-to-use guide on its website. Refills can be ordered online or through an 0800 number.
Trustpower
To get LPG off Trustpower, customers must also get power, but they qualify for a dual fuel discount of 25c off per day. Trustpower's costs for LPG are around $15 a month for rental and $100 – $125 for each 45kg refill, with prices varying depending on where you live. LPG bottles are not offered in all locations. Refills can be ordered online or through Trustpower's app.
Tips and tricks for getting the most out of LPG gas:
Check your gas cylinders regularly – at least once a month – and order a refill as soon as you notice the first bottle has run out.
Remember to check your gas bottles more often in cold weather or when you have additional guests.
Avoid running out of gas completely. This not only is a huge inconvenience for you, you will be charged extra for an urgent delivery.
You can check how much gas is left in your cylinders by gently pouring a cup of hot water down the side of the bottle. A line of condensation will appear or it will feel cool at the level of the remaining gas.
Be aware that gas bottles are designed to be about 80% full, to ensure you get the full measure of gas. The unfilled space allows for the natural expansion of the gas during warmer temperatures.
The more ways you use gas in your home, the more efficient your LPG system will be.