Amid the many different types of plans offered by electricity retailers in NZ, encompassing a range of tariffs, varying price structures, and potentially tied to discount offers, it can be difficult to determine what exactly constitutes cheap power.
When evaluating and comparing retailer offerings, along with the cost per unit (kWh) of electricity, it is important to keep in mind all other charges and potential discounts that will apply, in gaining an understanding of the total costs involved and determining the suitability of a plan for your household.
Once all of these costs are tallied, and dependent upon the specific usage patterns of a household, the final, overall cost per kWh (encompassing all charges and any discounts) under a plan may look very different from the kWh cost of the tariff.
Delving deeper into the offerings of retailers, consumers will be able to gain a greater overall understanding of how the various fees of a plan combine to produce the total cost, establish some of the cheaper rates on offer and more thoroughly compare the pros and cons of different plans.
The average cost of electricity in NZ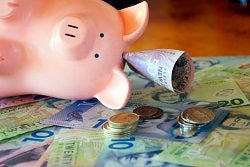 The rates charged by electricity retailers can vary significantly, and the average cost of power in New Zealand provides a starting point for consumers seeking to sort through the power prices on offer.
Ministry of Business, Innovation and Employment (MBIE) residential sales-based electricity costs data provides insight into the expenses households around the country are facing, showing that in the year to March 2017 (costs including GST):
Annual average electricity expenditure per household was $2,029
Annual average expenditure per household equates to around $169 per month
Annual average consumption of electricity per household was 7,046 kWh
The residential cost per kWh was 28.79 cents
It is important to note that this data, which is based on the actual volume of electricity sold and the total revenue, includes prompt payment, multi-fuel and online discounts, as well as incentive and retention payments, along with the rates paid by customers on fixed-term plans.
These figures provide for a general point of comparison before more specific usage requirements are addressed, and, given that the data is a national average, consumers should also keep in mind regional variations that exist in pricing when assessing retailer offerings.
Fixed and variable charges
In determining the total costs likely to apply over the course of a billing period under a plan, consumers will need to understand how different plans are structured, and how these structures will in turn impact rates.
As advised by the Electricity Authority, most bills include costs for fixed (also referred to as daily) and variable charges:
Fixed charges are displayed as cents or dollars per day, with consumers charged a fixed rate each day regardless of how much power is used.
Variable charges are the charges for the actual power used, based on kWh used, and charged at the rate agreed to with the retailer.
It is important to keep in mind both the respective costs of and the relationship between fixed and variable charges, and finding a plan with the right balance between the two will go a long way to delivering greater long-term value.
Also be aware that electricity retailers provide consumers with low user and standard user options, and it is important to ensure that you are on the right plan for your usage, as the final difference in price could be substantial.
As advised by Meridian Energy, for consumers using less than 8,000 units a year at their primary residence (9,000 units in parts of the lower South Island), its Low User option may be the best choice, with its two options comprising:
Low User
A lower daily fixed charge
A higher variable charge for each unit of electricity used
Standard User
A higher daily rate
A slightly lower rate for each unit of electricity used
If you are a high electricity user, plans with a lower kWh rate and higher daily charges should be a focus, while for lower electricity users, plans with a higher kWh rate and lower daily charges may be worthwhile looking at.
Other factors impacting costs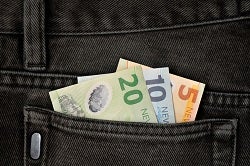 Of course, the type of tariff you are on, from tariffs in which a fixed rate applies around the clock to tariffs in which rates vary according to peak and non-peak hours, will impact how much you ultimately pay, and the suitability of these tariff options will need to be assessed in the context of your household's usage patterns.
Any discounts being offered by a retailer will also impact the total cost per billing period and will need to be factored into the equation. For instance, many retailers offer prompt payment discounts as part of their plans, delivering customers a percentage discount off their bill when they pay on time.
When weighing up what sort of impact this will have on overall costs, keep in mind the portion of your bill that the prompt payment discount will apply to, and consider how charges that may not be covered by the discount will impact the make-up of your invoice.
It is also worthwhile keeping in mind what the cost of your bill will look like if you do not pay on time under a plan with a prompt payment discount, and consider how these costs compare to the offers of other retailers, with or without prompt payment discounts incorporated into their plans.
You may also be interested in:
Use the tools at your disposal
It is worthwhile drawing on your previous usage history as a means to assess the potential value of different plans, in determining what your future costs may be.
Many retailers provide consumers with online account management tools via which this information can be accessed, and may even provide usage graphs and tables, delivering further insight into electricity usage data.
Meanwhile, retailers may also provide tools for prospective customers that will estimate what their average costs will be over the course of a billing period, and it is certainly worthwhile using such tools in gaining an understanding of the breakdown of costs.
Consumers on the lookout for a new plan should also consult retailer pricing fact sheets, and determine what the kWh and fixed charges will be, and do their own calculations in weighing up varying offers.
If any details need clarifying, prior to entering a contract it is certainly worthwhile contacting the retailer directly and establishing exactly what all the charges will be.