Virtual power plants (VPPs), also referred to as virtual power stations, may be a comparatively recent technology innovation, but their capacity to integrate small-scale generation and deliver a diversified energy supply is attracting increasing attention.
The VPP concept has gained momentum in conjunction with the increasingly diverse array of energy generation and storage systems being introduced to market, including residential solar and battery systems, with VPPs able to draw on a variety of sources in managing supply and demand.
Pike Research (now part of market research and consulting company Navigant Research) has described virtual power plants as "software-based networks that remotely and automatically dispatch and optimise power generation or demand-side (or storage) resources into a single, secure, web-connected system".
Pike Research's Peter Asmus (now Navigant principal research analyst) described VPPs as representing "an 'Internet of Energy'", explaining that the "systems tap existing grid networks to tailor electricity supply and demand services for a customer".
"VPPs maximise value for both the end user and the distribution utility, using a sophisticated set of software-based systems," Asmus stated. "They are dynamic, deliver value in real time, and can react quickly to changing customer load conditions."
The potential for households and other small-scale generators to feed surplus energy into the grid, which can then be managed and distributed to other users via VPP systems, is being explored in many projects throughout the world, including in New Zealand.
New technology delivers diversity
The New Zealand electricity market has been evolving at pace in recent years, amid the rollout of smart energy meters, the continued uptake of solar panel systems and the development of residential battery storage technology.
Electricity Authority figures released in December last year show that small-scale solar connections (generation with a capacity of less than 10 kW) totalled 11,117 in October 2016, up from 4,796 in January 2015, with over 2,000 installations having been carried out in the previous 10 months.
Meanwhile, advances are being made in battery storage technology and costs are concurrently declining, delivering the potential for more households to both generate and store their own power, along with having the option of feeding it back into the grid.
All of these elements combined, along with the development of cloud-based management systems, provide the capability for enhanced control of energy supply and demand, creating a framework via which VPPs can potentially be implemented. Certainly, along with providing consumers additional options as to how they manage energy usage, these new technologies deliver greater scope for innovation in the broader energy market.
The transition to a more diversified energy market, incorporating systems such as VPPs, will, of course, be an ongoing process, and how VPPs will potentially co-exist alongside traditional retail models is a point of interest.
Virtual power stations provide potential for greater competition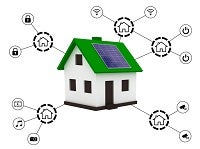 Virtual power plant technology delivers the potential to build upon and provide alternatives to the traditional model of supply and demand, and it appears that there are opportunities for new players to establish a market niche, potentially creating greater competition.
For instance, in addition to delivering smart energy management at a household level, a number of solar energy storage companies, such as Sunverge Energy, have developed systems that incorporate cloud-based software which operates at a wider, VPP level.
"Energy storage systems not part of a VPP are unable to provide services to the grid or to benefit from the intelligent energy management provided by the grid," Sunverge stated last year, upon advising of its involvement in the development of a VPP project in Australia. "By contrast, when storage systems operate as part of a VPP the ultimate result is a stronger and more reliable power grid, more efficient energy management and greater value and long-term bill reductions for consumers."
In a consultation paper released earlier this year, the Electricity Authority observed that "the improving capability and falling cost of batteries, solar and other distributed generation, and of communications and control systems, means it is now feasible for other parties to provide aspects of the network service".
"In particular, it is now possible for third parties to help maintain and enhance network reliability by using batteries or demand response," the Electricity Authority stated in the Enabling mass participation in the electricity market paper.
The Electricity Authority pointed to the potential for new forms of generation, providing more diverse electricity supply sources, to "supplement existing grid-connected and distributed generation and improve competition in the generation market".
"For example, competition could be increased using the 'virtual' power station concept to take a 'combined' or integrated approach to small-scale generation," the Electricity Authority stated. "A virtual power station might link dispersed generators – like solar panels or batteries – in a web-based network. In addition, consumers altering their electricity use (referred to as demand response) will enhance competition in the generation market."
Contact Energy virtual power plant trial
Earlier this year, energy generator and retailer Contact Energy advised that it would run a virtual power plant trial in Wellington, employing solar and battery technology, with it "designed to support Wellingtonians in the event of a natural disaster".
As part of the two-year trial, Contact has joined with Wellington Electricity and Wellington City Council, installing solar and battery systems in a number of homes.
"The technology will allow the residents to harness the power of the network of solar generation and batteries and be rewarded for the energy they produce when the electricity grid is under pressure at peak times," Contact advised.
Under the trial, customers will also have the ability to view and manage their energy usage in real time via a mobile app.
"In the future, the companies involved in the partnership hope the technology could be used to give customers the choice of sharing stored energy between homes," Contact stated.
Australian company Redback Technologies' Smart Hybrid System is being used as part of the trial.
"For Contact, it's about using innovative and highly flexible energy technology solutions to enhance the resilience of our communities in the event of a natural disaster such as an earthquake," Contact Chief Customer Officer Vena Crawley commented. "This smart network of customer-located batteries will maximise the benefits this technology can deliver for customers."