Hydropower has long been an important component of New Zealand's energy makeup, with hydroelectric projects accounting for the majority of electricity supply over the course of each year, and as part of the greater renewable energy mix it is set to continue playing a pivotal role going forward.
The Ministry of Business, Innovation and Employment (MBIE) advises in its Energy in New Zealand 2018 report that hydro generation typically provides 55-60 per cent of New Zealand's annual electricity supply, at around 24,000 GWh out of more than 40,000 GWh total demand.
However, the MBIE notes that New Zealand's hydro storage lakes are relatively shallow, requiring regular inflows to maintain lake levels, with careful management of hydro resources and alternative back-up required to ensure security of supply during dry periods when generation is constrained.
There are hydro generation sites of all sizes around the country, and amid the continued transition to 100 per cent renewable electricity generation, the manner in which hydro generation can work in conjunction with other renewable energy sources continues to be a strong focus for industry.
How does hydro generation work?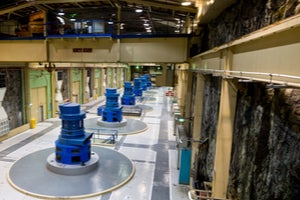 The Energy Efficiency and Conservation Authority (EECA) advises that hydroelectric schemes utilise gravity to drive water through turbines, with the energy that is generated converted into electricity.
With schemes requiring continuous, year-round water supplies, along with vertical drops for water to fall down, the EECA advises that water from streams, rivers or dams flows down steep pipes into turbines, driving power generators, with the water then flowing back into a river or stream below the hydro plant.
The EECA advises:
While some hydro dams store enough water for schemes to be switched on as required, run-of-river systems, which don't have dams, need water to flow year-round down rivers with steep enough natural drops to power turbines.
Water stored in dams can be turned into electricity in minutes, with the process giving off no greenhouse gases, however the building of dams has a great impact on the environment.
New Zealand has relatively small water storage capacity, with water supplies potentially varying greatly from year to year, meaning close tabs need to be kept on water availability for hydro schemes.
Wind-powered generation growth has eased concerns about variable water supply, with wind supply more predictable than water supply.
The EECA notes that the generation of hydroelectricity "will continue to provide the backbone of New Zealand's electricity system", observing:
"There is still significant scope to develop new hydroelectricity generation in New Zealand, but as the major opportunities have already been taken, and there is keen public interest in preserving our waterways, large projects are unlikely."
The MBIE advises that there is over 5,000 MW of installed hydro capacity spread over 100 or so sites in New Zealand, with major power stations, such as Manapouri and Benmore, making up the majority of capacity.

Manapouri hydropower station
Power company Meridian Energy's Manapouri hydropower station, located on the edge of Lake Manapouri's west arm in the Fiordland National Park, is New Zealand's largest hydropower station, with it having become fully operational in 1972.
Meridian advises that it is located underground, comprising generating units housed in a cavern excavated from rock 200 m below the surface of Lake Manapouri, with the original construction having taken eight years to complete, including the excavation of a 10 km tailrace tunnel to take water flowing out of the station into Deep Cove in Doubtful Sound.
Subsequent work, commencing in 1998 and completed in 2002, comprising a second tailrace tunnel running parallel to the original tunnel, allows the station to achieve a maximum continuous rating of 850 MW (resource consent conditions limit generation to 800 MW), Meridian states.
Meridian advises:
Manapouri comprises seven 122 MW generating units, with an operating maximum station output of 800 MW.
It generates enough electricity annually for about 619,000 average New Zealand homes.
The original project was undertaken in extremely harsh conditions, with 1,800 workers working on the project.
First power was generated in September 1969, with the installation of two generating units.
In 1972 the seventh and final generating unit was commissioned.
Benmore hydropower station
The Benmore hydropower station, located in the Waitaki Valley, is New Zealand's second-largest hydropower station.
Meridian advises that construction of Benmore commenced in 1958, with the lake filled in December 1964, and first power produced in January 1965.
At the time of construction, the project was the biggest of its kind in New Zealand, and the dam was the largest in the southern hemisphere, Meridian states, with advances in dam building techniques having seen it built using earth rather than concrete.
Meridian advises:
Benmore has six 90 MW generating units, with an output of up to 540 MW.
Enough electricity is generated each year for about 298,000 average New Zealand homes.
It is New Zealand's largest solid-earth dam, creating its largest man-made lake, Lake Benmore.
Clyde and Roxburgh hydropower stations
Energy generator and retailer Contact Energy operates two hydropower stations in the Central Otago region, with the Clyde Dam having been commissioned in 1992 and the Roxburgh Dam commissioned in 1956.
Contact advises that the Clyde Dam on Lake Dunstan is the largest concrete gravity dam in New Zealand, with a million cubic m of concrete in the dam and another 200,000 cubic m in the powerhouse.
Roxburgh, meanwhile, is also a concrete gravity dam, with Contact stating that, with the powerhouse, it contains about half a million cubic m of concrete, weighing 1.5 million t.
Contact advises:
Clyde comprises four turbine generator units, with it capable of producing 432 MW.
The first of Roxburgh's eight generators was commissioned in 1956.
The lake formed by the Roxburgh dam covers an area of nearly 6 km2.
Roxburgh has a capacity of 320 MW.
Tongariro Power Scheme
Power company Genesis Energy advises that the Tongariro Power Scheme, located in the North Island's central volcanic plateau, sees water gathered from the mountains of the plateau through the scheme's eastern and western diversions.
Genesis advises that the water passes through a series of pipes, lakes, canals and tunnels to the underground Rangipo power station and the Tokaanu and Mangaio power stations before entering Lake Taupo.
The Tokaanu power station was the first of the stations to commence operations, with Genesis stating that it was commissioned in 1973, followed by Rangipo in 1983 and Mangaio in 2008.
Genesis advises:
The scheme covers a catchment area of more than 2,600 km2.
The total capacity of the scheme is 361.8 MW.
Tokaanu comprises four 60 MW units, with a total capacity of 240 MW.
Rangipo comprises two 60 MW units, with a total capacity of 120 MW.
Mangaio comprises one 1.8 MW unit.
Image credits: Pi-Lens/Shutterstock.com, 3523studi/Shutterstock.com, Ho Su A Bi/Shutterstock.com