Solar farms have the potential to play a growing role in the New Zealand electricity mix, and around the country a number of initiatives are currently in the works as industry increasingly seeks to tap into the power of the sun.
Harnessing solar energy at an industrial-scale level, solar farms comprise the installation of large numbers of photovoltaic solar panels that collectively generate electricity for a dedicated purpose, such as to power commercial operations, or to be fed into the grid.
While residential installations are designed to cater for the individual needs of a household, solar farms – which create a striking impression in covering a large area with panels angled side-by-side to face the sun – can potentially be configured to power large numbers of homes and businesses.
As solar technologies continue to be developed and as costs become more economic, it is likely that industry will increasingly canvass the role of solar farms in the wider electricity network.
The state of solar: Its future role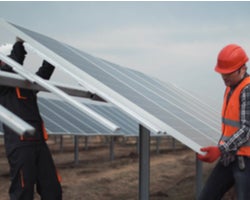 Solar currently comprises a small percentage of New Zealand's electricity generation, with the Ministry of Business, Innovation and Employment's Energy in New Zealand 2018 report showing it provides less than 0.2 per cent of total generation.
Earlier this year, state-owned Transpower, the owner and operator of the national grid, released a paper exploring solar's future role in New Zealand, with it pointing to "enthusiasm for a rapidly increasing contribution from solar" and outlining some of the challenges involved.
The Sun Rises on a Solar Energy Future paper highlights the falling cost of solar, observing that:
"Based on what we currently know and believe, by 2050 utility solar is likely to be the world's cheapest form of energy – marginally cheaper than wind, which will also continue to fall in price."
Going forward, it notes that challenges include:
Aligning solar with the evening peak electricity load, pointing to the role that battery storage and complementary tariff structures can play.
Rolling out solar in higher value locations – close to demand and where generation potential is high – in a timely manner.
Taking a balanced approach to investment as new technologies are developed and released to market.
The paper notes that solar's decreasing cost and steadily improving performance, along with an increasing focus on sustainability and self-reliance, are driving utility and distributed solar uptake, and stresses the economic viability of utility solar in New Zealand's energy future.
Along with reducing electricity costs, taking steps towards self-sufficiency is certainly a noticeable feature of many of the solar farm projects that have been undertaken, or which are in development or have been proposed, around the country, with solar being used in combination with other energy sources.
Solar on water: Vector and Watercare to build floating array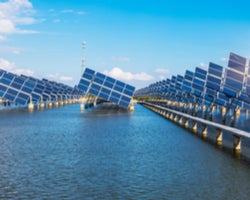 Energy distributor Vector and water utility Watercare recently advised that the two companies will be involved in a project to build what will be New Zealand's largest solar array in Auckland, with it to float on top of the Rosedale wastewater treatment pond.
New Zealand's first floating solar array, to be delivered by Vector PowerSmart, it will supplement electricity from the grid, as well as cogeneration from biogas, with the electricity to be used for activities that help break down waste as part of the treatment process.
"As a large user of energy, it's important that we look at ways of reducing our environmental footprint and becoming more self-sufficient," Watercare Chief Executive Raveen Jaduram commented.
"Innovative solutions like this on top of wastewater ponds are a smart way to reduce operational costs."
Vector and Watercare advise:
The project is New Zealand's first confirmed MW-scale solar system.
It will generate enough electricity each year to power 200 average New Zealand homes for a year.
It will comprise more than 2,700 solar panels and 3,000 floating pontoons.
It is New Zealand's largest confirmed solar project of any type so far, and more than twice the size of the country's current largest solar array.
It will deliver reduction of 145 t CO2e each year.
Energise Ōtaki: Community solar farm project
Charitable incorporated society Energise Ōtaki advised in August that a community solar farm project will be developed to fund community energy projects in Ōtaki, with funding of $407,000 coming from the Wellington Community Trust.
"One of the many appealing aspects of Energise Ōtaki's proposal for us as a trust was the return on our investment being reinvested back into the Ōtaki community," Roger Palairet, Wellington Community Trust Chairperson, commented.
"The establishment of a local community trust that will redistribute income earned from the solar arrays into projects that address energy hardship and sustainability in the region was innovative and very attractive to us."
Energise Ōtaki advises:
Two solar farms will be built later this year.
A solar farm at the Kāpiti Coast District Council's wastewater treatment plant will generate power to run the treatment process.
A solar farm at Ōtaki College will provide energy for college operations, with excess energy over the summer months to be provided to the local grid, with Energise Ōtaki to also explore energy storage as a further stage.
The farms will comprise 600 photovoltaic panels.
Over 160 kWp of electricity will be generated when the sun is shining.
Yealands Wine Group: Powering a winery
Yealands Wine Group has installed one of New Zealand's largest solar arrays on the roof of its Marlborough winery, which it states supplies much of its electricity needs.
Yealands advises that Marlborough gets more hours of sunshine than anywhere else in New Zealand in most years, with the array having been expanded in 2016 to cover almost the entire roof of the winery's north wing.
The electricity generated helps power everything Yealands does in its winery, with most of the energy harvested used for cooling, which Yealands states is crucial for its wine quality.
Yealands advises that:
With an original 99 kW system installed in 2013, a further 918 solar panels have been added to bring the total to 1,316.
The system is capable of generating 411 kW of solar power.
The solar array produces more than half-a-million kWh per year.
Each new solar panel has a maximum power output of 340 W.
Refining NZ: Power for an oil refinery
Refining NZ, the owner and operator of the Marsden Point oil refinery in Northland, advised earlier this year that it is considering the development of a solar farm to supply the facility with electricity.
Refining NZ advised that early work shows that the solar farm, to potentially be developed adjacent to the refinery, would reduce the cost of the refinery's electricity consumption.
"First and foremost, this facility would allow Refining NZ to reduce its electricity costs, which is one of the biggest costs for the company," Refining NZ Chief Executive Mike Fuge stated of the potential project.
"It would leverage our existing refining and infrastructure business, taking advantage of a high-quality solar resource in Northland, as New Zealand greens its transport sector, and contribute to the government's goal of transitioning to a low-carbon economy."
Refining NZ has advised:
The solar farm would have a 26 MW capacity.
It would cover 31 hectares.
It would cost an estimated $36-39 million.
Images credits: Roschetzky Photography/Shutterstock.com, FrameStockFootages/Shutterstock.com, ssguy/Shutterstock.com