Wind farms have in recent years become an increasingly important component of New Zealand's energy network, with electricity generators harnessing an ample natural resource and bringing further diversity to the grid.
As noted by the Ministry of Business, Innovation and Employment (MBIE) in its Energy in New Zealand 2018 report, the New Zealand wind resource is world-class – however, as the MBIE's figures show, total generation can change from year to year due to variable conditions.
The report advises that wind accounted for 5 per cent of the electricity supply in 2017, down 7 per cent on the 2016 level and 9 per cent on the 2015 level, with an average capacity factor of around 35 per cent in 2017 (the lowest since 2011) indicating that conditions were unfavourable.
Amid the transition to 100 per cent renewable electricity generation, the potential exists for wind energy to account for a greater share of generation – and, with a number of new projects currently in development, it is poised to play a growing role.
How is wind energy harnessed?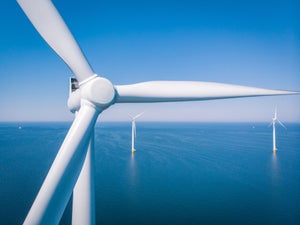 As advised by the Energy Efficiency and Conservation Authority (EECA), wind energy is harnessed by wind turbine blades connected to generators, which convert the energy into electricity, with the blades turning more rapidly in faster wind, generating more electricity.
The EECA advises that electricity is generated between specific high and low wind speeds, with turbines shutting down once the wind speed exceeds a maximum level, and the blade size determining the maximum power output.
Turbines can range significantly in capacity, from turbines developed for domestic use to offshore turbines, with the EECA noting that the largest-capacity turbines in New Zealand are the 3 MW units at the Tararua and Mahinerangi wind farms.
The EECA advises:
New Zealand has one of the best wind resources in the world.
In generating electricity, wind turbines do not produce greenhouse gas emissions.
Wind energy infrastructure is fast to build and turbines are easy to remove.
Wind farm operators can forecast with reasonable accuracy the amount of electricity they will generate in a year, despite wind speed changes.
Wind generation's long-term stability makes it a good fit with hydroelectric generation, which during dry periods can be less stable.
Pointing to the potential for wind to provide a greater share of generation, the EECA observes that:
"The lower costs of building wind farms and the close fit between wind and hydro generation mean we're likely to see more wind farms built as our demand for electricity grows."
The EECA advises that New Zealand currently has 19 wind farms operating or under construction, providing 690 MW of electricity generation capacity.
Turitea wind farm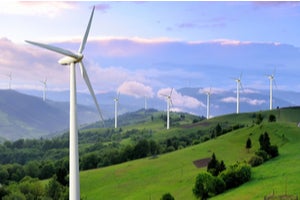 Energy retailer and generator Mercury advised earlier this year that it has committed to the construction of the first 33 wind turbines at the Turitea wind farm near Palmerston North, with commissioning expected to begin from late 2020.
Mercury advised that transmission and other infrastructure is scaled to support development of a remaining 27 turbines at Turitea, along with the Puketoi Range to the east, where it additionally has consent to construct a 53-turbine wind farm.
Highlighting the capacity to harness wind energy at both Turitea and Puketoi, Mercury stated the sites provide a combination of high average wind speeds and proximity to the national grid.
Mercury advises:
60 wind turbines have been consented at Turitea.
With a 119 MW capacity, Turitea will generate an average of 470 GWh per year, enough electricity to power 210,000 cars.
The overall cost for the project is estimated to be $256 million.
It will be New Zealand's third-largest wind farm.
The site is believed to be in the top 5 per cent of wind generation sites worldwide.
Waipipi wind farm
Renewable energy generation company Tilt Renewables recently advised that it is proceeding with construction of the 133.3 MW Waipipi wind farm in South Taranaki, expanding its portfolio of assets in New Zealand.
For the first 20 years of operation, 100 per cent of the energy produced by the farm will be sold to Genesis Energy, which Tilt has advised will be via the largest wholesale energy offtake agreement signed by anyone in New Zealand to date.
Tilt has stated that construction is expected to finish towards the end of the financial year ending March 31, 2021.
Tilt advises:
Waipipi will consist of 31 turbines.
The turbines will be connected to the Transpower 110 kV network via 11 km of 110 kV transmission line to the Waverley substation.
It will provide average energy production of 455 GWh, the equivalent to powering approximately 65,000 New Zealand houses.
The total cost of the wind farm and associated works will be approximately $277 million.
It will save the emission of roughly 350,000 t of carbon each year.
West Wind wind farm
Meridian Energy's West Wind wind farm, located in Makara, west of Wellington, has been fully operational since 2009.
Meridian advises that the funnelling effect of the Cook Strait sees the site receive strong and consistent wind speeds, making it an ideal location for a wind farm, with the public able to access West Wind via a recreation area.
The recreation area includes a viewing platform, with visitors able to take a short walk from the platform to the People's Turbine, the only turbine the public can access at the site, while two other walking tracks and two mountain biking tracks can also be accessed.
Meridian advises:
West Wind comprises 62 wind turbines.
It can generate up to 142.6 MW of electricity.
It can generate enough electricity each year for about 73,000 average New Zealand homes.
It is located on a working sheep farm.
A temporary wharf at Oteranga Bay was constructed, with turbine parts shipped in, and 33 km of roads built to link the wharf to the wind farm site.
Tararua wind farm
Tilt's Tararua wind farm, located in the Tararua Ranges in Manawatu, is New Zealand's largest wind farm, having been constructed over the course of three stages.
As advised by Tilt, stage 1 was commissioned in 1999, at which time it was the largest wind farm in the southern hemisphere, followed by stage 2 in 2004, with stage 3 having been commissioned in 2007.
In total, across all three stages, Tararua comprises 134 turbines, with Tilt advising that it stands on 700 hectares of private farmland.
Tilt advises:
Stages 1 and 2 have a total of 103 turbines, with stage 1 comprising 48 turbines and stage 2 comprising 55 turbines.
Stages 1 and 2 have a maximum capacity of 68 MW and an annual output of 245 GWh.
Stage 3 comprises 31 turbines, with each turbine having a capacity of 3 MW, nearly five times that of the original stage 1 and 2 turbines.
Stage 3 has a maximum capacity of 93 MW and an annual output of 318 GWh.
Tararua has an average annual power output of 563 GWh.
Image credits: XXLPhoto/Shutterstock.com, fokke baarssen/Shutterstock.com, Volodymyr Burdiak/Shutterstock.com