Making smart power choices during the winter months can not only help keep households warm, but also lead to potentially significant savings, and for consumers seeking to stick to a budget it is best to plan and prepare ahead of time.
Many households feel the strain when the cold weather hits, as an increasing portion of household income is devoted to covering electricity costs, and it is important to consider a range of factors, from tariffs through to heating options, in addressing how costs are incurred.
As noted by the Electricity Authority, for the large majority of consumers on fixed-price contracts, costs rise during the winter months for the sole reason that they are using more electricity, turning on heaters, plugging in electric blankets and taking hot showers.
The cumulative effect of this additional electricity usage can be significant, however there are a number of steps that can be taken, providing for greater control over usage and helping to avoid bill shock.
What tariff are you on?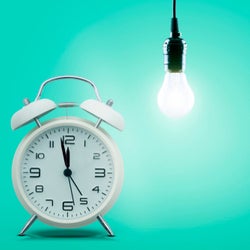 A good starting point for consumers seeking to drive down electricity costs over winter is to consider the suitability of their electricity tariff.
Figures previously released by the Electricity Authority showed that New Zealanders could on average save $175 in a year if they switched to the cheapest deal in their area, while if all consumers switched retailers in 2015 they could have saved a collective $307 million.
Consumers have a variety of tariff options at their disposal, with a number of new retailers having entered the market in recent years offering a range of tariffs, and it is worthwhile actively considering different retailer offerings.
Consumers assessing their tariff options may consider the following:
Tariffs – it can help to develop an understanding of how tariffs are structured, and how different types of tariffs function, in determining what tariff is best suited for your household's requirements.
Account tools – many retailers provide their customers with online account management tools, and it is worthwhile looking at the breakdown of your historical usage in determining the suitability of your tariff, analysing when the majority of your usage occurs.
Bill comparison – many retailers provide online bill comparison and estimate services for prospective customers, which can be helpful in providing further insight into the sorts of costs that can be expected under different tariffs.
Before turning the heater on: Combating the cold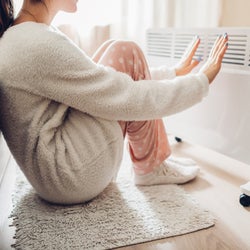 Before turning on the heater, it can pay to assess what options a household has when it comes to keeping the cold out. Ensuring a house is adequately equipped to combat the cold may lead to less reliance on heaters and consequently less electricity usage.
There are a number of steps that householders can take, including looking at:
Insulation – effective insulation is critical in helping to regulate home temperatures, with the Energy Efficiency and Conservation Authority (EECA) noting via its Energywise website that good quality insulation helps keep the heat in during winter and out during summer, making homes easier and cheaper to heat properly.
Stopping draughts – if a home is prone to draughts it can be more difficult and more expensive to heat. As advised via Energywise, blocking draughts is usually cheap and easy, from doors and windows, to chimneys and fireplaces, ceilings and floors, electrical and plumbing passages, extractor fans and recessed downlights.
Building design – when it comes to building design, there are a number of factors to be considered, with Energywise advising that homes designed to harness the warmth of the sun: are placed in the sunniest part of the section and oriented to face the sun, have appropriately sized and positioned windows and overhangs, employ insulation, and use thermal mass (such as concrete floors), absorbing heat in the day and releasing it at night.
Time to turn the heater on: The right heating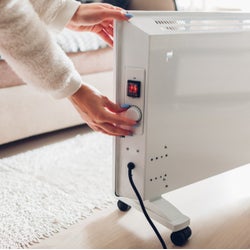 When it comes time to turn the heater on, choosing the right heater, be it an electric-powered heater or otherwise, can make a huge difference in terms of costs incurred over the long term, with households having a number of options at their disposal. The temptation may be to go for a cheaper upfront heating option, however this may well prove the more expensive option in the longer term.
As advised via Energywise, how a room is used will help determine what heating is suitable, with it worthwhile paying a bit more upfront for a fixed heater for larger rooms you want to heat regularly – such as a modern wood or wood-pellet burner, energy efficient heat pump or four-star qualified flued gas heater – with lower running costs and more heat output than a small electric heater.
Among the heating options available, Energywise advises:
Heat pumps – provide low running costs when used correctly and deliver instant heat, with the convenience of thermostat temperature and timer control, however must be sized correctly, while some are a lot more efficient than others (check the Energy Rating Label).
Modern wood burners – provide low running costs (especially when cheap or free firewood is available) and can heat large spaces, with a building consent needed to install one.
Wood pellet burners – are good for the environment, with pellets made from waste products burning cleanly, and good for heating large spaces, with a building consent needed to install one.
Flued gas (natural or LPG) heaters or fireplaces – provide temperature control via the thermostat and also timer options, and are good for heating large spaces, with consumers needing to pay a fixed charge for reticulated supply, while running costs are relatively high when using LPG bottles.
Electric heaters – are very cheap to buy and good for heating smaller spaces, however are more expensive to run than most other heating options, while heat output is low compared to most other heater types.
Central heating – provides heating for an entire house, with the convenience of thermostat temperature and timer control, however can be expensive to install and expensive to run if a house isn't well insulated or is draughty.
Smart electricity management
Beyond combating the cold and choosing the right heater, making smart electricity decisions across the range of appliances used in a household can help to drive down electricity costs during the winter months and at all times of the year.
The cumulative savings delivered by smart electricity management have the potential to add up over the long term.
Householders may consider:
Appliance overload – is another appliance really needed? As noted via the Ministry of Business, Innovation and Employment's Smarter Homes website, certain appliances may simply be more expensive ways of doing jobs that can be easily undertaken via other means or eliminated altogether via renovation.
Out with the old, in with the new – older appliances may be consuming comparatively large amounts of electricity, with Smarter Homes noting that a modern fridge will use around half the electricity of a 15-year-old fridge, with the capacity to quickly make up for the cost of buying it.
Check the Energy Rating Label – when buying an appliance, check the Energy Rating Label to help determine how much it will cost to run. Smarter Homes notes that an appliance that is initially more expensive to purchase may be more efficient and actually deliver ongoing power bill savings.
Turn it off – as noted via Energywise, appliances left on standby can cost more than $100 a year on power bills, with it worthwhile turning appliances – from TVs and stereos to computer equipment and whiteware – off.
Take shorter showers and use an efficient showerhead – Energywise advises that a 15-minute shower costs around $1 and a 5-minute shower around 33 cents, with a family of four potentially saving around $18 a week ($900 a year) by taking shorter showers, while an efficient showerhead (with a flow rate of 9 L or less per minute) still provides a great shower, but will use much less water.
Getting lighting right – turn lights off when they are not in use, with Energywise advising that energy efficient lighting, such as LED lighting, is one of the easiest ways to save on power bills.
Image credits: Kishivan/Shutterstock.com, Sepp Photography/Shutterstock.com, Mariia Boiko/Shutterstock.com