The warmer weather is around the corner, bringing with it the potential to deliver a spike in power usage, however for households seeking to keep cool while keeping electricity costs down there are a number of tried-and-tested techniques that can be employed.
The change of seasons will see power usage shift, and the Electricity Authority has noted, amid daily and seasonal patterns, the potential for some regions to have high demand over the summer, with people keen to turn their air conditioning up.
Meanwhile, Ministry of Business, Innovation & Employment (MBIE) data provides insight into the expenses households are facing, showing that in the year to March 2017, the annual average electricity expenditure per household was $2,029, equating to around $169 per month.
Of course, there are many different factors at play in determining the total cost of your electricity bill, including the particular requirements of your household and the suitability of the tariff you are on, however keeping cool during the summer months doesn't necessarily have to equate to rising power costs.
The following are some of the steps that households can take to keep cool and keep expenses to a minimum when the warmer weather arrives.
Before switching on the air conditioner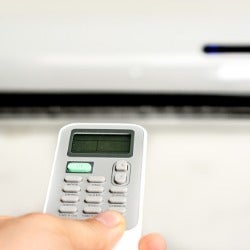 Before reaching for the power switch, it is worthwhile considering how heat enters your home, how you can prevent it from doing so, and how you can take advantage of natural elements, such as an afternoon breeze, in ensuring the temperature indoors stays at a comfortable level.
A good place to start is your home's insulation, which not only serves to keep the warm air from escaping during the winter, but which can also assist in keeping it out during the summer months.
For householders considering installing new insulation or upgrading their existing insulation, the Energy Efficiency and Conservation Authority Energywise website advises that the ceiling and underfloor should be the priority, followed by the walls.
A number of steps can also be taken to prevent direct sunlight from entering a residence, starting with the actual construction of a house itself.
Energywise advises that eaves designed to sit above north-facing windows will not only work to prevent direct sunlight entering a residence during the height of summer, but will also allow direct light in throughout the rest of the year.
While this won't prevent low-angled morning and afternoon sun from the east and west entering a residence, Energywise also recommends the following measures to assist with providing cover from direct sunlight:
Planting deciduous trees on the north and west sides of a residence, providing shade in summer, and allowing sunlight through in the winter when the trees lose their leaves, with trellises for growing plants also an option.
Installing external window shades, such as blinds, awnings or louvres (with this more effective than internal shading, as it blocks the heat before it enters a home).
Closing blinds and curtains.
Meanwhile, Energywise also advises that good cross-ventilation can help to keep indoor temperatures down during the summer, with open windows and doors allowing the creation of cross-draughts, while windows fitted with security latches can be left partially open during the day.
You may also be interested in:
Can a fan do the job?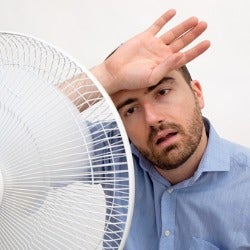 When it comes time to use a cooling appliance, it is worthwhile considering if the air conditioner needs to be your first port of call. It may be that a strategically placed fan will get the job done.
Fans are, of course, significantly cheaper than air conditioning units at the point of purchase, are cheaper to operate, and may provide the cooling needed, dependent upon household requirements. They also offer flexibility, in that they can be moved from room to room.
As the MBIE's Smarter Homes website notes, if natural ventilation isn't enough to keep you cool, "a fan may make you feel several degrees cooler".
"Fans are cheap to buy, easy to install and comparatively cheap to run," Smarter Homes states. "Portable floor and desktop fans are widely available, and can be stored away when not in use."
Meanwhile, ceiling fans may also be an option, with Smarter Homes noting that they use "very little energy compared to an air conditioning unit".
How energy efficient is your air conditioner? Are you using it efficiently?
If the time has come to turn the air conditioner or heat pump on, it is worthwhile determining how energy efficient it is, while for consumers in the market for a new unit this should be a priority consideration.
Energywise advises that an Energy Rating Label, providing information on how much energy a product uses, can be found on all new heat pumps available for sale in New Zealand, displaying a star rating, with the more stars on the label, the more energy efficient an appliance is.
Energywise also recommends the following methods of operation for an air conditioner or heat pump:
Try the fan-only setting – with this setting using a lot less electricity than the full cooling mode, keeping windows open.
Set to dehumidify – if it's more humidity than the temperature that's the problem, with this mode also using less electricity than full cooling, shutting all doors and windows.
Reserve cooling mode for really hot days – with it best to just cool one room in line with the capacity of most units, setting the thermostat to around 22˚C, shutting all doors and windows.
Avoid auto settings – forgetting to switch the unit off will see it start heating if the temperature drops below the thermostat setting.
Regularly clean the air conditioner or heat pump filter – do so according to the manufacturer's instructions.
Keeping tabs – account management
In conjunction with these cooling techniques, it is also worthwhile keeping regular tabs on electricity usage, which will provide further insight into variations in expenditure throughout the summer months.
Many electricity retailers provide customers online account management and monitoring tools, drawing on smart meter technology, potentially providing real-time usage information, along with breaking down usage patterns over days, weeks and months.
It may well be worthwhile taking a proactive approach to your energy consumption, employing tools such as usage alerts, sent in the event of high usage, while bill estimates will provide an indication of what sort of costs you will be faced with at the end of a billing period.
Take advantage of the full suite of services on offer, and if you have any questions regarding usage make sure to contact your retailer.