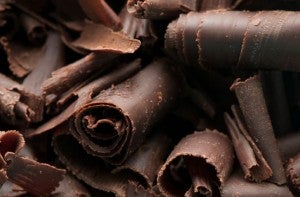 I truly believe that chocolate can make any situation better. If you're having a heated discussion with the boss, have some chocolate to ease the tension.
Maybe you've had a fight with your spouse? Give them a box of their favourite choccies and watch the troubles melt away. Or perhaps you need a pick-me-up, or want to know the meaning of life? A cube (or five) of your favourite chocolate will give you all the answers you need, writes Ellie McInerney.
Although we've been taught chocolate isn't good for us (or dogs for that matter) I have news that's going to brighten up your day. Chocolate, or more importantly cacao, is a superfood with endless health benefits and you don't have to go to the Amazon to find it. Yep, these days, cacao powder is stocked in your local supermarket and is ready and waiting just for you!
Coco vs Cacao powder
One of my favourite things about chocolate is that if you get the good stuff, it's actually good for you. You see, the main ingredient in chocolate is cacao powder, which is different from the coco powder you buy with the cake mixes in the supermarket. Cacao powder comes from the cacao bean, which is actually a superfood. The cacao bean originates from South America and has one of the highest containing antioxidant levels of all foods. Antioxidants are used to push toxins out of the body and help fight the aging process. Alongside antioxidants, cacao powder contains super high levels of magnesium which can help when the body has chronic pain, muscle cramps or you're feeling fatigued.
Where to find cacao
Now we know chocolate actually has some pretty impressive health benefits, it's important to note that you're going to need to navigate the supermarket in order to find this super product. Unfortunately, the candy aisle isn't actually the best place to look because chocolate confectionary isn't the same as cacao. By the time the cacao bean has made its way into your favourite sugary candy bar, the nutritional benefits are almost non-existent, due to the processes and other ingredients added to create the final product.
Lindt chocolate
When searching for this superfood, your best bet is to hit up the health food aisle. You can find it in powder form alongside other health products. Alternatively, look for chocolate options that contain the highest levels of cacao. A good place to start is the Lindt brand, which supplies chocolate blocks with up to 90% cacao. Although this is my personal favourite, the 90% blocks of cacao can be an acquired taste for some, so I often suggest starting off with a 60% or 70% cacao content.
Make your own chocolate
Health food stores also stock plenty of brands of raw cacao and other cacao products, including cacao butter and cacao nibs, which are delicious and highly nutritious options when baking sweet treats. One of my favourite healthy treats is to make my own chocolate at home, using raw cacao powder.
Simply spoon 1-2 heaped tablespoons of raw cacao into a bowl, add 1 teaspoon of all natural stevia and a simple dash of water. Mix it up until it looks just like melted chocolate. This is so quick, so easy and gives you that chocolate fix when you're craving something sweet, with the added benefits of a powerful hit of antioxidants, magnesium and other essential vitamins and minerals.
Cacao benefits
Raw cacao also lowers insulin resistance, reduces your risk of a stroke and lowers blood pressure, so you can enjoy this simple recipe totally guilt-free. My easy chocolate recipe is also great for making chocolate treats like ice-cream sauce or bars or blocks of chocolate for the whole family. You can mix it up by including crushed nuts, dried fruits or frozen raspberries and even peanut butter into the mixture, and setting it aside in the fridge for 1-2 hours until it sets.
Other articles you might like
Is your detox doing you more harm than good?