We all love the idea of romance – but many of us would rather skip the wining and dining and curl up at home with a good pizza instead. According to a recent Canstar Blue survey of customer satisfaction, 26% of the 1,522 respondents said they would rather order pizza than go out for dinner. Interestingly, the younger the respondent, the more likely they were to eat in: 36% of Gen Y and 29% of Gen X would prefer a pizza, compared to just 18% of Baby Boomers.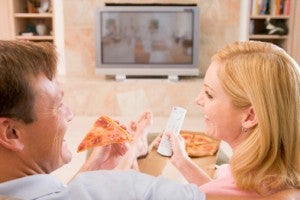 Perhaps it's because Baby Boomers are less likely to have young children and are therefore more fancy-free. After all, many Gen Y and X are faced with the choice of dragging young children to a restaurant or paying for a babysitter – it's no surprise that pizza would be a far less stressful and/or expensive option!
Opting for a pizza at home doesn't mean you have to skip the romance though. Here are a few tips to give your pizza night a slight a la carte feel.
1. Candles and flowers
Any meal looks better by candlelight, even one you're eating on the couch at home! A few (inexpensive) candles and flowers from the garden might be all you need.
2. Set the table
Okay, so maybe hop off that couch, set the table with a cloth, cutlery and crockery – and take the pizza out of the delivery box!
3. Music
Better the sound of soft music than the TV set droning in the background! Perhaps some Barry White…
4. Buy a nice bottle of your favourite tipple
Come on – you're saving money on the food – splash out n something nice to drink!
5. Play a board game afterwards
When was the last time you broke out the Monopoly, Cluedo, or Trivial Pursuit? Perhaps a card game – or something more spicy.
There are plenty of ways to turn a home-delivered pizza into a home-delivered date – with no big expense and no cooking. That's a win-win!