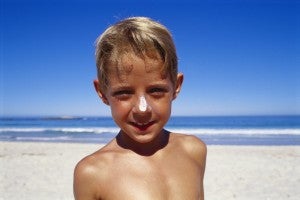 A 2011 study from the University of Otago has shown that slackness on sun protection policies at early childhood centres (ECCs) could be increasing children's risk of skin cancer later in life.
The study found that while some practices and policies like use of sunscreen were implemented and practised to a satisfactory standard, a lack of role modelling and lack of emphasis on sun-protective hats proved to be serious problems.
With New Zealand having among the highest melanoma rates in the world, this is worrying news.
Lead researcher Mary Duignan said that problems included inconsistent role modelling by staff, inconsistent management of sunscreen, and staff being inadequately informed about sun protection.
"Better information for staff is needed, particularly to help staff confidently promote sun protection to parents," she said.
"Information about the complex relationship between sun exposure, vitamin D levels and health is a good example – obtaining Vitamin D requires a balance between sun exposure and sun protection."
This news supports a 2012 Canstar Blue Survey, which discovered that sunscreen is worn regularly by an alarmingly low percentage of Kiwis. The survey found that only 8% of men wear sunscreen every day, compared to 26% of women; and additionally, that death rates from melanoma appear to be increasing, especially in men.
Canstar Blue New Zealand General Manager Derek Bonnar expressed concerns about public awareness of skin cancer and how it affects younger people.
"I think younger Kiwis may have forgotten or just don't realise how dangerous exposure to UV rays can be and the damage they can inflict," he said.
According to New Zealand's Cancer Society, more than 90% of all skin cancer cases are attributed to excess sun exposure. The society encourages all Kiwis to:
on some sun protective clothing that covers unprotected skin. Long sleeves, collars and long-legged shorts are all effective.
on SPF30+ sunscreen approximately 15 minutes before you go outdoors and every two hours afterwards.
on a broad-brimmed hat that protects your face, head, neck and ears.
on some sunglasses that meet the New Zealand Standard.
And of course if you have children, set a good example. After all, we tend to watch our manners, language and behaviour towards each other when our kids are around – we should be watching our skin as well!