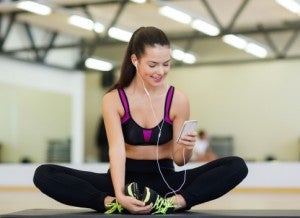 According to a recent mobile device usage report, around two-thirds of New Zealanders aged between 15 – 65 own a smartphone, inclding 82% of those aged 35 or under.
We use it to shop, talk, text, watch movies, take photos and Google just about anything. So – would you consider using it as your personal trainer?
It's something that was currently speculated by Tim Martin, General Manager – Media, Roy Morgan Research. With smartphones approaching ubiquity and already (or soon) able to monitor heart-rate, steps taken, sleep patterns, and even blood-sugar levels, manufacturers and app developers are racing to be at the forefront of the trend," said Tim. "Apple's 'Health Kit' and Android's 'Google Fit' operating system improvements will herald new apps that can collect and analyse smartphone users' health information. It is conceivable that quite soon our phones will be diagnosing latent health problems we don't even know we have."
So what are some popular training apps? There are almost too many to mention, but here are a quick four to look at:
A free app designed by the New Zealand Defence Force,it's really a recruitment tool to help would-be candidates shape up for an initial fitness test, but it can be used by anyone. It takes you through a six-week program to get you into peak physical condition.
Developed by Johnson & Johnson, it's an app that leave no room for excuse  – after all, it only takes seven minutes. A personal trainer talks you through each session and there are videos to demonstrate the correct technique.
It offers more than 100 different workout sessions and you can choose goals that you want to achieve, the fitness level you wish to work at and download a session accordingly.
My Fitness Pal
It has been around for a while, but MyFitnessPal has been enduringly popular. It's not so much personal trainer as mentor, helping you to keep track of your calories – both eaten and burned. It's a bit time-consuming as you have to manually log your eating and exercising activity, but it can be a great way to keep track of your goals.
Whether you use an app or good old-fashioned friends, there's no doubt that regular encouragement can help us to meet our fitness goals. It's certainly worth a try.