With Auckland's plans to become the world's most active city, we're going to need good sports shoes. Canstar Blue caught up with Hamish French, Footwear Manager of award-winner Shoe Clinic , for a quick Q&A on sports shoes – and the importance of getting them fitted properly.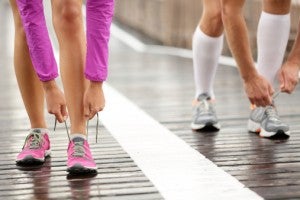 Q: When it comes to buying sports shoes, how important is it to get a great fit?
It is extremely important, as even a top of the range pair of sports shoes can cause serious injuries if they aren't the correct fit for the individuals running or walking gait. Thus knowing how much support & cushioning is required as well as the right width is all part of getting a great fit.
Q: Is there a rule of thumb as to how often you should replace your sports shoes?
For running & walking shoes it is based on the amount of kilometres that has been run or walked  in them & the general guide is 1000kms. Some will do 1000kms in a few months & some will take a year or more, so that is where distance is the best guide.
Q: Is Shoe Clinic's staff training program an important aspect of your customer service? 
Absolutely! We actually use Podiatrists to train our staff as we have very close relationships with podiatrists in all areas where we have stores. Plus there is an Operations Manual that all of our franchisees have on hand to train their staff with, so that every store is very consistent with the service we provide.
Q: Should you buy sports socks at the same time as buying your sports shoes, to ensure that they work well together?
Ideally this is the best way to go, as socks wear out just like shoes do. It is amazing how much cushioning & moisture protection is provided by using a good sock. The two brands that we promote & swear by are Drymax & Thorlo. Both are awesome & ensure our customers have the very best comfort & protection in their shoes, especially in the prevention of blisters.
Q: Among many things, our survey respondents really rated the range of accessories that Shoe Clinic offer. What are some of the most popular accessories that you sell?
Socks, as per above, Heart rate monitors, Apparel including compression, Hydration supplements, Innersoles, Bags, Energy Gels, Track spikes, Water bottles & back packs, Chaffing cream, Running eyewear.
Click here for the results of Canstar Blue's 2014 sports footwear retailers survey.