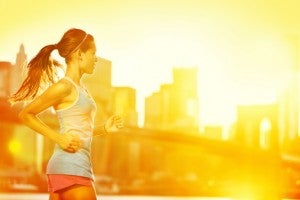 With Auckland's recent announcement that it aims to be the world's most active city by 2020, it would seem that the news is good for retailers selling sports clothing and shoes. After all, more activity = more activity gear.
In other good news for retailers, a recent Canstar Blue survey found that customers enjoy the personal service they receive in a bricks and mortar store – at least when it comes to purchasing sports shoes. In our recent survey of 949 sports shoe-shoppers, an impressive three-quarters said that they like the specialised service they get from a sports footwear retailer.
That said, 22% of respondents had previously purchased sports footwear online from on overseas retailer, and 25% had purchased online from a New Zealand retailer, although a total of 88% prefer to buy in-store. Perhaps rather worryingly, 14% of survey respondents said that they wait until they have an injury before they replace their shoes!
So what is Auckland's plan for its residents?
In terms of getting Aucklanders more active, Auckland Sport aims by 2020 to have:
70% of school aged children  take part in 3+ hours of organised sport a week and 75% of school-aged children take part in 3+ hours informal sport a week.
More of Auckland's adults participating in sport and recreation.
More volunteers (coaches, officials) participating in sport and recreation – by 2020 xxxx aims to have 2,000 more coaches recruited and 600,000 more volunteer hours achieved.
More participation amongst priority communities.
More activity can only be a good thing – and not only for sporting gear retailers. Click here for some tips on getting yourself motivated to get out there and do some exercise. Otherwise – what are you  waiting for?