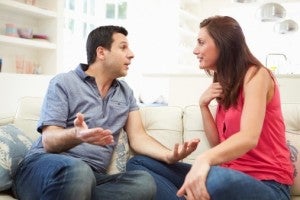 Do you argue with your partner or flatmate about whose turn it is to clean the bathroom?  If so you're not alone! Canstar Blue's recent survey of more than 1,900 Kiwis found that a full one quarter of us (25%) admit that they often argue with their partner / family / flatmates over the cleanliness of the bathroom.
Perhaps not surprisingly, the younger you are the more likely you are to butt heads over bathroom duties; 37% of those aged under 30 years argue about the bathroom cleanliness, whereas only 17% of those aged over 50 disagree.  Mind you, that's still almost 1 in 5 Baby Boomers unhappy with their partner/family's efforts in the bathroom stakes.
Taking the viewpoint that it's never too late to learn new habits, here are some tips on how you can potentially reduce the conflicts – and keep the bathroom cleaner.
Divide and conquer
Either set up a roster system for keeping the bathroom clean (no, it's YOUR turn this week) or perhaps allocate specific tasks that each person will permanently look after (bags not the toilet). It can make it much easier to turn cleaning the bathroom into a team effort if both of you have a clear idea of who is responsible for what. Perhaps volunteer to take care of the parts you pay more attention to; for example, if you're a stickler for a clean bench/basin, nominate to take care of those parts.
Pay for a regular cleaner
If you can afford it, paying to have a cleaner take care of your bathroom on a regular basis (and the rest of your house as well, of course) can solve your problems completely. However cleaners can be quite costly, with only 8% of the Canstar Blue survey respondents saying that they employ a cleaner.
Don't let it get dirty in the first place
Rather than having to fight over a massive clean-up every week, it's infinitely easier and less stressful to just clean up as you go along. Put things away after using them, keep surfaces clear, and clean up messes as soon as you make them. It seems overly simplistic, but keeping your bathroom clean shouldn't be a complex affair, and constant maintenance of your bathroom will stop it from becoming one.
Be nice about the matter
You'll earn no favours by being antagonistic about a dirty bathroom. Have a calm discussion with your family about any issues, and be willing to compromise. Of course if you find yourself having the same "calm" discussion week after week, it might be time for a louder voice or well-explained consequences…
You might not be the best at keeping your bathroom clean – in the Canstar Blue survey, 50% of respondents admitted that the bathroom is their least-favourite part of the house to clean – but a clean bathroom and a happy roommate/family/spouse do go hand in hand (sometimes).