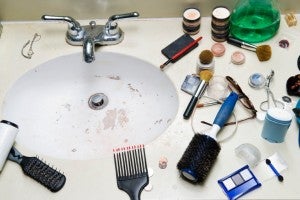 When it comes to annoying bathroom habits, there are two things that tie for first place: people urinating on the toilet seat and hair in plugholes.  And our bathroom etiquette often lead to arguments. The latest Canstar Blue survey into the bathroom habits of more than 1,900 Kiwis around the country shines a – somewhat disturbing – light on the extent of our bathroom frustrations; here's what you have said annoys you the most:
Kiwis' top bathroom annoyances
Urinating on the toilet seat: 29%
Hair in plugholes: 29%
Wet towels on floor: 16%
Toilet roll facing the wrong way: 12%
Someone else using my razor: 3%
The (perhaps) good news is that, collectively we're far more laid back that our Aussie counterparts. The equivalent Canstar Blue survey in Australia found that our neighbours over the ditch get quite uptight about bathroom etiquette, as follows:
Urinating on the toilet seat: 52%
Hair in plugholes: 41%
Wet towels on floor: 36%
Toilet roll facing the wrong way: 32%
Someone else using my razor: 13%
Jeez – chill out guys!
Still, there is not much worse than finding a toilet seat covered in urine because some inconsiderate so-and-so couldn't hit the target. And if there's no toilet paper left to clean up after them, you'll be close to boiling point.
There's a good chance it could lead to tension at home, as a quarter of the adults we questioned (35%) told us they regularly fight with their partner over the cleanliness of their bathroom. Not surprisingly, the younger you are the more likely you are to butt heads over bathroom duties; 37% of those aged under 30 years argue about the bathroom cleanliness. And those living in Auckland are the quickest to flare up, with 33% of Auckland respondents admitting to often having bathroom cleanliness-related arguments.
Back to the toilet and while women (37%) get more heated about people not cleaning the toilet seat – or the floor around it, because sometimes you can have really bad aim – it annoys one in five men too (20%). You know the old adage, if you sprinkle when you tinkle, please be sweet and wipe the seat.