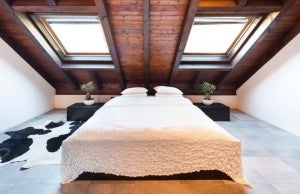 For those of you thinking of installing a skylight for either light, warmth, or just as a gorgeous feature, you may be wondering how to plan such a big job, writes Chris Godden.
Well, the good news is that it isn't actually as difficult as what you may think! All it takes is a little careful consideration and planning and before you know it, you'll have an attractive way to let the sunshine in and bring a little light to your life.
The cost
With good installation and selection methods, a skylight is an ideal way to add light and warmth to those areas of your home that may be a little dark and dreary. Skylights also benefit the homeowner by reducing heating and lighting costs, and even cooling costs, in some cases.
The brilliant thing about skylights in this day and age is the versatility and cost, with the average price being much lower than they were 20 years ago. In fact, skylights are that adaptable and affordable that people now routinely install them in places you'd probably never think to put them, such as in bedroom closets, walk in pantries and even in or near outdoor patio areas.
The type
Before you decide on a skylight installer, it's a good idea to consider which type of skylight will be most effective for the purpose you want it for. For example, if you want a skylight primarily for the energy efficiency, you'll need to consider which glazing to use, what shape to install and how the skylight will operate. If you'd just like a little extra light, you might be more interested in choosing your skylight based on its luminosity performance and its aesthetics. The first step in your planning though, will be choosing a skylight size and location.
The size
For the size, the bigger the skylight is, the more light you'll be letting in. However, you'll also be changing the temperature of the area below to a greater degree if you just go with the biggest skylight you can afford, so it's a good idea to restrain your expectations a little bit. Generally, a skylight should be no more that 15% of the area of the floor below it, if you're installing in a dark area, or 5% of the floor space if you're installing in an area that is already well illuminated. This will ensure your ceiling insulation remains effective, while still allowing ample light through.
The position
In regards to position, you may feel you already have an idea of where you want to put your skylight, but have you considered whether your chosen area maximises the daylight and solar heating potential? A good rule of thumb is that an east-facing skylight opening will provide the greatest lighting and heating potential during the mornings, while westward pointing skylights are optimal for the afternoons. Similarly, northward-facing skylights are ideal for heating and illuminating homes all year round – particularly those that get cold in the winter – but may not be the best option if you want to avoid adding extra heat to your room.
South-facing skylights are rarely installed in Australia, but are good if you want only minimal lighting but no extra heat. Having said that, you can prevent too much heat gain or the loss of heat in winter – you just need to choose the right type of glass, such as a high-quality double glazing or thermal glazing.
You'll also need to consider the ceiling space and the ease of installation in any complex ceiling areas. The longer the space between your external opening and your internal opening, the less light and heat you'll get through. Be sure to request an installation in an area that won't end up with overhanging branches interfering with your light levels in the future too. Other considerations that are best discussed with a professional installer include slope levels and room moisture content levels.
The fun part
Finally, the fun part – choosing the shape and style of skylight. Depending upon its use, the shape of a skylight will differ. You might want a large, clear-glazed skylight above your bed so that you can look up at the stars on a hot Queensland night, or perhaps a little round skylight to improve the luminosity levels above your bathroom vanity, so that you can actually see when shaving or applying your lippy.
Maybe you'd like a functional skylight in your hallway to let in some natural light and heat if you live in a cooler climate, or if in a warmer climate, a skylight under your patio to let in the light, but not as much heat, as clear lasorlight. Whatever you choose, you'll be bringing a little ray of sunshine and a whole lot of character, depth and sense of space into your home.