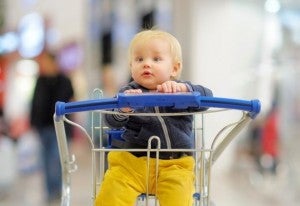 Parents of young children wouldn't dream of leaving the house without their nappy bag, but a new Canstar Blue survey has found that many mums and dads will do whatever it takes to avoid using public baby changing facilities.
The survey found that 21% of parents will "never use" public baby change stations, with dads even more adamant than mums.
Canstar Blue General Manager, Jose George, said there is a perception amongst parents that public changing facilities are a haven for germs.
"It seems many parents would rather rush home to change their baby than use public facilities," he said. "It's probably correct to say that most baby changing stations in shopping centres are heavily used, which will no doubt be a put-off to some mums and dads.
"They have a tendency to smell horrendous and can be extremely unpleasant if some parents fail to use them considerately. It would probably only take one bad experience to put you off using public facilities again.
"But of course, not all parents will have the luxury of being able to drive straight home to their immaculately clean changing table, so public changing facilities fulfil a vital role. Many parents clearly just wish they were a little nicer."
The Canstar Blue survey, of 382 mums and dads who have bought disposable nappies in the last six months, found that it's not all baby-changing bliss at home either. 15% of parents said they resent their partner for not doing their fair share of the dirty work – and dads were more likely to feel aggrieved than mums.
What do parents do with those dirty nappies? Well, 7% have been known to drop them in their NEIGHBOUR'S rubbish bin to avoid the bad smell. In this case, dads were considerably more likely than mums.
Which nappy brands are rated highest?
Parents who took part in the survey were asked to rate the nappies they most recently bought across a range of research criteria, forming Canstar Blue's customer satisfaction ratings.
The survey found that 51% of mums and dads tend to buy whichever nappies are on special offer, while 34% have switched from brand names to private label nappies to save money. However, it was arguably the biggest name in nappies – Huggies – that came out on top for overall customer satisfaction.
"Parents demand a safe pair of hands when it comes to changing their babies and Huggies is clearly living up to its reputation," said Mr George. "Not only do parents want nappies that are comfortable for their little one, fit well and prevent leaks, they also want clean and pleasant facilities in which to change them."