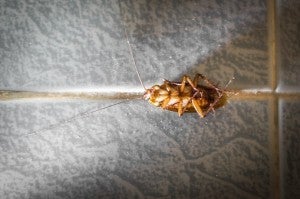 The good news is that, according to our recent survey of almost 1,500 New Zealanders across the country, an impressive 37% of us are not frightened of any bugs at all. For the remainder (okay, in honesty it's still the majority) of us, we are very willing (at 37%) to use bug spray pre-emptively in our home to ward off the creepy crawlies.
But then we feel guilty for killing them!
This angst is most pronounced in the younger generations, with 37% of those aged under 30 years feeling guilty when they see insects dead or suffering as a result of being sprayed. This empathy reduces as we get older (after, perhaps, more bites, stings and frights) until by age 60 just 11% of us feel bad about killing bugs.
 Invest in insecticides
Our survey, of 1,497 New Zealanders who have purchased and used insecticides in the last six months, shows that 84% of respondents believe they generally work well, although 68% admitted they hate the smell of insecticides in their home.
Apart from insecticides, our preferred methods of killing insects are:
Magazine/newspaper used by 40% of survey respondents
Book used by 12% of respondents
22% of respondents will happily suck insects through their vacuum
A shoe is a popular method for one-quarter of us
A tissue is also a weapon of destruction for 23%
The traditional fly swat is used by 33% of respondents
A brave 20% are willing to use their hand or foot
So what insects do scare us?
While 37% of us claim to not be scared at all (including a whopping 58% of 60 – 69 year olds), some creepy crawlies still do give some of us – well – the creepy crawlies. In terms of which bugs scare us, this is what you told us:
Spiders                 40%
Cockroaches      39%
Ants                       7%
Moths                   9%
With spiders topping the scare list, check out Australian cricket legend Shane Warne's reaction to a tarantula in this YouTube video!