According to our recent survey of 949 sports shoe consumers, a whopping 56% of us don't update our sports shoes regularly. Amazingly, 14% of respondents said that they wait until they have an injury before they replace their shoes. Ouch!
Saving a small amount of money now, though, could cost your feet big-time down the track. Canstar Blue caught up with Jennifer Pelvin, spokesperson for Podiatry New Zealand, for some tips on what should be happening south of our ankles.
Q: How often should people replace their sports shoes? Is there a rule of thumb?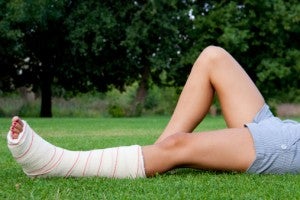 As a very general rule of thumb, shoes will need to be replaced every 1000km.  That might equate to running approximately 20 kilometers a week over a year.
Obviously all people are different though and it really does depend on many factors. For example:
Heavier people that are "hard strikers" will wear shoes out faster than "light strikers".
People with a rigid foot are likely to wear shoes quicker than those with more flexibility.
The type of shoe matters too – low-density materials will wear quicker than shoes made of higher density materials.
Q: What are the most important signs of wear and tear that people should be aware of in their sports shoes?
Signs of the tread wearing is the most common starting point. There can also be signs of excessive wear or breakdown of the upper of the shoe.
The bottom line is, if the shoe is not feeling as comfortable as it used to, then you probably need to look at replacing them.
Q: What are some of the common injuries that can occur of you don't update your shoes regularly?
Shoes provide protection and comfort.  When they are worn there are numerous injuries that a sports person might receive including:
Achilles injuries (tendinopathy),
Arch pain,
Blisters,
Heel pain
Knee injuries,
Shin splints,
Sprains
Some injuries are quick to resolve upon purchasing a new pair of shoes but if left for too long, many injuries can be more difficult and time consuming to treat.
Q: If weighing up price and functionality, what are the main design or "fit" aspects that shoppers should look for in sports shoes?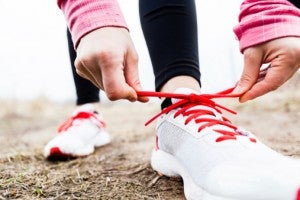 There's no easy answer to that one – the best idea is to purchase the best you can afford.
Quality shoe manufacturers invest a lot into research and development, providing the best products to suit a wide range of feet.
Shoes should be selected to meet the needs of each individual sports person and the exercise they are pursing.
There is no "one" right shoe.  Podiatrists can provide good advice on footwear selection.  Some shoe retailers have relationships with Podiatrists.  Shoe Clinic for example have their retail staff trained by Podiatrists and are able to provide technical assistance in assessing and recommending correct footwear.
Which shoes retailers do New Zealand shoppers rate? Click here to find out.