Innovation Excellence Awards
Posted by Canstar Blue September 1st 2014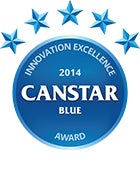 Canstar Blue has always strived to empower consumers with knowledge; so that when they go to make a purchase, they're well informed and can make the best decision possible. Our customer satisfaction ratings are one way in which we do this. Another, is our latest endevour: our Innovation Excellence Awards for both appliances and consumer electronics.
If you'd like more information about these awards, take a look at our Innovation Awards Introductions for both Australia and New Zealand.
We are now accepting applications for our latest Innovation Excellence Awards, for the Appliances category. Submit an application here (you will be taken to our Australian website).
Please note: Clicking on some of the below links will take you to our Australian website. You can find our Telecommunications, Appliance and Consumer Electronics award ratings by scrolling further down the page.
Our Automotive Award Winners (2015)
Our Telecommunication Award Winners (2015)
Our Appliance Award Winners (2014)
Our Appliance Award Winners (2014)
About our Innovation Awards
Our Innovation Excellence Awards have been determined through a panel of judges, who adhere to a strict awards methodology – outlined below. Brands or representatives of brands submitted products for consideration to us for judging.
We also accepted consumer submissions, where anyone in the public could submit products they thought were worthy of an Innovation Award. Each submission type was given equal weighting by our judges.
A single legitimate submission was all that was needed for a product to be considered by our panel, and only submitted products were assessed.
To be described as innovative, we assess both the degree of innovation and the overall impact the product could have. In terms of degree, we consider whether there are any other similar products available, whether it is a "first" in Australia or New Zealand and whether it opens up any new markets.
We also assess the potential significance of impacts to the existing market in terms of competition. And, of course, something that's truly innovative can't help but have that "wow" factor. In terms of overall impact, we consider the number of people who can benefit from the innovation, the ease and expense of application, and the potential to change people's lives.