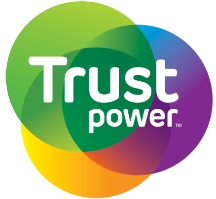 TrustPower Broadband Plans Review
Do you trust Trustpower – the power company – to handle your broadband internet plan? TrustPower is one of the biggest energy companies in New Zealand, but what you may not realise is it also provides broadband plans. What's more is you can conveniently bundle both power and broadband all in one package. So let's see what the power company-turned-broadband provider can offer Kiwi consumers.
Trustpower Broadband Internet Plans
TrustPower offers quite a few broadband plans across the whole spectrum – ADSL, VDSL and high-speed fibre are available, depending on your location of course. All plans come with unlimited data, and are as follows:
ADSL & VDSL – $94
Fibre 100: $99
Fibre 200: $119
Fibre Max: $139
TrustPower evidently offers a lot of plans with a whole heap of speeds. Generally speaking, you can either opt for a naked broadband plan (i.e. without a home phone), or pay an extra $5 a month and get the home phone included. As mentioned earlier, if you bundle your power and broadband account you'll get access to some tasty extras and bonuses:
If you combine them for 24 months you'll get access to bonuses such as a free Samsung fridge, smart TV or washing machine, six months free broadband and/or up to three months of free NEON. These deals tend to change from time to time, so it pays to check with TrustPower about what's available.
As a separate deal, Trustpower also offers to include things like modems and installation on some of its plans. As for home phone plans, TrustPower also has what is calls a 'calling cap'. Basically this is a fixed amount charged for longer international calls up to two-hours and can help mitigate costs if you're calling someone for a while.
For example, you can call Australia for 120 minutes for just $2.50
Beyond that it's 48c a minute after your calling cap, so say what you need to say in two hours!
This calling cap applies to 10 countries including New Zealand itself. The US and UK, for example, have a cap of $5, while the following time after two hours is billed at 50c a minute. You can also build a home phone plan by adding on 'toll free' areas. The whole of New Zealand toll-free for example costs $15.95, while New Zealand and Australia toll-free costs $19.95.
Trustpower has a wide variety of plans that covers a lot of Kiwi customers, so how does it stack up to the competition?
How does Trustpower compare to other providers?
So we know Trustpower has plenty to offer, but how does it stack up on price? You can compare prices with other NZ broadband providers below, but be sure to keep in mind the 'value adds' that come with Trustpower.
Provider

(Naked Internet or Homeline)

Price Per Month From

(Unlimited data)

Trustpower
$94
Skinny
$73
2Degrees
$85
Flip
$69
Slingshot
$84.95
Orcon
$84.95
Vodafone
$79.99
Spark
$94.99
Source: Respective telco websites
As you can see, TrustPower is one of the most expensive providers in New Zealand. However, with the extra bonuses and bundling benefits on board, TrustPower might entice a few new customers over despite its comparatively high prices. TrustPower really encourages you to bundle your power account with your broadband account and in doing so you get access to cheaper internet.
Small newcomer MyRepublic also offers unlimited broadband for around $75 a month, which is one of the cheapest prices in the country.
TrustPower's calling caps are also competitive. While many providers offer caps for domestic calling, TrustPower stands out for its relatively cheap international rates, especially to popular destinations like Australia, the UK and USA.
If you're with Trustpower for your power, you might have already heard about its broadband plans, but if you're a new customer shopping around, you might be surprised to know about what you can get for its comparatively high prices.
Can you Trustpower with your internet?
TrustPower is generally a fair bit more expensive than the competition, but bundling your internet plan with one of its power contracts may save you a fair bit of coin! Bonuses and other 'free' stuff may also entice a lot of customers. However, that may not be enough for some people. If you're just looking for straight broadband with no gimmicks or frills then there are likely other providers out there offering the same for less money than TrustPower. Shop around people.