For households with fast broadband and home networks, there are plenty of smart home security options. Canstar explores some of the best home security gadgets.
Smart home security systems have become an increasingly accessible option for householders looking for protection for their homes. There are a range of affordable products available, and it's possible to set up a system specifically configured to secure your property.
Smart security devices range from indoor and outdoor cameras, through to video doorbells, motion detectors, locks, alarms and lights. Typically, they are designed to be managed via a mobile device, such as a smartphone or tablet, allowing for remote monitoring and management.
In the following guide, we look at some of the smart security devices commonly available, and what you need to weigh up when setting up a home security system.
Broadband, your home network, and other factors to keep in mind
To use smart security devices and their related services, your broadband plan must offer the speed and data required. Also your home network needs to be up to the task.
Wi-Fi connectivity over a home network is an important consideration. You must ensure that your router can provide the speed and range required to accommodate different devices. If signal range is an issue, you may need to use a Wi-Fi extender.
It's also important to keep in mind:
Compatibility – ensure that your smartphone is compatible with different smart security devices. Typically they provided managing and monitoring tools via apps for Android and iOS. You might also be able to control devices via a web browser, using a computer.
Voice control – it may be possible to control a smart security device by voice, using a smart speaker such as the Amazon Echo or Google Home.
Security system – how will a smart security device complement other security devices installed at your home? It's important to consider how different devices can be arranged to enhance security, and how these devices might interact as part of a wider security system.
Smart hub – this is a device that acts as a central point of control for all the connected devices in your home (rather than controlling each device separately). It may also be possible to have devices interact with each other, creating automated routines.
Installation – many devices offer plug-and-play functionality. Others require an electrician to carry out installation.
Weather resistance – if a device is to be used outdoors, what sort of weather resistance is provided?
Battery life – if a device is battery powered, how long will it operate between charges or before battery replacement?
Also keep in mind that many smart security device manufacturers provide subscription security plans, designed to complement their devices. These services offer cloud storage, which allows for video saving and sharing, typically for either a monthly or yearly fee.
Smart cameras
Smart cameras are suitable for either indoor or outdoor use (or both). They allow householders to view live footage of their property remotely, and are typically configured to send alerts to a smart device if certain events are detected.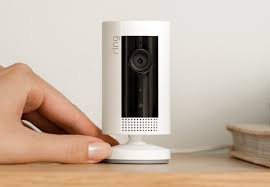 Ring Indoor Cam
The Ring Indoor Cam sports a compact design, which allows for it to be positioned in small spaces. It provides motion-activated notifications, with real-time notifications accessible via the Ring app.
The Indoor Cam features:
HD video, night vision and two-way talk.
Access to real-time video and audio via the Ring app from anywhere and at any time.
Plug-in installation, plugging into standard power outlets.
Compatibility with select Alexa-enabled devices, providing for hands-free monitoring.
All Ring devices can be connected to the one app, delivering a view of what is happening via a single dashboard. The Ring Protect security subscription plans, Basic and Plus, provide cloud video recording services.
Price: the Ring website lists the Indoor Cam as priced at $119, with two-pack ($238), three-pack ($357) and four-pack ($476) multi-packs also available*.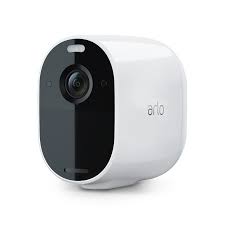 Arlo Essential spotlight camera
The Arlo Essential spotlight camera is wire-free and designed to be set up in a few simple steps. It has six months of battery life (can be powered via an optional solar panel, or recharged via an included cable), and is built to withstand heat, cold, rain or sun. When motion is detected, it sends alerts to a user's smartphone
The Arlo Essential features:
Recording of video in Full HD 1080p, a 130-degree viewing angle, and the ability to see colour at night with an integrated spotlight.
Hear and speak to visitors with two-way audio via the Arlo app. When motion is detected, view live video, sound a built-in siren, or call a friend directly from a smartphone.
Trigger the siren automatically or manually via the app.
Compatible with Amazon Alexa, Ok Google and IFTTT, with alerts capable of being sent to an Apple Watch.
Users can subscribe to Arlo's Premier Plan or Elite Plan, which respectively provide a number of different features, including cloud video recording.
Price: the Arlo Essential can be found priced at around $258.99*.
Smart doorbells
Smart doorbells can provide householders a notification when somebody is at their door, either when the button is pressed or via a motion sensor. Video and audio capabilities provide for two-way communication via a smartphone or other devices.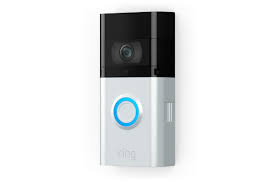 Ring Video Doorbell 3 Plus
Ring's Video Doorbell 3 Plus is a battery-powered doorbell, which sends notifications to a smart device when the doorbell is pressed or the motion sensors triggered. It allows users to see and communicate with visitors from anywhere.
The Video Doorbell 3 Plus features:
1080p HD video, night vision and adjustable motion zones, including an added near motion zone, with real-time video and audio accessible via the Ring app.
Dual-band 2.4 GHz and 5 GHz connectivity, and hands-free monitoring via select Alexa devices.
Pre-Roll video captures the four seconds before motion is detected, helping users see what triggered a motion alert.
A rechargeable, quick-release battery pack (can be hardwired to existing doorbell wiring for continuous charging).
As with the Ring Indoor Cam, users have the option of subscribing to the Ring Protect Basic or Plus security subscription plans, providing video recording services.
Price: the Ring website lists the Video Doorbell 3 Plus as priced at $319*.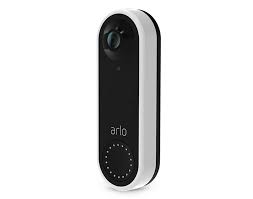 Arlo Video Doorbell
The Arlo Video Doorbell connects to existing doorbell wiring, and is built to withstand heat, cold, rain or sun. It sends users a notification when motion is detected, and makes a video call directly to the user's smartphone when the doorbell is pressed.
The Arlo Video Doorbell features:
HD video with HDR, with night vision, and two-way audio, with users able to hear and speak to visitors, or respond with pre-recorded messages, and watch live-streaming video.
A built-in siren, which can be set to sound automatically during an event or triggered remotely.
A front-door optimised 180-degree viewing angle and 1:1 ratio, capturing a person from head to toe, or a package on the ground.
Ok Google compatibility.
As with the Arlo Essential spotlight camera, users can also subscribe to Arlo's Premier Plan or Elite Plan, respectively providing a number of different features, including cloud video recording.
Price: the Arlo Video Doorbell can be found priced at around $308.99*.
Other smart security devices
Every months there are new smart security devices coming to market. They can be used alone or in combination with other devices, such as cameras and video doorbells, and configured to make up part of a wider home security network.
These devices include:
Motion detectors – these types of sensors are designed to react to movement, and may be specifically designed for use with windows or doors, typically sending the user an alert when movement is detected.
Smart locks – can allow householders to lock and open doors with a smartphone, or by other means such as voice command or fingerprint access. These types of locks may incorporate a range of features, allow for remote control, and can work in conjunction with video doorbells.
Alarms – typically make up part of a wider home security system. Like motion sensors, they are often incorporated into products with multiple functions. An alarm can be configured to sound in conjunction with a motion detector, or be triggered remotely.
Smart lights – used in conjunction with motion sensors, smart lights can be configured to turn on when movement is detected. Models equipped with remote-control capabilities can be turned on and off from afar.
*Further information on pricing can be found at individual retailer websites. This should be used as a starter guide and not considered an actual quote.
---
To help Kiwi consumers make more informed decisions about their broadband, Canstar Blue annually rates all the providers in the market. We survey thousands of broadband customers and ask them to score their providers across categories including Value for Money, Network Performance and Customer Service. To read the results of our full research and to find out more about NZ's best broadband providers, just click on the big button below:
Compare broadband providers for free with Canstar!
Enjoy reading this article?
You can like us on Facebook and get social, or sign up to receive more news like this straight to your inbox.
By subscribing you agree to the Canstar Privacy Policy