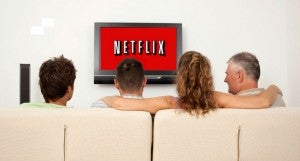 It has only been available for three months, but according to data released by Roy Morgan, it appears that the streaming service has already captured 10% of the population.
In research undertaken throughout April to June 2015, 164,000 New Zealand homes (9.4%) had a Netflix subscription. Young Couple households are the most likely to have Netflix (16.9%) , just ahead of Young Parents (16.0%) and households comprising Young Singles (14.3%). Mid-Life Families have also been more likely than average to subscribe (11.7%).
"As has been the case around the world, including Australia, New Zealand's uptake of Netflix has been swift. These results, compiled over the first three months since Netflix landed, show that almost 400,000 Kiwis already have access to the 164,000 household subscriptions," said John La Rosa, General Manager Client Services – ANZ, Roy Morgan Research
"Over half of New Zealand homes already have Sky, but that hasn't stopped them from adding Netflix to their Pay TV mix—the rate of Netflix uptake among households with Sky has been virtually identical to the national norm of just under 1 in 10."
When did you become a fan?
Netflix analyzed its global streaming data across the inaugural seasons of some of today's most popular shows – both Netflix original series and shows that premiered on other networks – looking for signals that pointed to when viewers became hooked. While it differed from show to show, it seems to be around Episode 3 or 4 when a fan is made.  Interestingly, New Zealanders take longer than many other countries to become hooked on a show, not becoming a "fan" until one or two episodes after other countries.
"Given the precious nature of primetime slots on traditional TV, a series pilot is arguably the most important point in the life of the show," said Ted Sarandos, Chief Content Officer for Netflix. "However, in our research of more than 20 shows across 16 markets, we found that no one was ever hooked on the pilot. This gives us confidence that giving our members all episodes at once is more aligned with how fans are made."