The internet is an integral way of life for many New Zealanders, with a recent Statistics New Zealand report finding that there are currently 90 connections for every 100 households in the country and that in the year ended June 2014, we used an impressive 53,068 terabytes of data. This was reflected in the number of broadband Internet users moving to higher data caps – or even no cap at all! According to the Statistics NZ report, just under half of all connections now have either no data cap or have access to 50 gigabytes or more per month. Three years ago these types of connections accounted for just 4% of all broadband connections; that's truly phenomenal growth.
So it's not surprising that Canstar Blue's recent survey of 1,120 broadband customers found that the average time spent online each day is 4 hours per person – and that 41% of our survey respondents admitted that they feel stressed when they don't have access to the internet.
With such high internet usage it's also not surprising that the two single most important drivers of broadband customer satisfaction were reliability of service and value for money; in a world of ever-increasing an constantly changing internet use though, broadband providers need to work hard to stay in front of customer wants and needs. Canstar Blue caught up Quentin Reade, Brand and Communications Manager with the winner of our Broadband Customer Satisfaction Award – Slingshot – for some insight into how Slingshot stays on top of the game.
Q: On your website you describe yourself as a disruptor – how do you believe your presence in NZ has changed the market?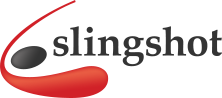 A: Slingshot, and our parent company CallPlus, set out to disrupt the telco landscape. We launched free dial up back in the day, invested heavily in our own networks to wrest control from the big over-priced incumbent, have always been aggressive on price, and sought to bring innovation to market to benefit our customers.
Q: Slingshot received the top customer satisfaction ranking across all the areas surveyed – from tech support to billing, speed, reliability, value for money… How do you monitor the market and your clients to ensure that you stay at the forefront of what customers want?
A: We literally speak with our customers every day. And we use a range of surveys, reports and other tools to monitor performance. Our social media channels let us really listen to, and respond to, what our customers want as well. We keep getting told people want good value services, and for things to be easy. Easy to use, easy to fix, and we need to be easy to deal with. We try and make dealing with us as pleasant as possible. It sounds like a small thing, but it makes a massive difference.
Canstar Blue congratulates Slingshot on its 2015 win.