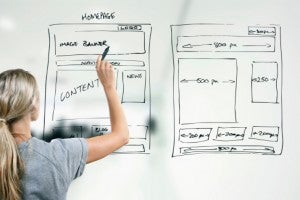 If you're looking for a product you need to buy, what's one of the first bits of research you do? You hop on your computer and take a look at the websites of companies that sell it. An online presence is essential these days for any business, large or small, that sells its goods or services to consumers on a regular basis; this could be done via a full blown website, a listing on a popular site or a presence on social media.
Better relationships, better sales
According to the government's 'Small Business Sector 2014' report, approximately 97% of businesses in New Zealand – 460,000 businesses – are small businesses. When it comes to having a website presence though, larger firms are more likely to be online. According to a recent report by MYOB, the number of small to medium sized enterprises (SMEs) with a website or social media presence was 47% in April 2015, with 23% only operating a business website, 7% just using a social media site for their business, and 17%having both a website and a social media site for their business. MYOB reports that businesses with an online presence are more likely to report an increase in revenue (38%) than the SME average (32%).
Having a website or social media presence provides several significant benefits to your business. The biggest and most obvious of these is driving sales, and this occurs due to a number of reasons. A transactional website provides another method of purchasing your products for new and current customers, one that's available for access 24/7, all over the world; a website also has much lower costs than running a physical store, including not having to pay rent, wages, maintenance and many other costs.
Another, more basic reason is just as significant: an online presence means increased awareness of your brand. Simply put, if not many customers are aware that your business exists, you're not going to get many sales compared to a well-marketed competitor; and a well-managed website and social media accounts will give you a huge boost in this regard. Furthermore, a good-quality website also gives you a more professional, authoritative image by adding another facet to your business –with the addition of a website you're no longer just a local store, you're the complete package, a widely known market competitor that everyone can now access. Websites aren't just about sales either – you can provide services to your customers such as opening hours and contact details, news about forthcoming products and even take feedback and improve your offerings.
In addition to the big benefits on the customer end of your enterprise, online facilities also make it much easier to liaise with your suppliers, contractors and other business contacts. Networks such as LinkedIn are valuable for establishing professional connections that can grow your business, and a company website provides an easy advertisement for any suppliers who might want to provide their services to you. Getting a site up and running is therefore a very useful idea – so why do so many businesses still not have one?
How's your security?
Interestingly, the MYOB 'Digital State of the Nation' report found that two-thirds of New Zealand business operators are worried about online security, with the leading concern being loss of data,   followed by hackers gaining access to business data (42%) and losing control of their data (34%).
MYOB New Zealand General Manager James Scollay says local businesses are right to be cautious but should not let fear of cyber-crime stop them from utilising the many benefits of the online environment.
"As use of technology – and in particular adoption of online services – becomes widespread, SMEs are becoming increasingly vigilant and aware of the risks to their security," he said, "A maturing approach to online security is a good thing, as long as we are balancing the true risks with the wide-ranging opportunities of embracing technology."
"Good security practices – like maintaining software updates, firewalls and anti-virus measures – go a long way towards making businesses secure when accessing the internet or working in the cloud. At the same time, reputable companies that offer online products and services are investing heavily in maintaining the highest levels of security."
Online boost for sales
Providing security concerns can be overcome, getting online can be good for the bottom line, with the MYOB report finding that businesses with online engagement reported better growth.
"While business owners are right to be taking a cautious approach to one of their most vital assets – their data, it's very important we don't let that concern cloud the opportunities the internet can bring for every SME," said Mr Scollay.
Other articles you might like