Ultra-Fast Broadband (UFB) "unbundling" has been in the news of late – and, as rollout of the fibre network continues around New Zealand, consumers may be wondering what this will ultimately mean when it comes to accessing retailer services.
The media focus follows telcos Vodafone and Vocus Group entering into a joint venture to unbundle the UFB network, stating that "unbundling will accelerate broadband innovation and wholesale price competition", allowing for greater technology investment.
Vodafone advised that the move comes in the wake of a select committee recommendation to confirm unbundling by 2020, which "means Vodafone and Vocus can finally proceed with their plans to launch new innovative fibre services for consumers and businesses from January 2020".
"We are excited to work with Vocus on this project, as it will result in faster innovation, more choice and competitive wholesale pricing for Kiwis," Vodafone Chief Executive Russell Stanners stated of the initiative. "We don't see any reason to delay now that the government has given the green light for unbundling to get underway from 2020."
The broadband market is undergoing significant change, and consumers should keep a close eye on retailer offerings as the UFB rollout continues – with this in mind, what exactly is unbundling and how will it impact UFB services?
Fibre upgrade: A background to the UFB rollout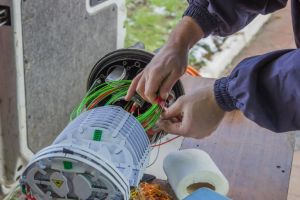 As advised by the Ministry of Business, Innovation and Employment (MBIE), New Zealand is currently "in the midst of a major upgrade of its telecommunications infrastructure", with government and industry having come together to work on the UFB rollout.
To manage its investment in UFB infrastructure, the government established Crown Fibre Holdings (now Crown Infrastructure Partners), which contracted four parties to deploy UFB, rolling out fibre infrastructure in designated areas throughout the country.
These partners are:
Chorus – 69.4 per cent of UFB total coverage (formerly the network arm of Telecom Corporation of New Zealand).
Enable Services – 15.3 per cent (with the local fibre company [LFC] Enable Networks having been created).
Waikato Networks – 13.7 per cent (LFC: Ultrafast Fibre).
Northpower – 1.6 per cent (LFC: Northpower Fibre).
Further information on the respective areas serviced by each of the LFCs can be found via the Crown Infrastructure website.
It is important to note that the LFCs do not sell broadband services directly to end users – rather, they provide wholesale services to retail service provides (RSPs), which in turn sell services to consumers.
However, as the UFB rollout continues around New Zealand, a new direction is set to be adopted for regulating broadband services, with the government seeking to ensure the right telecommunications regulatory framework is in place.
Telecommunications regulation: Unbundling intended to deliver innovation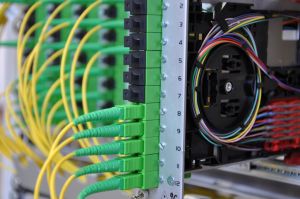 Amid the ongoing evolution of the telecommunications market, a review of the Telecommunications Act has been undertaken, and from 2020 the government is poised to move to a new framework for regulating copper and fibre services.
As previously advised by the MBIE in its Announcements on the future of communications regulation brochure, under the proposed framework UFB providers will be required to unbundle parts of the network from 2020, in a move designed to open the network up to more competition, supporting "development of innovative new services for consumers".
The MBIE states of unbundling in a fact sheet of the same title: "Unbundling refers to the requirement on UFB suppliers to provide access to the basic infrastructure layer of the fibre network (also known as 'dark fibre').
"Access to dark fibre enables an RSP to install their own equipment onto the cable and develop their own UFB services, having greater control over the quality and features of the particular service."
Vodafone has stated that unbundling will allow it, Vocus "and other RSPs to start providing telecommunications services over the UFB network, reducing their dependence on Chorus and other local fibre companies".
"Allowing third parties access to the UFB network is the next step in the evolution of UFB, and will see New Zealand broadband speeds and quality skyrocket," the telco stated upon announcement of its joint venture with Vocus, which will look to providing wholesale fibre products to the retail market, competing with the LFCs.
Vodafone advised that examples of future fibre products could include:
Retail plans with speeds of up to 10 Gbps (such as is already happening in Singapore and Switzerland).
Low latency options for gamers.
More "business class" products for customers wanting premium service options.
More reliable throughput speeds generally.
Meanwhile, InternetNZ welcomed news of the plan to unbundle the UFB network, stating: "Unbundling means retail ISPs and others gain direct access to fibre broadband cables, so they can install their own network technology and manage their whole service to the customer.
"Without unbundling, broadband package details – like their speed and so on – are managed by Chorus or other local fibre companies."
Keeping up to speed with UFB developments
The MBIE states that by the end of 2022, 87 per cent of New Zealanders, across 390 towns and cities, will be able to access fibre-to-the-premises broadband, with speeds close to 1,000 Mbps.
Amid the continued rollout of the UFB, most New Zealanders will be presented with the option of accessing fibre services in the coming years, while many have already connected.
According to the MBIE's latest quarterly broadband deployment update, as at the end of March:
There were 1,300,914 end users able to connect to the UFB.
UFB uptake was 42.3 per cent, with 550,314 connected users.
In the last quarter, 49,014 end users able to connect were added, along with 44,059 connected users.
For householders seeking to determine what kind of services they can access from their residence, further information on the UFB rollout can be found at the Crown Infrastructure website, including maps and an indicative rollout timetable.
It is also worthwhile referring to the LFC servicing your area in determining network availability, with each of the LFCs providing fibre rollout and availability information via their respective websites.
Of course, information on broadband availability can also be found via the respective websites of RSPs, along with the range of deals available, and, once fibre becomes available at your residence, it is worthwhile assessing and comparing the offers of a variety of retailers in determining what is best for your household.