Microsoft's Xbox Series X and Sony's PlayStation 5 both arrive later this year. Canstar examines what gamers have to look forward to!
It's shaping up as a bumper year for gamers, with both Microsoft and Sony slated to release their respective next-gen Xbox Series X and PlayStation 5 consoles in the lead-up to Christmas. And as excitement has built, the two tech companies have revealed more and more about their new machines.
New console generations don't come around as often as many other tech releases, such as phones (barring updates within generations). As the current-gen Xbox One and PS4 originally launched in 2013, great leaps in power are poised to underpin the upcoming era of console gaming.
Based on what we know so far, the Xbox Series X and PS5 will be primed to deliver an increasingly immersive experience, with hardware upgrades paving the way for more encompassing gaming worlds, and enabling faster and more responsive game play.
Read on for further details about what is officially known about each of the consoles: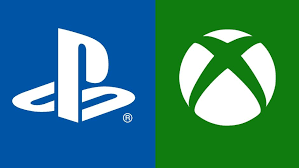 Gaming has evolved: More competition for consoles
The Xbox Series X and PS5 will land in a vastly different gaming environment to the previous generation of consoles, with consumers having access to an evolving range of options when it comes to playing some of the latest games.
Consoles have, of course, long faced competition from PCs, and now cloud gaming services, such as Google's Stadia and Nvidia's GeForce Now, are also jostling for market position, bringing gaming to an increasing range of devices.
Game streaming bypasses the need for disks and downloads, and both Sony (PlayStation Now) and Microsoft (Project xCloud) are also notably active in this area, with the two rivals even collaborating to explore cloud-based gaming solutions.
Meanwhile, 8K looms somewhere on the horizon, virtual reality and augmented reality are being harnessed to deliver ever-more immersive gaming experiences, and other services, such as game subscription service Apple Arcade, are staking out their claims in the market.
All of which means that Microsoft and Sony will have their work cut out for them in seeking to make an impact with the next generation of consoles.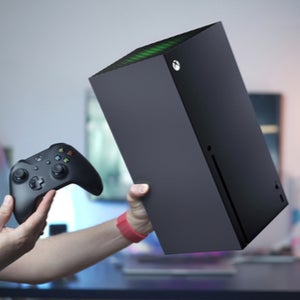 Xbox Series X
Microsoft's Xbox Series X preview page displays the Xbox Series X in all its boxlike glory (above), sporting a smooth black finish, trim optical drive slot, and capped with a glowing concave mesh.
Microsoft Head of Xbox Phil Spencer last year revealed that the Xbox Series X will support vertical and horizontal orientation, and will come with a new wireless controller, sporting a refined size and shape, along with a new Share button for simple capturing of screenshots and game clips, and a hybrid D-pad.
Spencer also recently posted further information about Microsoft's next-gen machine, which has greater grunt to power an ever-more immersive gaming experience:
Processing power – a custom-designed AMD processor, harnessing the latest Zen 2 and RDNA 2 architectures, will provide four times the processing power of the Xbox One, with 12 teraflops of GPU performance, which is more than eight times that of the original Xbox One.
Graphic and audio realism – variable rate shading, allowing for more stable frame rates and higher resolution, and hardware-accelerated DirectX Raytracing, powering more dynamic and realistic environments, will underpin enhanced visual and audio effects.
Next-level visuals – delivering 4K at 60 frames per second (fps), with the possibility of up to 120fps, including variable refresh rate support, and 8K capability, providing for heightened realism and fast-paced action.
HDMI 2.1 – supporting auto low-latency mode and variable refresh rate, cutting lag and delivering more responsive gaming.
The Xbox Series X will also be backward compatible, with four generations of gaming supported, while Smart Delivery, used on all exclusive Xbox Game Studios titles, will allow players to purchase a title once, and then play the best available version on their Xbox console of choice.
Meanwhile, Microsoft's Xbox Game Pass subscription service will continue to have its first-party games, such as Halo Infinite, included at their launch.
Spencer has also advised that "more playing and less waiting" has been the focus for Microsoft, with the Xbox Series X to feature:
SSD storage – delivering all-round improved game play, supporting larger and more dynamic game worlds that load fast.
Quick resume – allowing users to continue multiple suspended games almost instantly, bypassing long loading screens.
Dynamic Latency Input – leveraging Microsoft's proprietary wireless communication protocol, decked out to deliver players more precise and responsive controls.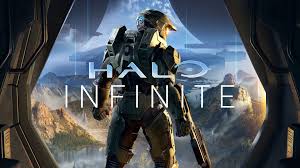 Games, release date and pricing
More titles can be expected to be announced closer to the Xbox Series X's release, with Halo Infinite, Senua's Saga: Hellblade II, Outriders, Cyberpunk 2077 and a remake of Gothic among the games to have already officially been locked in.
As it stands, the Xbox Series X is set to be released in the holiday season (likely from November onward), with pricing yet to be announced.
PlayStation 5
Until recently, Sony had been less forthcoming about the details of its new baby, and although Sony recently released an image of the new controller (below), the design of the main machine is still unknown.
Among the most recently released details is the fact that the Dual Sense controller features haptic technology, designed to deliver a broad range of feedback, even conveying a sense for a variety of textures, from running in grass to plodding through mud.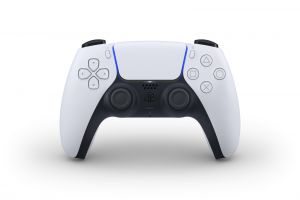 In addition to this, adaptive triggers have been incorporated into the trigger buttons (L2/R2), with the resistance of the triggers capable of delivering tactile sensations, such as drawing a bow and arrow, or accelerating an off-road vehicle through rocky terrain.
Meanwhile, last month Sony Lead System Architect Mark Cerny confirmed a number of PS5 details, including an ultra-high-speed SSD, integrated custom I/O system, custom AMD GPU with ray tracing, and highly immersive 3D audio:
Processing power – the CPU is based on the third generation of AMD's Ryzen line, containing eight cores of AMD's 7nm Zen 2 microarchitecture, with the GPU a custom variant of Radeon's Navi family.
Graphic and audio realism – the GPU will support ray-tracing, delivering heightened graphic realism and also audio benefits.
Enhanced audio – the AMD chip includes a custom unit for 3D audio, designed to deliver an immersive audio experience.
Next-level visuals – beyond 4K, the PS5 will support 8K graphics.
Cerny additionally advised that with the PS5 based in part on the PS4's architecture, it will be backward compatible with at least 100 of the most played PS4 games on release, while the current PlayStation VR headset will be compatible with the new console.
Cerny also confirmed that the PS5 will feature:
SSD storage – providing greater speed and efficiency, and saving space.
Optical drive – physical games will use 100 GB disks, with an optical drive to double as a 4K Blu-ray player.
User interface – a revamped user interface will incorporate additional gaming information.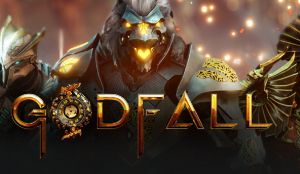 Games, release date and pricing
Among the games that have, at time of writing, been confirmed for the PS5 are Godfall and Outriders, in addition to the remake of Gothic, and more can be expected to be confirmed as the console's launch draws nearer.
Get ready for the next generation in gaming
If you are planning to purchase a Xbox Series X or a PS5 next summer, you've plenty of time to start saving … and also upgrade your broadband. Because to make the most of your new console, you'll need ultra-fast broadband and unlimited data.
To help you choose the best internet provider, Canstar rates broadband providers on categories including Value for Money, Network Performance and Flexibility of Contract. To check if you've the best possible provider to meet all your gaming needs, just click on the button below!
Compare broadband providers for free with Canstar!
Enjoy reading this article?
Sign up to receive more news like this straight to your inbox.
By subscribing you agree to the Canstar Privacy Policy