A generation ago – even ten years ago – watching a particular TV series meant making a regular date with your couch. Bar recording it on your VHS, it was a case of making sure you were available at a certain time to sit down and sit through the advertisements. Heaven forbid that the phone should ring while your favourite show was on!
Things have changed so rapidly that many digital natives can't conceive of someone watching free-to-air TV at all, let alone committing to watch it at a certain time each week. With a slew of online video content (OVC) providers now available in New Zealand – with Netflix being the latest arrival on our shores – our future data usage may well be the thing most likely to trip us up when committing to a mobile phone plan.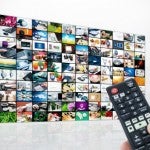 Entertainment subscription services: what's available?
According to Statistics New Zealand, we're increasingly accessing the internet from the palm of our hand, with mobile phone internet connections increasing 16% to a whopping 3.7 million in 2014. In terms of mobile internet use, we have 109 mobile subscriptions per 100 inhabitants – an impressive yet frightening number.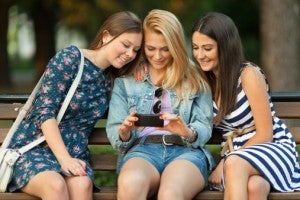 The sky is the limit when it comes to data use, with our total data usage increasing in leaps and bounds. According to Statistics New Zealand, the amount of data we used in June 2013 was 34,651 terabytes; in June 2014, that increased to 53,068 terabytes. It is perhaps not surprising then that in Canstar Blue's recent survey of mobile phone users, 29% of respondents said that when choosing a mobile phone contract, data is more important to them than call minutes or texts. That percentage increased to a whopping 54% for Gen Y survey respondents.
Pay attention to the data allowances
Talk and text is pretty much a given in any mobile phone plan – but when you're signing up, an important thing is to think about not just your data usage today, but what that data usage might be in 12 months' time.   We're seeing data use grow in leaps and bounds every year – so factor in a bit of fat! Remember that as networks get faster and people increasingly do more things on their smartphones at any one time, usage goes up. For example, people might listen to streaming radio on their commute while flicking through Facebook or checking for emails, then looking at Instagram… It all adds up to more rich online experiences – and more data use!
We recently appeared on Channel Nine news in Australia to discuss mobile phone bills, namely how some have been caught out by going over their data usage limit and copping a massive monthly bill. Some great advice was included in this video. However, there's no reason why you can't reign in your data usage even more! A few tips for reducing your mobile data usage include:
Use Wi-Fi whenever possible
It's  your biggest asset in combating data usage so make sure that you take advantage of it whenever you can – at home, friends' house, work, and even in public places such as shopping malls and cafés. However, make sure the connection is secure – it's a good idea to avoid logging into any private services such as online banking whilst on public Wi-Fi as the connection is not always secure. Also, keep in mind that when your phone is set to constantly search for Wi-Fi, it uses more battery. Get into the habit of turning it on and off whenever appropriate. Similarly, having your phone search for Bluetooth also saps the battery.
Limit automatic data fetching
Constantly updating your email inbox, for example, and instant notifications from WhatsApp can be useful but it also means your app is constantly downloading – even when you're not using it. Facebook and Instagram are particularly good examples of this. They're both a great way to stay in touch with friends and families but also make it easy to go overboard in terms of downloads.
Limit the number of apps you run
Running multiple apps means you're compounding your data usage unnecessarily. Get into the habit of closing apps when you're finished with them. Again, this will save you on battery life.
Also, you might not even realise that many smartphone games use data to upload scores to leaderboards, or gather information online to be used in the game. You may be able to stop the game from doing this in the settings.
There are countless other ways to save on data, far too many to list here. Overall, be smart about your data usage to avoid a nasty bill shock at the end of the month.
Other articles you might like
Lost or stolen phone: what to do