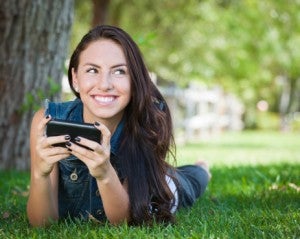 Mobile phone plan or prepaid option? How do you decide what's right for you?
According to Canstar Blue's 2015 mobile phone plan providers survey, 50% of the 816 respondents acquired their mobile phone handset via signing up to a mobile phone plan – but how can you be sure that it's the right decision for you?
The short answer is that you can't be absolutely certain, but you can at least make an educated choice. Here are a few things to think about.
Frequency of phone use
As strange as it may sound to digital natives, some people simply don't use their mobile every day. In fact, some people only use their phone to make the occasional phone call or perhaps keep it as an emergency backup. Others feel naked and alone if their smartphone is not in their pocket, hand or, at the very least, their line of vision. Being realistic about the amount of use your phone is likely to get can help you narrow down the field of available plans.
Type of phone usage
Similarly to frequency of use, the types of use your phone is subject to can help determine the type of plan that will suit your needs.  Do you just make calls? Do you text a lot? Do you download heaps of data? Be realistic about the type of use your phone receives.
Reliability of your income
Locking in to a 12- or 24-month phone plan may not be a great idea if you're in any doubt as to whether you'll be able to afford it. With a prepaid option, the choice is yours as to whether you can afford to continue it. With a plan, you've signed a contract so it's a much bigger commitment.
Frequency of phone upgrades
Depending on the length of your phone plan, it does afford you the ability to upgrade your handset semi-regularly – something that's very appealing to many phone users. In fact, 29% of Canstar Blue survey respondents admitted that they don't expect their mobile phone to last longer than two years. If you like to have the latest iPhone or Android equivalent, a mobile phone plan can be a cost-effective way to work it into your budget.
Customer service
Sometimes, things do go wrong so it is worth finding out what kind of support your telco offers. Don't wait until there's a problem to do this. Find out in advance who will be there to help and if you can help yourself. Locking in to a two-year phone plan only to discover that the customer service offered by the mobile phone provider is abysmal is not a great outcome.
Price
Price is definitely a key consideration when choosing a phone plan. You need to find a plan that suits your budget as well as your lifestyle. When pricing a plan, ask questions such as: How much do calls and texts cost? How much data is included? What are the extras hidden in the fine print? If you can't find out this information easily, it might be time to keep shopping.
Other articles you might like
Lost or stolen phone: what to do
You know you're not a digital native if…