So what mobile phone do you use? There are plenty of options out there and with our phones increasingly becoming our camera, our GPS, the way we surf the net, watch Youtube and find out information about anything – choosing a phone can be complex.
So with a spare ten minutes on our hands recently, we took a snap poll of the Canstar staff, finding that Apple and Samsung are the two most-commonly owned phones. When asked what phone they use and why, our staff responded as follows:
In favour of Apple…
It appears that Apple can do little wrong, with a number of our staff loving the functionality and aesthetics of their iPhone.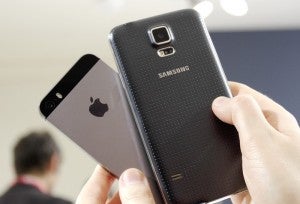 The Apple iPhone 5s was a popular model…
"I love my iPhone 5s due to the connectivity of devices, the awesome apps (particularly find my iphone) and the ease of use."
"The 5s is user friendly and easy to use."
"The 5s is affordable, it's small enough to carry, it can be as pretty as you want it to be via mobile phone covers and you can update those covers as often as you want."
The 5c was also a common model, with comments such as:
"I have an iPhone 5c (white) and I chose it because it is light and cheaper than the iphone 5s, with almost the exact same features. I use iPhones because of their compatibility with my mac laptop and desktop."
Then, there were staff who stick with their phone from a sense of loyalty…
"Two years ago, I would have written a thesis on why the iPhone is so much better than an Android phone.  But now the Andoid vs Apple debate is pointless.  Each has copied each other so much that the experience is almost identical.  The only reason why I still have an Apple after all these years is because so I don't want the burden of transferring my contacts and apps to a new OS.
That saying I still love my iPhone 5s.  The camera is amazing, it's fast & reliable, and it's a good size to fit in the pocket."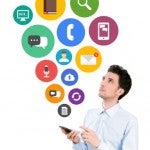 In favour of Samsung…
For every staff member who loved their iPhone, there was another staff member who loved their Galaxy.
"I've switched to the Samsung Galaxy S4 last year, and have owned iPhones for four years before that. I chose to make the switch to Android as they have a lot more flexibility with software that you can use. I don't need to purchase any additional devices to share my media (Apple TV etc) and I love the big screen and expandable memory."
"I have a Samsung S4. I got it when it first came out 3 years ago and still haven't felt the need to upgrade." 
"I love my Galaxy S4. I wasn't keen to switch to a touchscreen (from a keypad) but I was sick of Blackberry's lack of apps. The S4's Swype/Continuous Input feature sold me. Basically, you can enter text by sliding your finger from letter to letter across the keyboard. You only have to lift your finger between words (for space)."
And the others…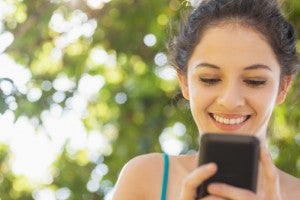 One staff member swears by his Nexus 4 (Google phone, manufactured by LG) because, in his words: "it's fast, powerful, and isn't bloated with ancillary software like the Samsung Galaxy or HTC's."
Another staff member isn't sure what they have – but it does make and take phone calls: "It's so old I can't find a brand or model number on it. It still makes phone calls though and that's all I want it to do. Seriously – people need to take their eyes off their phone screen and experience life!"
It goes to prove that there's a phone out there for everyone!