New mobile phone models are coming onto the market with increasing regularity and plenty of us tend to trade our current phone for a newer, larger, even more beautiful replacement – pronto!
All this upgrading though means an awful lot of superseded technology. Not to mention the broken (and sometimes drowned) phones that can end up in our kitchen drawer. So – what do you do with your old phone? According to research by the New Zealand Telecommunications Forum (TCF), one in four kiwis still do not know where to take unwanted phones or even know that they could be recycled.
Mobile phones certainly can be recycled though – so hopefully that's where your old mobile will end up – rather than hoarded in the cupboard!
How do you recycle your old mobile?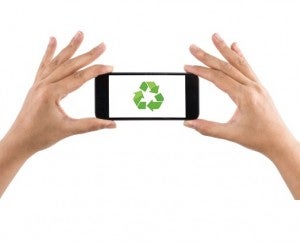 Hint: not in the rubbish bin!
Fortunately for phoneaholics, the New Zealand Telecommunications Forum (TCF) runs an industry mobile recycling programme which, in 2014, became the first e-waste recycling programme in the country to achieve Government accreditation. Known as RE:MOBILE, the scheme accepts mobile phones, mobile data devices and accessories.
Phone owners can simply drop their unwanted phones in recycling drop-in bins and recycling envelopes at Vodafone, Telecom and 2degrees stores.
Why should you recycle your phone?
In case you don't think it could make much difference, Re:MOBILE advises that under the programme, around 80% of phones passed on for recycling are refurbished and resold elsewhere in the world. This reduces the demand for new handsets and associated environmental impacts of their manufacture.
The other 20% of recycled phones are deconstructed, commoditised and their component material is recovered with a better than 95% recycling rate.
That's a lot of saved commodities and a lot of reduced landfill – definitely a win/win situation. The scheme aims to collect and recycle more than 292,000 phones a year by 2020.
To put these recycling efforts into context, consider figures released by the Australian Mobile Telecommunications Association (ACMA) in 2014: via resource recovery and reuse, Australia has reduced the need to mine 36,295 tonnes of precious metal ore, which is equivalent to keeping 2,400 cars off the road, planting 53,000 trees or preventing 8,781 tonnes of CO2 greenhouse gas emissions. Nice!