As more and more people have taken advantage of unlimited fibre broadband, the internet has become more than just a source of news and entertainment. Through the internet of things, it's become a way to shape our home environments and lifestyles. Canstar Blue takes a look at the top gadgets available for Kiwis who are switched on to an always-on home
Top gadgets
Philips Hue Smart Light
The Philips Hue Smart Light is an easy to install wireless LED bulb that plugs into a normal power point. It works with the Philips Hue app, which allows you to control the lighting system remotely via your iOS or Android phone.
Using the app remotely, you're able to change the light's hue and brightness. It's also handy for when you want to turn off the last remaining light at night, or make it look like you're at home while away on holiday.
Nest Cam IQ Indoor Security Camera
The perfect security camera system for your home, the Nest Cam IQ allows you to keep an eye on your home remotely. Easy to set up, all you need to do is connect the device to your WiFi network using the Nest smartphone app. From there, you'll be able to watch, listen, and even talk to anyone in front of the camera from your phone, wherever you are in the world. One of the key features of the Nest Cam IQ is that it's able to register and detect faces. If it spots an unknown person, it will send a message to alert you.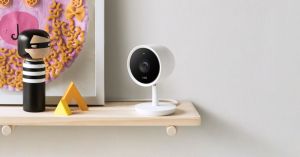 Vodafone TV
Vodafone's set-top box, Vodafone TV, is an all-in-one media hub that offers users access to an array of entertainment apps, free-to-air channels and Sky TV's subscription packages. This includes popular streaming services such as Neon, Netflix, Lightbox, TVNZ OnDemand and more, giving you a range of options for all your film and TV viewing needs.
In addition, Vodafone TV offers approximately 500 hours of cloud recording, allowing you to record multiple shows at once to view at your leisure. On top of that, you can also watch shows that aired up to three days prior, meaning you'll never have to worry about missing an episode of your favourite show!
To use Vodafone TV, you don't need to be a Vodafone customer, but you will need an unlimited VDSL or fibre internet plan to ensure you can watch without lag or buffering.
Amazon Echo Dot
A hands-free, voice-controlled smart speaker, the Amazon Echo Dot is the perfect wireless device for any room in your home. Equipped with Alexa, the intelligent personal assistant and cloud-based voice service developed by Amazon, the Echo Dot is able to play music, deliver news, information and more depending on your needs.
As the device is compatible with most other smart home devices, you're also able to use your voice to control them. For example, the volume of your smart TV or Alexa-enabled heat pump.
In addition, the Echo Dot allows you to set timers, create reminders and set calendar dates, becoming your very own personal home assistant to help you keep track of your daily activities and control your home environment using only your voice.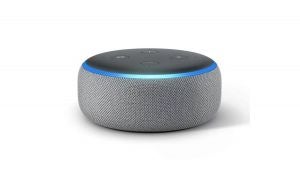 iRobot Roomba R670 Robotic Vacuum  
The days of dragging around a plastic hose connected to a canister with long wires running through the house are gone. Now, with robot vacuums like the iRobot Roomba, you can dispose of unwanted dust, debris, pet hair and more without even lifting a finger!
The Roomba R670 is a WiFi connected robot vacuum that works with the iRobot HOME App to let you schedule your cleaning conveniently, from anywhere at any time. With the app, you can also monitor cleaning activity, view cleaning history and watch maintenance videos.
With its intelligent iAdapt navigation sensors, the Roomba R670 makes over 60 decisions per second to adapt to your home's different rooms and thoroughly clean your floors, even in the dark. It also has cliff sensors to keep it away from stairs and other ledges.
As the Roomba R670 is compatible with Alexa and Google Home, you can use your personal home assistant, such as the Amazon Echo Dot, to start, stop or dock your Roomba. Easy!
What do you need for an always-on home?
Most smart home devices, including the gadgets listed above, require a WiFi connection in order to perform certain tasks. Therefore, having a stable broadband connection is essential. Take a look at Canstar Blue's customer satisfaction table to help you find the right broadband provider and connection to meet your needs.
Enjoy reading this article?
Sign up to receive more news like this straight to your inbox.
By subscribing you agree to the Canstar Privacy Policy