From virtual reality to augmented reality and mixed reality, the manner in which we consume and interact with media is evolving at pace, with a range of new products having been released to market in recent years and more set to follow.
These new technologies provide users a variety of functions, from playing games to watching movies to browsing the internet, communicating with friends and online shopping, and these capabilities can be expected to be enhanced in the coming years and additional functions developed.
The International Data Corporation (IDC) has forecast that worldwide spending on virtual reality and augmented reality products and services will surge from US$11.4 billion in 2017 to nearly US$215 billion in 2021.
With the consumer and retail sectors to be among the early leaders in investment and adoption, Marcus Torchia, IDC Customer Insights & Analysis research director, observes that the IDC sees "a significant opportunity for companies to recast how users interact in business processes and everyday tasks".
From entertainment and leisure to communications and commerce, these technologies are set to play an increasing role in our day-to-day activities. So, what exactly are they, how do they differ, and which companies are offering them?
Virtual reality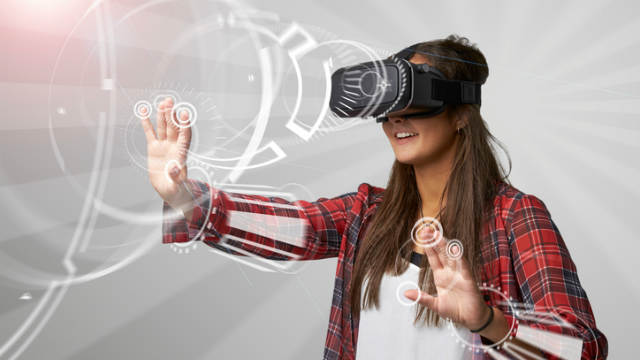 Virtual reality has long been an area of interest for technology players, and among this next wave of technologies being brought to market is the one that has thus far made the biggest impact, with a number of products currently available.
Explaining the functions of virtual reality, Gartner states that it: "provides a computer-generated 3D environment that surrounds a user and responds to that individual's actions in a natural way, usually through immersive head-mounted displays and head tracking".
In the last few years a variety of virtual reality headsets have been released, from personal computer and console-powered devices to smartphone-compatible offerings, available at a range of price-points.
PC-powered and console headsets
At the higher end of the headset spectrum, virtual reality pioneer Oculus describes its Oculus Rift headset, which works in combination with a personal computer, as enabling "the sensation of presence".
"Whether you're stepping into your favourite game, watching an immersive VR film, jumping to a destination on the other side of the world or just spending time with friends in VR, you'll feel like you're really there," Facebook-owned Oculus states.
HTC is another manufacturer that has released a virtual reality headset designed to work in conjunction with a personal computer in the form of its HTC Vive. HTC states the Vive "washes away the real world with fantastical experiences".
Both the Oculus Rift and HTC Vive come with handheld wireless controllers, via which users can navigate the virtual reality experience, and also employ external sensors for motion tracking. It is also worthwhile keeping in mind the minimum personal computer capabilities necessary to run the respective units.
Sony is another company that has branched out into virtual reality, pairing its PlayStation VR headset with its PlayStation 4 console and PlayStation Camera. In addition to its gaming capabilities, the PlayStation VR provides access to a range of video content, with a number of different apps available.
Smartphone headsets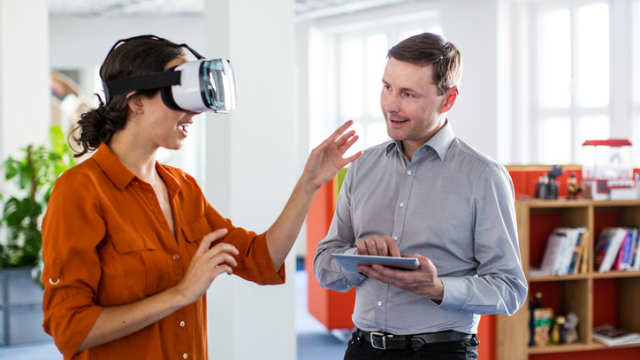 In the smartphone space, both Samsung and Google are among the manufacturers to have released virtual reality headsets with wireless controllers, via which users can insert their smartphone to access content such as video and games via virtual reality apps.
Samsung's Gear VR (powered by Oculus) works in conjunction with a range of Samsung smartphones, while Google's Daydream View is compatible with smartphones from a number of different manufacturers.
While the initial wave of virtual reality headsets have been designed to pair with pre-existing technologies, the push is now well and truly on to develop standalone products, which will likely be a defining characteristic of the next wave of products brought to market.
Augmented reality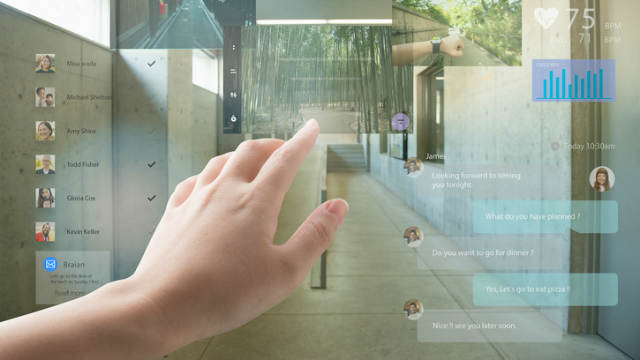 While virtual reality may have been a frontrunner among the new wave of technologies that have emerged, augmented reality has fast been gathering pace.
Gartner states of augmented reality that it "is the real-time use of information in the form of text, graphics, audio and other virtual enhancements integrated with real-world objects", with the "real world" element being what distinguishes it from virtual reality.
Nintendo's Pokémon Go game is one of the better-known examples of the use of augmented reality technology, with the game, via which users catch Pokémon characters in the real world, employing a mobile device's camera and location functions.
Augmented reality technology is being built into a variety of headsets and smartglasses, while it is increasingly being used in mobile devices.
Both Google and Apple have been staking out territory in the area of mobile-based augmented reality, introducing tools to facilitate the development of apps – Google with its ARCore for the Android operating system and Apple with its ARKit for the iOS operating system.
Google is working with a number manufacturers as it seeks to bring the technology to new devices, with Apple introducing its new framework with the release of iOS 11 for the iPhone and iPad.
Augmented reality capabilities are set to be a prominent feature among the next wave of mobile devices arriving to market.
Mixed reality
While virtual reality and augmented reality have collectively been generating buzz, mixed reality has also arrived on the scene, and is poised to be a significant presence in the market.
Mixed reality combines elements of virtual reality and augmented reality, with it bringing together the real and virtual worlds.
It is a term that has been employed by Microsoft, which has been developing mixed reality technology to work in conjunction with its Windows 10 operating system.
Microsoft describes Windows Mixed Reality as combining "the thrill of virtual reality with the power to engage with and personalise your surroundings".
"Mixed reality brings people, places and objects from your physical and digital worlds together," Microsoft states. "This blended environment becomes your canvas, where you can create and enjoy a wide range of experiences."
Microsoft has also been developing its mixed reality HoloLens headset, which it describes as a "self-contained, holographic computer".
In bringing Windows Mixed Reality to market, Microsoft has partnered with manufacturers HP, Lenovo, Dell, Acer and Samsung, with a number mixed reality headsets with motion controllers to be released at a variety of price-points.
As with virtual reality headsets, these mixed reality headsets will require a compatible personal computer to run, with users needing to ensure that their personal computer meets the minimum specified requirements.