Co-Author: Olivia Fairhurst
Telecommuting, remote working, or just plain old working from home can be a serious option for those dreaming of working outside the traditional office environment. But it's not all rainbows and butterflies…
If you think that working from home seems like the perfect opportunity to sit in front of your computer, sipping coffee in your pyjamas, while still making money, you may have bought into some of the myths perpetrated about telecommuting.
While it's true that there are a lot of benefits, a home-based business is also a lot of hard work. These days, the internet means that you can run almost any business from home: from direct sales to design and crafts, from writing and translation to training and motivational speaking. If you don't need everyday premises to meet your customers in, then you can probably run your business perfectly well from home.
But not everyone is capable of the determination, dedication and often rigorous demands required, in order to be successful.
Before you hand your resignation to your boss and throw in the towel of corporate life, take a look at a lot of advantages – and disadvantages – of home-based work, and carefully weigh up your options. Here's what I think are the most prominent issues to consider…
Benefits of working from home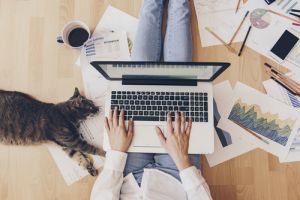 No commute
Battling peak hour every day is okay, as is pretty much everything when you first start your working life. But, as time goes on, the dissatisfaction deepens. In my case, I have always lived on the fringes of the CBD and driving or taking public transport became the stuff of nightmares. Now, I listen with an odd sense of remoteness to radio traffic reports that I once used to eagerly devour, on a daily basis, in order to plot which route I would take to the city. Of course, petrol savings and lack of wear and tear to my car are not to be dismissed lightly either. And my stress levels have dropped. These days, if I do leave the house for meetings or other pre-arranged obligations, I avoid high-traffic times and it works well for me.
You're in charge of your own schedule
When you're not bound by an 8-5 lifestyle, you have a lot more freedom than you would in a typical corporate environment. This means that there is often time in between job responsibilities that allows you to plan other things with your family that would typically carve time out of your work day. You can work late at night or on weekends, around family commitments, if you choose. As long as the job is done, your work schedule is irrelevant to your clients.
More time with important people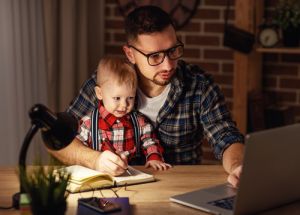 Along with setting your own schedule around your current needs, working from home also gives you the opportunity to spend more time with the people in your life who really matter. Instead of living in a cubicle for 8+ hours a day, in a cold and professional office suite, you can easily allow more time for the important things in life, like time with your children or partner that otherwise would be strictly limited.
Learn new skills
For me, it was accounting. As a solo operator, I had to learn the basics of number-crunching – time sheets, invoicing, how to chase up late payments – all that stuff that is automatically taken care of by experts other than me in a bigger company.
Save money
Let's think – lunch and one take out coffee every day equates to about $15 – $20. That's at least $75 a work week. Add that up over a year, and that's $3900. Working from home means you can quickly whip up a dish at 11am or 2pm, and the world is your oyster, when it comes to meal options. If you're prepared, you can cook it – saving money in the meantime.
Comfort is your biggest friend
Be the hostess with the mostess, for you, and only you. A perk of telecommuting is being able to alter everything to suit your preferences. I know most offices are freezing in the summer, with the aircon on full blast. And in the winter months, it doesn't get much better. I can recall many a time I would stay in my coat and scarf at the desk because it was really that cold. At home you can pop on your favourite hoody, your dressing gown, hot water bottle and even work from bed, if you choose. Instead of the aircon being on full blast, you can play your favourite Backstreet Boys number on full blast, while sat in the warmth of the sun, shining through the ranch slider doors.
Disadvantages of working from home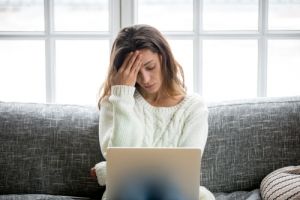 You're in charge of your own schedule
While a distinct advantage for some, others struggle with making this work in real life. It's all very well to convince yourself that you will get over that procrastination issue that's plagued you in the past, or that you really are a self-starter. However, you must schedule your work and do it in a business-like fashion, otherwise be prepared for an implosion. Sure, working from home gives you the flexibility to go out for a haircut or take a nap in the middle of the day, but if you miss a deadline or forget a meeting, it's all on you. There's no one to delegate to, no one to rope in for help, no one to compare calendars with. With great freedom comes great fear that you're probably forgetting something.
Be prepared for rigorous scheduling demands
When you work from home, you may have to devote more than eight hours a day to the task at hand. Being able to set your own schedule does not mean that you have to work less hard to make your living. You may not be able to accomplish all necessary tasks in a given eight-hour period, no matter how it is broken up into more manageable chunks. You may have to work harder to make the same money that you would in a regular office environment.
Limited productivity
While a home office may seem like a dream-come-true, it also comes with some drawbacks. When the family is sitting a few feet away watching a movie or sporting event, it can be hard to stay focused on the task at hand. Finding a quiet place, free of distractions, in a home office can be difficult. It's best if you find a place to work that is peaceful, where noise won't interfere with your work.
There's no one to bounce ideas off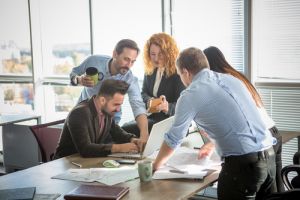 You can be the most creative person on the planet, but at some point, we all need someone to sit with us, review our work and tell us why it's terrible – oh, wait, no, we don't need that! But the point is – you're home alone and with that can come a sense of isolation that can turn you a little stir crazy. Realise that not everyone has arguments about the refugee crisis with their cat, and instead, take steps to get out and meet like-minded business people on a regular basis.
No one will ever know how funny you are
In any kind of sustained group environment, I always see the humorous side to everything. I enjoy people's company (some more than others), but working here, alone, at home, I have to keep all of my hilarious quips and brilliant one-liners to myself. I have tried bantering with the dog, but he's quite predictable with his comebacks.
Searching for paid work
This is one big disadvantage to telecommuting that many don't think of. You can spend an enormous amount of time as a freelancer hunting for jobs, pitching for projects or quoting on tenders. In actual fact, searching for work can take up more time than actually doing work you can invoice for. Think seriously about exactly how you are going to manage this before you make the leap.
Getting paid
If day-to-day accounts and invoicing your work is not what you do best (and chances are, it isn't), you may find this aspect tedious and time consuming. Some jobs are paid by the hour, others by completion of the whole project. Be prepared for income streams to become irregular as you learn the hard way that your "14-day trading terms" are often treated with the same level of respect by big companies as use-by dates on chocolate bars. Oh, and remember to say goodbye to holiday pay, superannuation guarantee and sick leave – you only get paid for what you produce or sell in your own business.
Accounting software takes care of the nitty-gritty regarding finances. From taking care of payroll – if you employ full or part-time staff, to teaching you how to boost your income, accounting software can streamline a huge range of accounting processes. Click below to see if accounting software could help you on your road to working from home. Canstar Blue also reveals which provider was a customer favourite in this year ratings!
Should I work from home?
Understand that a work-at-home business must be treated as if it is a profession or a career, in order to generate legitimate income. You need to be your own boss and dictate when you're going to be available for work – and stick to it.
Before you decide to quit your job, make sure that you weigh out your options carefully and have the passion necessary to be a professional work-from-home entrepreneur. Otherwise you may find that making a living is more difficult in a comfortable environment than it is by other means.