Have you ever felt nervous driving a new car – yours, or maybe a friend's? If so you're not alone. Canstar Blue's recent survey of Kiwis who had recently rented a hire car found a significant 35% of them admitted to feeling anxious when behind the hire car wheel. It's a figure that decreased with age; when we asked younger drivers, the percentage who were nervous increased to 57%. Whether that's due to the hip pocket hit if they are involved in an accident and have to cough up the cost of the excess, or whether it's genuine uncertainty about their driving skill, we don't know.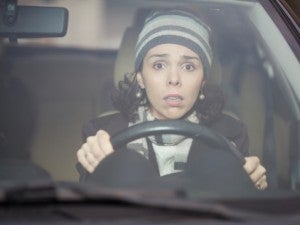 When it comes to geography, Auckland drivers are far more likely to feel nervous (at 42%) compared to, say Wellington drivers, only 27% of whom get cold feet.  And a greater proportion of women felt anxiety when behind the wheel of a hire car, compared to men (43% versus 29%). Interestingly though, more men than women have crashed or dented a hire car (13% v 8%).
All up, it adds up to a lot of nervous drivers on our roads. Additionally, 48% of respondents admit they cannot drive in a foreign city without a GPS.
These are just some of the facts we uncovered when we surveyed hundreds of car rental customers about their experiences. We also asked drivers of different ages how they treated their vehicles during the hire. This is how they responded:
| | | | |
| --- | --- | --- | --- |
| Things done in hire cars that drivers wouldn't do in their own. | Generation Y drivers | Generation X drivers | Baby Boomers drivers |
| Let people drink in the car. | 12% | 9% | 1% |
| Eat messy or sticky food. | 18% | 5% | 2% |
| Allow people in the car who are wet, muddy, sandy, or dirty. | 8% | 11% | 3% |
No matter how you use your rental, you'll want to partner up with a hire car company with a history of delivering five star customer service. We've rated various brands in this space to lend a hand with your search, so head over to our hire car ratings to pick a winner.